Britain Begins Diabetes Trial After 50 Percent Recover Within One Year
Thousands of diabetes patients in the U.K. have been given hope that their illness could be put into remission by a soup-and-shake diet plan being offered by the National Health Service (NHS).
Those with Type 2 diabetes, which is more likely to affect people who are obese or overweight, are being encouraged to take up the low-calorie liquid diet after a trial involving 5,000 people showed that almost half of the participants saw their diabetes go into remission after a year.
Around 12.3 million people in the U.K are at risk of developing Type 2 diabetes, while in the U.S., one-third of Americans could be on their way to developing the disease, with 84 million Americans having pre-diabetes, a condition where people have higher than normal levels of blood sugar, according to the Center for Disease Control (CDC).
Around 10 percent of the U.S. population has diabetes, according to the CDC.
Diabetes is also expected to cost the NHS £10 billion a year.
The year-long diet plan is being offered by the NHS to an initial 10 areas of England and only those who have been diagnosed with the condition in the last six years will be considered for the scheme.
Participants will be provided with diet replacement products such as shakes and soups for three months alongside support with exercise plans as well as managed plans to reintroduce ordinary, nutritious food.
Professor Jonathan Valabhji, NHS national clinical director for diabetes and obesity said: "This is the latest example of how the NHS, through our Long Term Plan, is rapidly adopting the latest evidence-based treatments to help people stay well, maintain a healthy weight and avoid major diseases.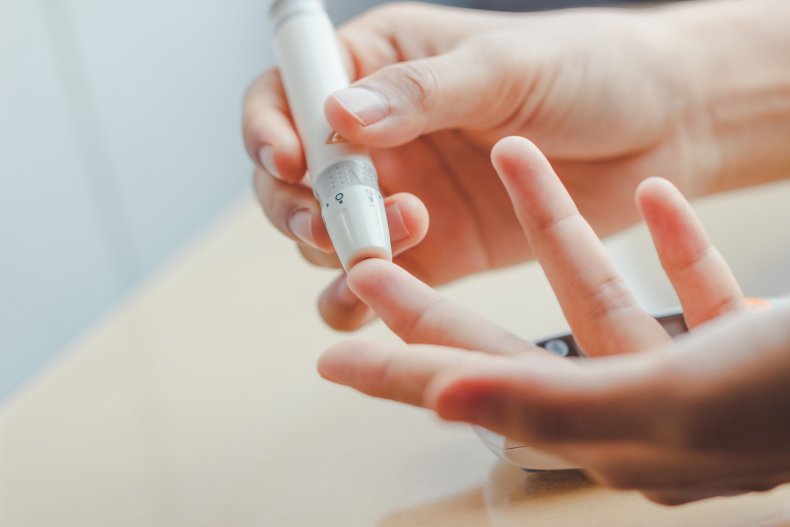 "There has never been a more important time to lose weight and put their Type 2 diabetes into remission, so it's good news for thousands of people across the country that practical, supportive measures like this are increasingly available on the NHS."
It comes as Public Health England data revealed that those with diabetes were more vulnerable to the COVID-19 virus, with a third of people who died in hospital with COVID-19 also having diabetes.
A new study published by the University of North Carolina showed that people with obesity are 113 percent more likely to be admitted to hospital with coronavirus and 74 percent more likely to need intensive care treatment.
Bev, who was one of the first patients to benefit from the diets during trials, said: "My goal for the first eight weeks of the low-calorie diet was to lose 5 percent of my body weight – which I achieved in six weeks – and in total I've lost over 10kgs, my Type 2 diabetes is now in remission and I no longer have to take any medication – I am over the moon.
"Since the low-calorie diet program, my mindset has totally changed for the better and I look at food differently now – my shopping habits are far healthier and, when I eat out, I'll go for a healthier option. The program has taught me moderation."