COVID-19 Is Exposing the Child Care Crisis. And Grandparents Aren't the Solution | Opinion
Last May, each of us received an SOS call. After two months of working from home, while caring for two children under five, our adult daughters and their husbands were overwhelmed as they juggled work and parenting. With the advent of COVID-19, child care of all kinds evaporated—as providers went into lockdown like the rest of us. Stress levels among parents skyrocketed.
Although both of us are also working, we gladly came to the rescue. Soon, we found ourselves reading stories, making lunches, putting our grandchildren down for their naps and sometimes even Zooming for work with one of them on our laps. As child care researchers ourselves, we could see the country finally come to grips with what we have been writing about for years: The U.S. has a child care crisis.
The scarcity of quality child care during the pandemic has brought into sharp relief the struggle that the vast majority of U.S. families have faced since the 1970s, when women entered the labor force in great numbers. Families lack access to quality child care, and even when they can find it, they often cannot afford it.
Pre-pandemic, more than 15.7 million children under age 5 were in some form of child care. Overall, married couples were using 10 percent of their incomes for child care, while single parents were using up to 36 percent. These proportions substantially exceed the 7 percent income affordability cut-off recommended by the U.S. Department of Health and Human Services, as well as the benchmark proposed by the Child Care for Working Families Act.
The cost of child care varies by region of the country, but it is safe to say that it is high everywhere. In the Midwest, Northeast and South, the cost of center care for families with an infant and a 4-year-old represents the single highest household expense, more than families pay for housing, food and health care.
Unlike other countries with advanced economies, U.S. support for child care is minimal. Federal funding for early childhood education primarily supports tax relief for middle- and high-income families. Funding for low-income children provides support for Head Start and Child Care and Development Block grants, which reach only a small proportion of eligible children. Most parents pay the full cost of child care, whether center-based or informal.
Early care and education is not just good for working parents; it sets the stage for school success. Study after study shows that participation in early education programs leads to a decrease in special education placement and grade retention, as well as an increase in high school graduation rates. Our own research has found that quality child care predicts school outcomes through high school, with effects stronger for poor children.
In 1971, the U.S. lost an enormous opportunity when President Richard Nixon vetoed the Child Development Act, which would have provided significant funding for high-quality early care and education. Alas, Nixon's advisers convinced him that child care could be viewed as antithetical to family values. Ever since, the U.S. has lost ground to countries around the world, as we have continued to turn a blind eye to the child care crisis.
There is hope. Both presidential candidates support government funding for child care. President Donald Trump's 2017 tax bill included a child and dependent care tax credit, such that higher-income taxpayers can receive up to $600 for one child and $1,200 for two or more, and lower-income taxpayers can receive up to $1,050 for one child and $2,100 for two or more. In Trump's 2020 platform, there are no additional child care policy proposals to date.
Former Vice President Joe Biden's proposal is more ambitious—specifically, a $775 billion investment in child care that would expand access, lower costs and pay child care teachers higher salaries. If passed, this proposal would vault the U.S. into the top tier globally, welcome news not only for families but also employers, because child care promotes worker productivity. What is good for families is good for the economy.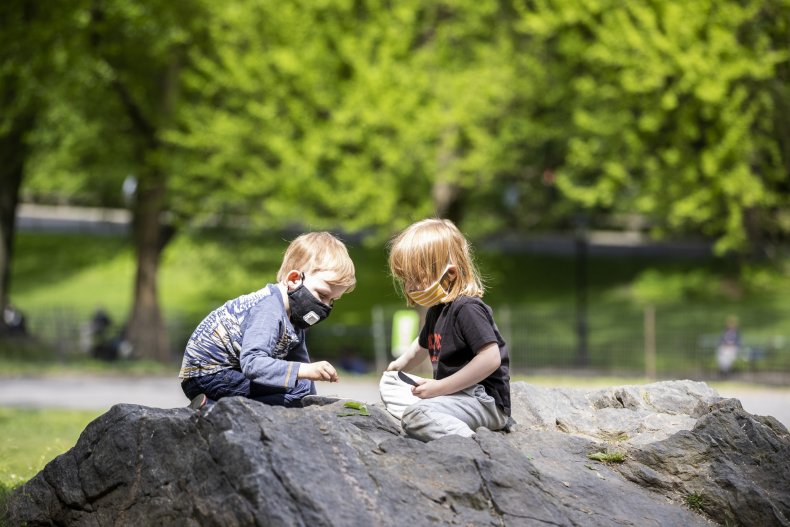 There is nothing like a hug from a grandchild to take away the pandemic blues. However, grandparents are not a solution to the child care access and affordability problems faced by families. When we look back on the pandemic in search of silver linings, solving the child care crisis could be one of them. We owe nothing less to the next generation. We must build political will now—during this election cycle. Parents and grandparents alike need to reach out to our representatives in Congress to let them know we believe support for early care and education is a top priority for the country.
As young mothers 35 years ago, during the height of the Mommy Wars, we were made to feel guilty about maternal employment and child care. But our daughters and sons were raised by us, so they know better. They know what we know: Early care and education support children, families and the economy.
Kathleen McCartney is a professor of psychology and president of Smith College.
Deborah Vandell is a professor and dean emerita at the University of California at Irvine.
The views expressed in this article are the authors' own.