Faith in Governors' COVID-19 Plans Drops to New Low During Vaccine Rollout
As vaccines are rolled out across the U.S., faith in governors clearly outlining action to tackle the COVID-19 pandemic has hit a low, according to recent polling.
The coronavirus crisis continues across the nation, and worldwide, with deaths attributed to COVID-19 in the United States nearing 400,000. Vaccines have started to be administered across the nation, with experts having branded the rollout "extremely poor." Polling has also indicated many Americans believe this is happening too slowly in their state.
Gallup has been asking respondents to rate governors on communicating "a clear plan in response to the coronavirus" since last June.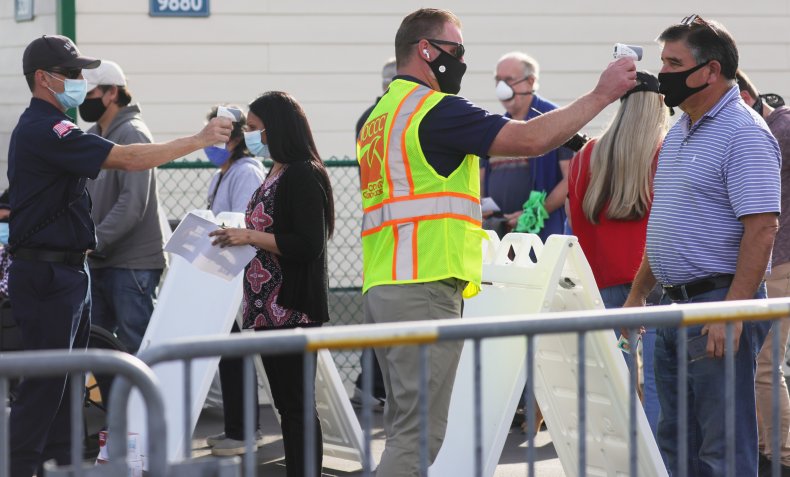 In its first polling on this, conducted June 8-14, 56 percent of those asked gave state governors a four or five on a five-point scale.
The question was posed again to 3,104 U.S. adults between December 15 and January 3. In this, 47 percent gave governors a four or five—a drop of 9 percentage points from June and the lowest since this question was first asked by Gallup. The biggest declines came in the south and west of the nation.
"There was a clear geographic aspect to the recent decline in governor ratings. Americans living in the West and South grew significantly less satisfied with their governors' communication about COVID-19 plans, while the views of those living in the Northeast and Midwest didn't change," a Gallup survey data report said.
"Although new COVID-19 infections and deaths were up nationwide in December, particularly high spikes in California and in parts of the South may account for the decrease in public confidence in governors' handling of the situation in these regions."
Newsweek has contacted the National Governors Association for comment.
For the Centers for Disease Control and Prevention, 32 percent of all respondents rated it four or five in terms of outlining a clear plan to tackle the crisis. While for Trump, 31 percent gave him such a rating.
More than 23 million cases of COVID-19 have been confirmed in the U.S. throughout the pandemic, according to Johns Hopkins University figures.
Its latest numbers show 397,600 deaths across the nation linked to the outbreak.
In some areas of the country, it has been estimated that one in 50 people might be infected with COVID-19.
The below graphic, from Statista, shows the number of daily COVID-19 deaths in the United States.