Prayer + Peroxide Fake COVID-19 Treatments Lead to Arrest of British National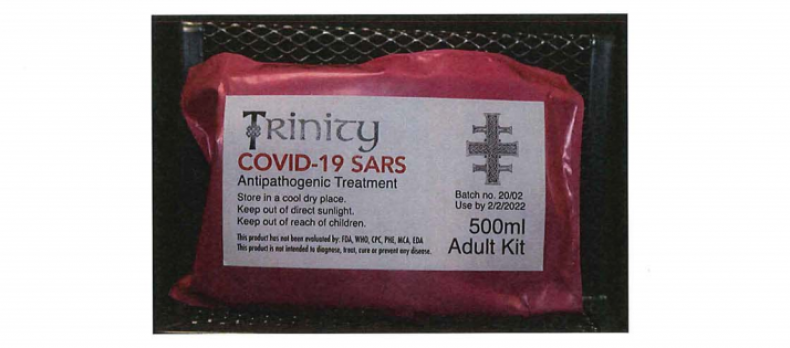 Federal prosecutors in California are pursuing charges against a British man for allegedly shipping dozens of packages to the United States that he had claimed were cures for COVID-19, the disease caused by the novel coronavirus.
Frank Richard Ludlow, 59, of West Sussex, was accused in a criminal complaint Wednesday of violating a federal statute that prohibits the distribution of fraudulent medical treatments.
If convicted on Wednesday's charges, Ludlow—who is currently in the custody of U.K. law enforcement officials pending a related prosecution there—faces up to three years in prison.
Beginning in 2017, according to the criminal complaint, Ludlow traveled to the United States and made contact with a woman, identified as "S.O." in court documents, who had "severe medical issues" and to whom he hawked a "Trinity Remedy" all-purpose cure.
Ludlow, who is not a doctor, could not be reached for comment. Emails to the woman believed to be S.O. and the British Embassy in Washington, D.C., were not returned in time for publication.
During their initial meeting, Ludlow used a "Bio-Meridian device" on S.O. in order to "measure S.O.'s body frequencies." S.O. said that Ludlow told her she had a "level-5 toxicity" indicative of "feline leukemia," with the Trinity Remedy serving as an appropriate antidote.
She reported feeling better "almost immediately."
S.O. told an investigator with the Food and Drug Administration's Office of Criminal Investigations that the Trinity Remedy kits contained vitamin C, a mix of enzymes, potassium thiocyanate (a chemical compound formerly used to treat hypertension) and hydrogen peroxide.
According to Ludlow's directives for ingesting the remedy, S.O. said, a patient was supposed to add 18 ounces of water, "say a prayer," and then drink half of the cocktail. Afterword, the patient was instructed to take "a probiotic along with bee pollen" and finish drinking the solution.
"Unproven health claims, tests, and medical products can pose serious health risks and may keep people from seeking care or delay necessary medical treatment," Catherine A. Hermsen, the FDA's assistant commissioner for criminal Investigations, said in a statement. "The FDA will continue to take appropriate action to protect consumers from bad actors who take advantage of a pandemic to increase their profits while jeopardizing the public health."
At a cost of around $50 per kit, S.O. ordered hundreds of treatments—labeled "Trinity Mind, Body & Soul"—over the next several years. She said she gave away most of the kits "to help people," selling the remainder at a significant markup, approximately $125 to $200 per unit. All told, she wired at least $11,700 to Ludlow between October 2017 and February 2020.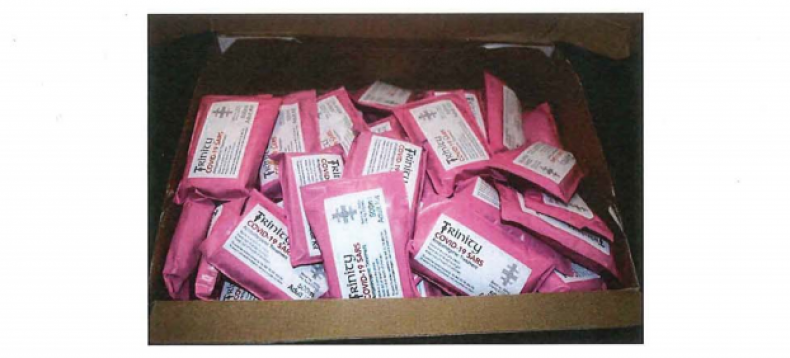 Once the novel coronavirus began to spread outside of Hubei Province in China and take root in the West, Ludlow applied a new label to the Trinity kits that read "Trinity COVID-19 SARS Antipathogenic Treatment," according to the criminal complaint.
S.O. said that the ingredients and contents of the kits were unchanged, despite the new label falsely suggesting their ability to cure COVID-19. In an interview with the FDA investigator, she said she believed the kits would "help people who have Coronavirus not become as ill as they otherwise would have been."
On Friday, March 20, the same day that U.S. postal inspectors intercepted a batch shipment of kits at a post office in Utah, police officers in London arrested Ludlow inside a post office near his home. He was charged the following day with fraud and unlawful manufacturing of pharmaceuticals.
The case, a joint pursuit between U.K. and U.S. investigators, began when U.S. customs officials intercepted one of Ludlow's shipments to S.O. at a Los Angeles mail facility on March 18.
"Hucksters who hawk 'treatments' for this deadly disease put consumers' lives at risk by peddling unapproved drugs," Nick Hanna, the United States attorney for the Central District of California, said in a press release. "We are aggressively investigating all types of criminal activity associated with the current health emergency, and anyone attempting to cheat the public during this time will face severe penalties."