Before the coronavirus pandemic, over 300,000 people in the U.K. were homeless. But the government has found accommodation for most of them as part of the effort to slow the spread of COVID-19. Some of those formerly homeless people are seeing it as a "second chance at life" as they have found "a new family" in these difficult times and is one of the few happy stories in the crisis, as Newsweek found out.
Most of us are looking forward to the end of COVID-19 lockdown restrictions, but for some on the streets who have never had a place they can call home before, the end of the pandemic means an uncertain and potentially dangerous future.
As the virus spread throughout the U.K., on March 27, councils were told they had 48 hours to find emergency accommodation for all rough sleepers in England, following an unprecedented request from the government.
While some rough sleepers remain, many have been found temporary accommodation.
Richard Marshall, 30, was one of thousands of homeless people across the country who were put into hotels to protect both themselves and others from the COVID-19 virus that has so far claimed the lives of over 40,000 people across the country, according to the Office for National Statistics (ONS).
Sofa surfing since the age of 12, Richard tells Newsweek: "If it wasn't for this coronavirus, we'd still be on the streets."
Richard has been living in the Prince Rupert Hotel in Shrewsbury for the past three months.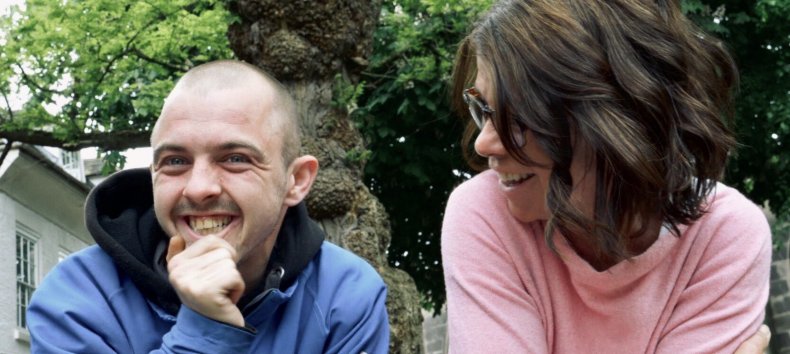 With the government beginning to plan for life after lockdown and gradually easing restrictions, for most of us this means a cause for celebration but for Richard and thousands of other homeless people like him, it means fear and trepidation.
He said: "I was speaking to a probation officer recently. I've been worried in the past few days, what's going to happen to me, eventually it's going to go back to reality, soon they're going to lift the lockdown, business is business, Mr. Matthews has got to get back to work."
Mike Matthews is the owner of the Prince Rupert Hotel, who on March 19, after a meeting with Shropshire Council, decided to leave his family home and move into the hotel with two of his staff, to look after and house 25 homeless people.
Richard says: "My mum and dad have passed away, I've come here, and they're (Mike Matthews and his staff) like my family, because they've done so much for me, I don't know how I can ever thank them.
"It is the best thing that this coronavirus has come around."
Recalling his journey to becoming homeless, Richard says he had a troubled childhood and very quickly found himself on the wrong side of the law.
"After I got released from prison, I went to live with my uncle who was a drug user. He got an infection and passed away, which left me homeless, I went back to my aunt's, but eventually ended up sleeping rough in the doorway in Manchester", says Richard.
Richard says that he previously "never had a place he could call home" and that his stay at the Prince Rupert has "changed him a lot."
He says: "It's been one hell of a journey, but I loved my time being here.
"For example, I've been working in Mr. Matthews' kitchen, he wants to give me a second chance.
"I am a bit worried about what's going to happen. Mr. Matthews and his partner have said they're in it for the long run, they've said they're looking to keep me on for at least another six weeks.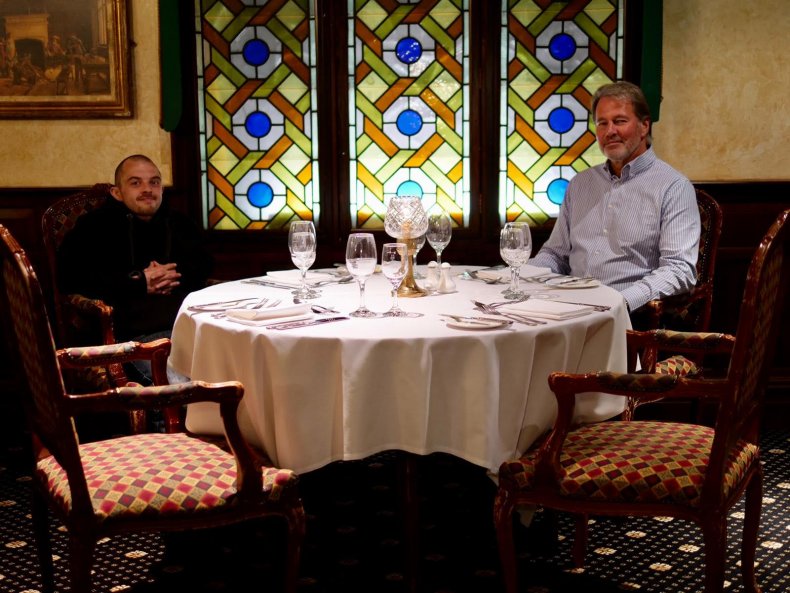 "I really appreciate it, I can relate to Mr. Matthews and in the future he said he'll try and employ us."
Richard realizes that the same won't be true for others in the same predicament and says he can see them easily going back on the streets.
He says: "If somebody has a fixed job and a roof over their head, I can't see these people committing crime."
Richard is keen to share how a feeling of "being treated with respect" has helped him build his confidence and self-esteem.
He asks why it took the COVID-19 pandemic to house someone like himself.
"I'd like to ask Boris Johnson, why has it been left to coronavirus to come around to get all the homeless off the streets?", he asks.
Mike, the owner of the hotel, says that although he is not qualified in how to get people off drugs, he can see how through the care and hospitality offered to Richard and other homeless people living in the hotel, how their lives have begun to change for the better.
He says: "As they get their respect and dignity back, the reliance upon those drugs is diminishing, so I'm seeing huge strides forward.
As the lockdown was announced, like many businesses up and down the country, Mike says he was on the verge of closing down the 70-bedroom hotel, before a call from Shropshire Council came.
"During the meeting, within a few minutes, I thought this is something that appeals to me."
Mike says that after sitting down with his team, it was decided that the hotel would provide formerly homeless people not only with accommodation, but his team wanted to carry out a "bigger project to see if we can turn people's lives around".
Mike realised that in order to do that, they couldn't go home once the day had finished, so he and two of his key staff members, including the hotel manager, decided to move into the hotel.
He said: "You can't just go home at five o'clock and leave them, you've got to be part of their life."
"There's 25 people altogether in the hotel.
"We knew there were health risks, that was a large concern, we would be exposing ourselves potentially to the virus, it's very difficult, some have spent decades living in the street or in parks or woodlands and to say "you cannot leave the hotel", it's impossible to do that.
"So, we had to accept that initially during the day and during the night they would often wander, meet up with friends, you don't know whether that's going to bring the virus back into the hotel.
"We do take precautions, we carry out temperature checks and provide hand sanitizer gels in the hotel.
"We are educating them on a constant basis, that they are here number one to stop themselves getting the virus and number two to stop them spreading it, so the education process is a constant during the day."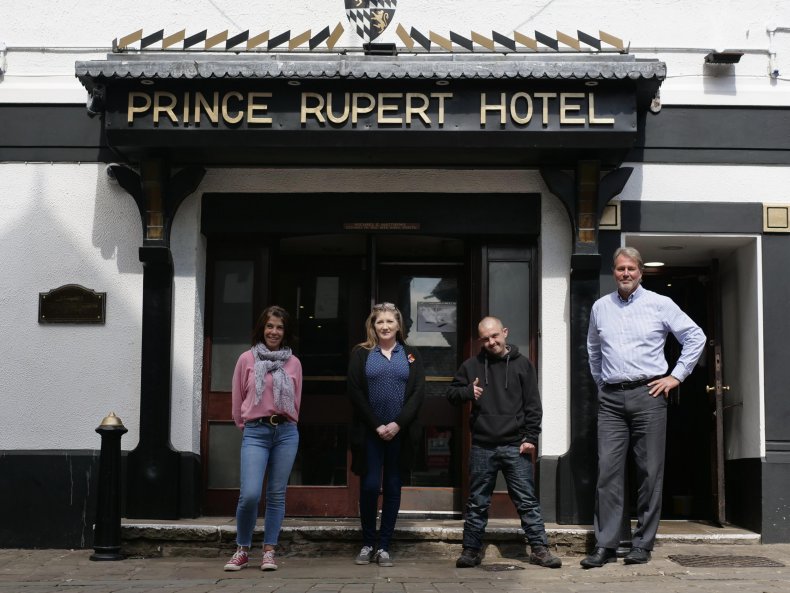 Mike says there is a "100 percent" willingness to engage on the part of those who were living on the streets before the pandemic and that they are "trying so hard to return their lives to normality."
However he says he too is worried what happens to people like Richard as lockdown restrictions are lifted.
He said: "I am fearful for their future, these people have become my good friends and extended family now, we've got very close to them, every single one of them now has opened up, we understand their journey as to how they ended up sleeping in a doorway.
"It would be very, very sad for me personally to see them back their again."
Mike says Shropshire Council has undertaken a commitment to provide safe and secure housing for every single one of the residents when they leave the hotel, but is worried that some of the pastoral and extra care he and his team have provided, will no longer be present as some of them are moved away.
"I've told them when they leave here the door will always be open for them," says Mike.
He says that he is aware placing homeless people in hotels during the pandemic hasn't worked in some places, where people have been "put in a business park in budget hotels, where they get pot noodles for dinner."
"I can't see that solving the problem, it fixes the problem during the virus, and those individuals will almost certainly go back onto the street again", says Mike.
"What we've done here they've got a real fighting chance to reform their lives."
The government says it is committed to ensuring rough sleepers have long-term safe accommodation once the crisis is over.
A Ministry of Housing, Communities and Local Government spokesperson said: "The effort to get rough sleepers off the streets during this crisis has been a success by any measure, with 90% of rough sleepers known to councils at the beginning of this crisis made offers of safe accommodation.
"[We] will work hand-in-hand with councils across the country on plans to ensure rough sleepers can move into long-term, safe accommodation once the immediate crisis is over – ensuring as many people as possible move to long-term, stable accommodation."
Shropshire Council says it is vital that once hotels get back to "business as usual", that individuals are giving long term support until they are ready for their own tenancy.
Laura Fisher, Shropshire Council's service manager for housing and occupational therapy, said: "Shropshire Council's response, which has been recognized nationally as good practice, was to provide emergency shelter for a significant number of people who have been rough sleeping or were at risk of rough sleeping.
"Once hotels go back to 'business as usual", we need to be sure we can provide as many people as possible with somewhere to call home and/or continue to provide support until they are ready for their own tenancy."