Frontline U.K. Healthcare Staff to be Given Trump-Backed Hydroxychloroquine
Frontline health workers in the U.K. working for the National Health Service (NHS) will be given hydroxychloroquine, a malaria drug, to assess whether it can prevent COVID-19.
It comes after President Donald Trump was criticized earlier this week by health experts for unexpectedly announcing he had been taking hydroxychloroquine for about a "week and a half."
The Food and Drug Administration has previously warned it could cause serious heart problems for coronavirus patients.
Tests to determine whether hydroxychloroquine can prevent COVID-19 is open to staff in Brighton and Sussex University Hospitals and at Oxford's John Radcliffe Hospital.
The overall study will involve 40,000 people who work with confirmed or suspected coronavirus patients from Europe, Africa, Asia and South America and will be a double-blind, randomized, placebo-controlled trial.
That means neither the patients nor the researchers know who is getting a placebo and who is getting the treatment in order to prevent the results from being biased in any way, according to Co-Principal Investigator Professor Sir Nicholas White from the Bangkok-based Mahidol Oxford Tropical Medicine Research Unit (MORU), which is running the trial.
Professor White said: "We really do not know if chloroquine or hydroxychloroquine are beneficial or harmful against COVID-19.
"The best way to find out if they are effective in preventing COVID-19 is in a randomized clinical trial."
There are fears that increasing demand for hydroxychloroquine during the pandemic could reduce supplies of the drug for patients who need it to treat malaria and certain types of arthritis.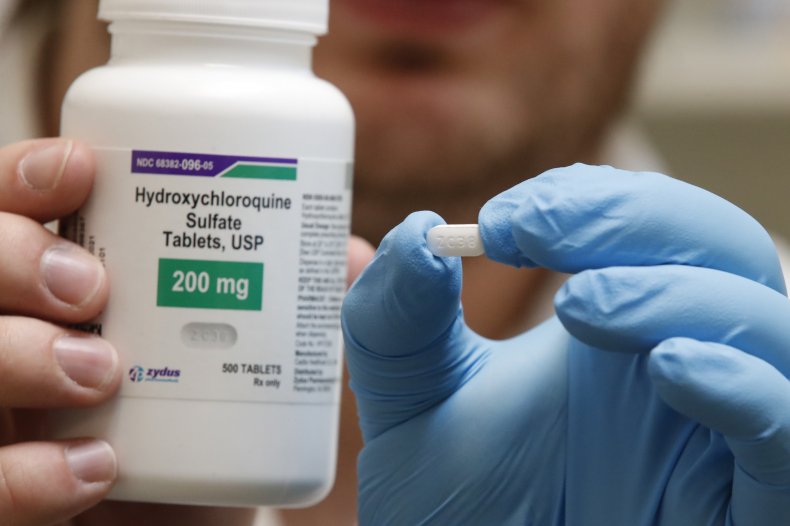 Dr. Stephen Griffin, associate professor in the school of medicine at the University of Leeds, also said those that follow Trump's example might not only endanger themselves, "but could also deprive patients with chronic autoimmune conditions of their much-needed medication".
The World Health Organization (WHO) has previously warned against self-medicating with hydroxychloroquine, with the study in the U.K. involving front line health workers, carried out in a controlled environment.
The study's lead UK investigator, Professor Martin Llewelyn of Brighton and Sussex School, said a "safe and effective vaccine may be a long way off".
He said: 'If drugs as well tolerated as chloroquine and hydroxychloroquine could reduce the chances of catching COVID-19 this would be incredibly valuable."