COVID-19 Lockdown Has Led to 11,000 Fewer Air-Pollution Deaths, Assessment Claims
Sharp declines in air pollutants during novel coronavirus lockdowns may have prevented 11,000 deaths from air pollution across Europe, according to the Center for Research on Energy and Clean Air (CREA).
The private research organization published an assessment on Thursday projecting health outcomes of confinement as it pertains to pollution and the dramatic drop in nitrogen dioxide and fine particles over the last month.
The assessment does not only put a number on the number of pollution-related deaths saved, but also the number of preterm births (600), asthma-related emergency room visits (1,900) and new cases of asthma (6,000) which the author's claim have been avoided over the last 30 days due to social distancing policies across much of Europe. The researchers also calculated 1.3 million fewer days off work.
Lead author Lauri Myllyvirta explained the length of time it would take for these impacts would vary, with asthma emergency room visits dropping almost instantly and improved birth outcomes noticeable in a year or less. However, avoided deaths would occur over a longer timescale.
"Work absences and asthma ER visits are short-term effects that would be expected to be realized already in April," Myllyvirta told Newsweek.
"Other outcomes, including deaths are related to long-term chronic exposure, and the risk functions are developed on the basis of annual average pollutant concentrations. So we used the reduction in annual exposure caused by the lower pollution level in April as the basis for these impacts."
He added: "For the most part we are not talking about people with pre-existing illnesses dying some days or weeks ahead of time but people developing health conditions due to chronic exposure to air pollution, so clearly we are talking about years."
Myllyvirta said that were air pollutant trends from April to continue for a year, the avoided health impacts would increase around ten-fold in very rough terms.
The authors' calculations, based on hourly air quality data from pollutant monitoring stations and risk models, suggest Germany (2,083), the United Kingdom (1,752), Italy (1,490), France (1,230) and Spain (1,081) have had the largest numbers of avoided deaths.
Alastair Lewis, Professor of Atmospheric Chemistry at the National Centre for Atmospheric Science, University of York in the U.K., questioned the possibility of making an easy comparison like this.
Air pollution deaths, he explained, are statistical, they are not an explicit cause of death that would be written on a death certificate. Instead, figures like the 11,000 avoided deaths noted in the report are the statistical change in deaths you might see over the course of an extended period. He is also skeptical that there would be a noticeable change from short-term declines.
"To imply that there are large numbers of lives saved after a few weeks of improved air quality, I think that is overstating its effect," he told Newsweek. "That would be different than I think you know we would be saying that there were real meaningful differences in mortality."
Lewis explained that there are those that may notice improvements in their well-being from reductions in pollutants, like asthma patients who may suffer less frequent acute attacks when the air is cleaner. However, most of the deaths associated with pollution arise from long-term exposure.
"The main effects for pollution are your accumulative effects over several years or many years of your life," he explained. "So, obviously a couple of weeks of clean air doesn't undo what's potentially 10 years of harm."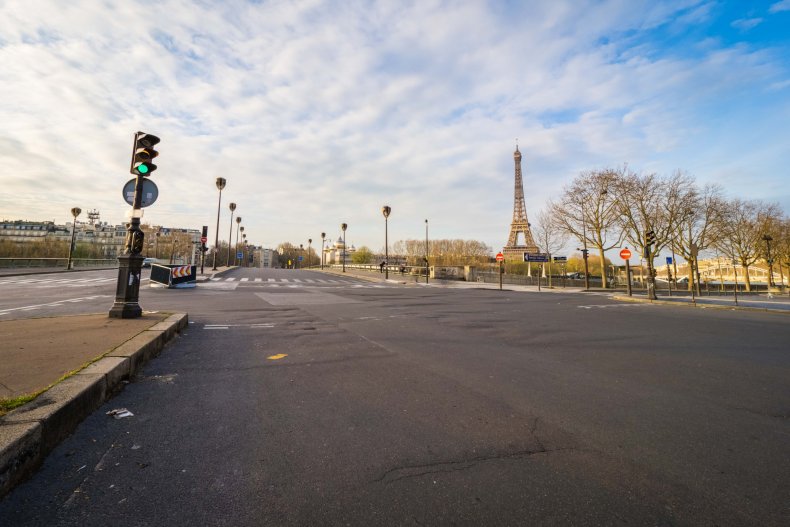 The assessment's authors have been very clear to state that the report is not to be seen as a silver-lining or cause of celebration in what has been a devastating pandemic across much of Europe and the world. Behind the U.S., Italy, the U.K. and Spain have seen the highest number of confirmed deaths during the health outbreak so far.
Instead, they hope it can show how reducing pollutants in the air can improve public health and encourage policymakers to prioritize clean air as countries consider their recovery plans.
According to a recent report from the European Environment Agency (EEA), high levels of long-term exposure to fine particles was responsible for approximately 412,000 premature deaths across the country. A 2019 study examining the effects on U.S. public health suggested air pollution contributes to 200,000 deaths a year, even when it met the Environment Protection Agency's guidelines. Other research has suggested it shortens an average person's life by close to three years, more than smoking, malaria and HIV/AIDS.
There is also some evidence to suggest it may be affecting people's susceptibility to COVID-19, with some preliminary studies linking pollution to an increased mortality risk. Though the research is in its early days and many papers are waiting to be reviewed by independent experts in the field.
"Pollution will be a contributory factor but lots of things to do with urban living are contributory factors to the increased potential the severity of the virus in those locations," said Lewis, highlighting the greater prevalence of poverty and higher rates of person-to-person contagion that also exists in cities. "I think we have to be careful that we're not simply using pollution as shorthand for living in a city."
"If you can draw anything from the report, it's probably to highlight that long-term exposure to pollution does create a less healthy population," Lewis said. "As we're seeing in this pandemic, the healthier your population is, the more robust you are to surviving the severe respiratory illness."
The article has been updated to include comments from Lauri Myllyvirta.
The below infographic from Statista shows the countries with the highest number of confirmed cases of COVID-19 as of April 30, 2020 4:30 A.M. EST.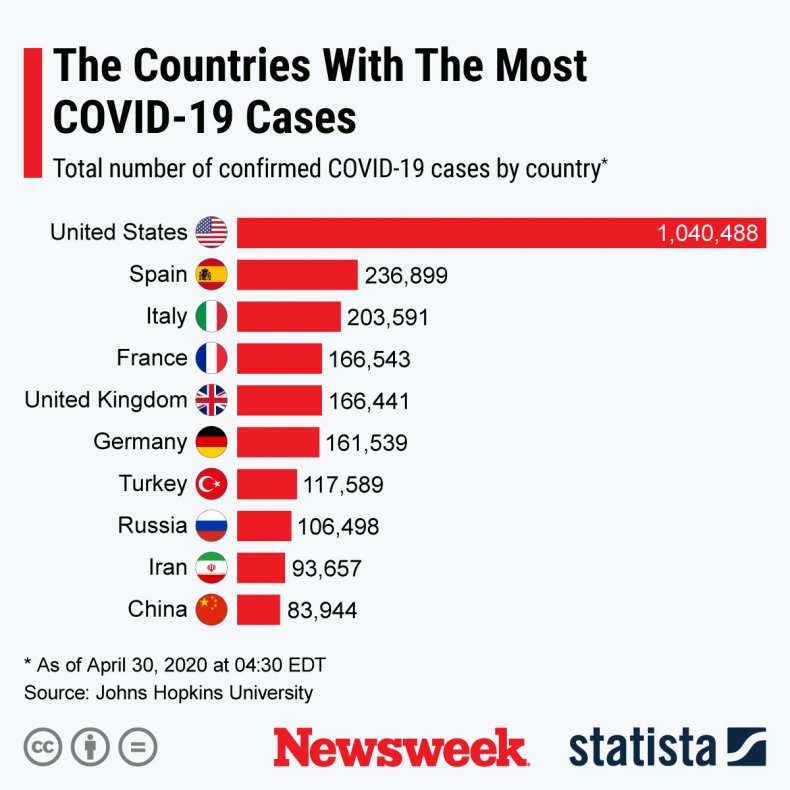 Centers for Disease Control and Prevention Advice on Using Face Coverings to Slow Spread of COVID-19
CDC recommends wearing a cloth face covering in public where social distancing measures are difficult to maintain.
A simple cloth face covering can help slow the spread of the virus by those infected and by those who do not exhibit symptoms.
Cloth face coverings can be fashioned from household items. Guides are offered by the CDC. (https://www.cdc.gov/coronavirus/2019-ncov/prevent-getting-sick/diy-cloth-face-coverings.html)
Cloth face coverings should be washed regularly. A washing machine will suffice.
Practice safe removal of face coverings by not touching eyes, nose, and mouth, and wash hands immediately after removing the covering.
World Health Organization advice for avoiding spread of coronavirus disease (COVID-19)
Hygiene advice
Clean hands frequently with soap and water, or alcohol-based hand rub.
Wash hands after coughing or sneezing; when caring for the sick; before, during and after food preparation; before eating; after using the toilet; when hands are visibly dirty; and after handling animals or waste.
Maintain at least 1 meter (3 feet) distance from anyone who is coughing or sneezing.
Avoid touching your hands, nose and mouth. Do not spit in public.
Cover your mouth and nose with a tissue or bent elbow when coughing or sneezing. Discard the tissue immediately and clean your hands.
Medical advice
Avoid close contact with others if you have any symptoms.
Stay at home if you feel unwell, even with mild symptoms such as headache and runny nose, to avoid potential spread of the disease to medical facilities and other people.
If you develop serious symptoms (fever, cough, difficulty breathing) seek medical care early and contact local health authorities in advance.
Note any recent contact with others and travel details to provide to authorities who can trace and prevent spread of the disease.
Stay up to date on COVID-19 developments issued by health authorities and follow their guidance.
Mask and glove usage
Healthy individuals only need to wear a mask if taking care of a sick person.
Wear a mask if you are coughing or sneezing.
Masks are effective when used in combination with frequent hand cleaning.
Do not touch the mask while wearing it. Clean hands if you touch the mask.
Learn how to properly put on, remove and dispose of masks. Clean hands after disposing of the mask.
Do not reuse single-use masks.
Regularly washing bare hands is more effective against catching COVID-19 than wearing rubber gloves.
The COVID-19 virus can still be picked up on rubber gloves and transmitted by touching your face.