COVID-19 Is Magnifying the Digital Divide for Kids Heading Back to School | Opinion
Across the United States, K-12 students and teachers face an onslaught of challenges as they head back to school this fall. With many districts already attempting a mixture of in-person and remote learning, COVID-19 outbreaks are already disrupting shaky reopening plans. The response, when these outbreaks occur, will likely be an even heavier reliance on remote learning. The problem with that strategy to keep kids and families safe hardly seems believable for a technologically advanced 21st-century society: For millions of American students trying to learn from home this year, the hardest part about school will not be the course content, but rather accessing the internet to engage with it.
There are many prongs to the remote learning problem: child attention spans, social growth impediments, working parents being pulled in every possible direction. But the foundational issue is still access. In 2017, 14 percent of children between ages 6 and 17 lived in homes with no internet service, according to the National Telecommunications and Information Administration. Whether it is access to reliable internet or access to computers and tablets, K-12 students cannot participate in remote learning without these fundamental tools.
Pew Research Center has a "smartphone dependent" category for people whose primary method of online access is their phones. It includes roughly one in five U.S. adults. This is simply not good enough for children who need to watch streaming classroom lectures and participate in group video calls for assignments. The specifics of the pandemic present additional challenges, as many of the students who would normally complete work on public library devices no longer have that option due to widespread closures.
In other cases, the digital divide is a lack of reliable broadband itself. Some families are unable to connect to available Wi-Fi due to cost concerns, but others don't even have the option. Telecom companies are disincentivized to invest in infrastructure for areas with small populations or that are difficult to reach. Even if an individual desired to spend potentially hundreds of dollars monthly on service, their options may be nearly nonexistent. This means that even in 2020, rural areas of Michigan, Maryland, Arkansas and elsewhere are still suffering through gaps in online connectivity. The 2020 FCC Broadband Development Report acknowledges that approximately 18 million people (mostly in rural areas) do not have access to any broadband network. However, a recent report by Broadband Now suggests that the figure could actually be double the original FCC estimates. Even Tom Wheeler, the former FCC chairman, has expressly acknowledged that the nation's digital infrastructure needs a reboot to address the fact that internet access is critical to daily life.
Unfortunately, many rural school districts were already unprepared and underfunded to handle the requirements of this new teaching environment. Now, heap on the looming budget uncertainties caused by stifled state funding, which are likely to predominantly affect public schools in areas with lower property values. It's a recipe for disaster among students who need the most support.
In the past several months, we've heard solutions proposed to address the digital divide, such as a Texas district that tried to get a Wi-Fi-equipped bus to drive to disconnected areas, so students could sit outside it and work, and a local PBS affiliate in Arkansas that began bringing in teachers to address students during daily television programming. A common offering, including at a district in Michigan, is for students to download course content from the parking lots of school buildings equipped with Wi-Fi.
We find it frustrating that the majority of these approaches focus on what schools and teachers need to do to teach creatively for students with either slow or nonexistent internet access. Why are we placing this burden on the schools?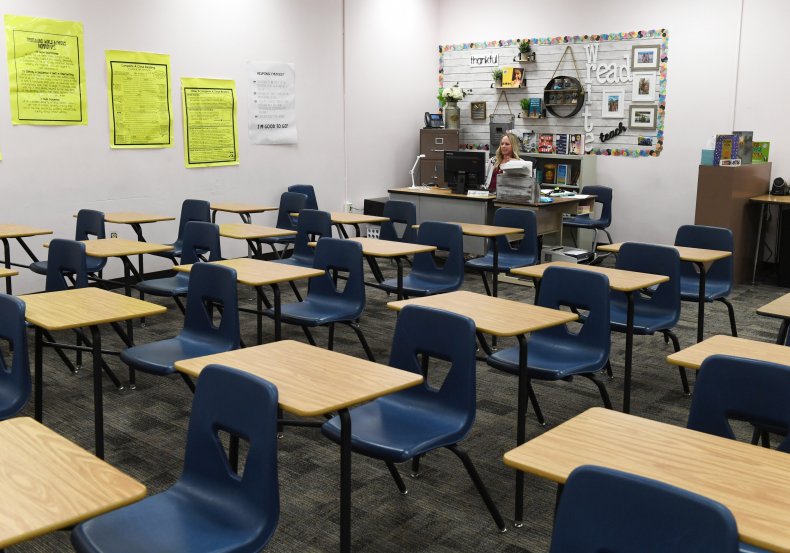 When internet providers have stepped up, their solutions have been temporary and fraught with red tape. Comcast's Internet Essentials package provides 60 days of service to qualified families, but it requires an application process and isn't available in all areas. Hotspot providers like Kajeet or Skyroam can fill the gaps in areas where service isn't reliable, but they, too, require upfront investment from families or coordination from school districts. It's also important to consider that 22 states have bans or restrictions on municipal internet service providers, which could otherwise provide a bridge solution to connect their communities.
The clock is ticking on addressing the digital divide in this country. Nineteenth-century public school pioneer Horace Mann called education the "great equalizer," but school-age children who do not have internet at home will invariably fall behind in academic achievement compared with their peers who do. Unlike the pandemic, this is a problem that we have the tools to address now. Hotspot providers can step up to provide their services to those who need them, cell companies can work with municipalities to expand access, and the FCC can adapt its policies to provide emergency support that ideally becomes the building block for widespread infrastructure improvement.
It is our hope that the disruption of COVID-19 will shine a harsh light on the digital divide that millions of Americans face every day and catalyze long overdue action. It is time to step up and make sure that the next generation of leaders are set up for success as they enter one of the most challenging school years in our nation's history.
Leeza Garber is a consultant and attorney, specializing in cybersecurity and privacy law. She is a lecturer at the University of Pennsylvania's Wharton School and is an adjunct law professor at Drexel University's Kline School of Law.
Allison Jegla is a higher education strategist and writer, currently serving as senior vice president at the Joyce Ivy Foundation, a 501(c)(3) organization that encourages young women from the Midwest to expand their educational and professional aspirations.
The views expressed in this article are the writers' own.