With COVID-19, Nearly Half of U.S. Farm Workers Are 'First in Exposure, Last in Protection'
More than a year into the coronavirus pandemic, undocumented migrant workers are still among the last in the U.S. to receive protection against the virus that has infected more than 31.4 million people nationwide.
Social distancing and use of personal protective equipment remain high on the Center for Disease Control and Prevention's list of recommendations for those who live and work in the U.S., even as vaccination efforts ramp up throughout the country. But as one immigration advocate recently told Newsweek, those rollout efforts often reach undocumented migrants last, leaving them and their families with continued risks for exposure.
In the U.S., the total population of undocumented migrants is estimated to be around 10.97 million, according to the Washington, D.C.-based Migration Policy Institute (MPI). The think tank's data estimates about 6.8 million of those undocumented migrants are employed.
According to a National Agricultural Workers Survey published in early 2018 by the U.S. Department of Labor, an estimated 49 % of agricultural workers in the U.S. were unauthorized. However, the country's exact number of undocumented agricultural workers is difficult to gauge due to the seasonal nature of the work and the ways in which government officials conduct workforce surveys, according to the Center for American Progress (CAP).
Though securing worker protections against COVID-19 is an ongoing focus of immigration activists in the U.S., the problem exists in other countries as well. About 20% of Canada's agricultural workforce—an estimated 60,000 individuals—consists of migrants who travel to Canada each spring to assist with annual harvests, Reuters reported Wednesday.
Many of those workers retain serious concerns about social distancing enforcement and access to personal protective equipment a full year after the World Health Organization declared the rapidly-spreading virus a pandemic, due to the crowded environments they live and work in and the language barriers that block easy communication between the workers and their employers, Reuters said.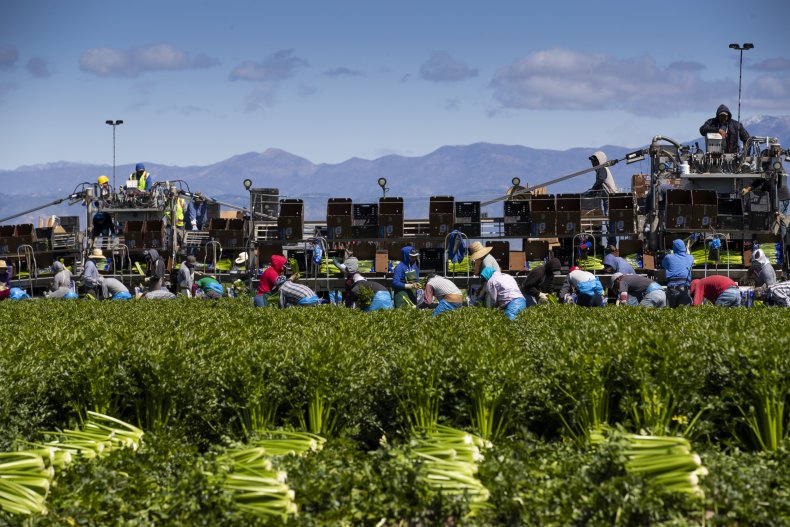 Angelica Salas, the executive director of the Coalition for Humane Immigrant Rights in Los Angeles (CHIRLA), told Newsweek the industry in which undocumented individuals work doesn't matter as much as the region in which they reside. Many undocumented migrants live with family members who work in other industries—for example, an agricultural worker may share a household with someone who works in food services.
"In many households, you have multiple adults who are essential workers in different industries," Salas told Newsweek. "It really is this idea that multiple immigrant workers from multiple industries can reside in a particular neighborhood, and therefore COVID expands."
From initial efforts to distribute personal protective equipment to COVID-19 testing and now vaccine access, "everything came to our folks last," Salas said. "First in exposure, last in protection."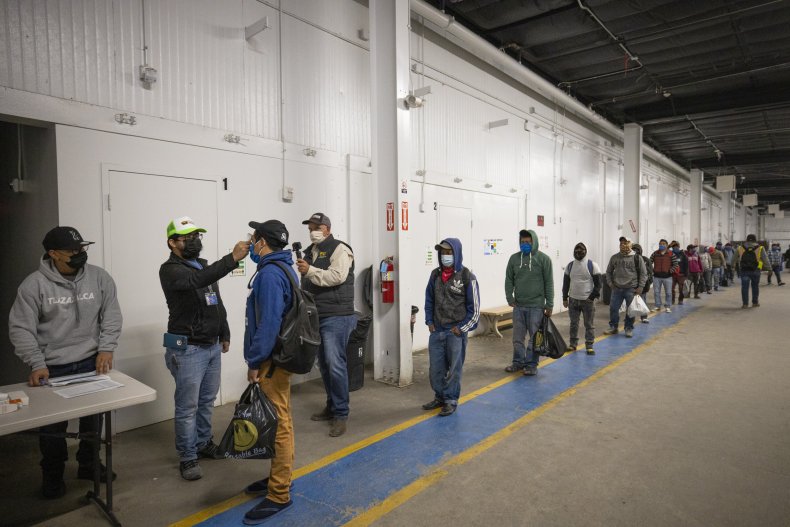 Salas said CHIRLA and other migrant advocates have worked to distribute personal protective equipment and information on both the virus and vaccination access to migrant communities. One of their top priorities now in helping undocumented workers battle the pandemic is advocating for the workers and their families to secure vaccine appointments, she said.
"In order for these vaccines to get to our community, we have to make an extra concerted effort so that these vaccines go to the neighborhoods where these folks have been the most impacted—places where people know that we help them overcome the digital divide in terms of signups for these vaccines and for appointments," she said.
According to CAP's December report, California is the state with the greatest number of undocumented migrants working in infrastructure positions deemed critical during the pandemic. California has been taking steps to reopen in recent weeks and is expected to fully reopen by mid-June.
"The thing is that the vaccines aren't getting to them fast enough," Salas said of the undocumented workers who remain exposed as states like California reopen.
Though access to vaccines is a top priority for CHIRLA and other advocate organizations, Salas warned of the lasting impacts the pandemic will have on migrant communities and the support they will need during the recovery process. Many migrant families lost family members to COVID-19 over the last year, and many of those who survived their bouts with the virus may face costly and painful long-term medical repercussions.
"For many of these families, we've had children who have lost both parents," Salas said. "There's trauma there. So to me, it's dealing with the lasting effects of the inequities that existed before COVID that were exposed during COVID, that resulted in disproportionate effects on this community."