You've Stopped Clapping For Carers, Don't Stop Caring, Doctor Says
One of the many doctors who has served the public during the COVID-19 pandemic in hospitals is urging the public not to "forget or stop caring for us", despite the "clap for carers" gesture formally coming to an end last week.
The clap for carers initiative saw Britons across the country gather outside their doorsteps, windows and balconies every Thursday at 8pm for 10 weeks to applaud the efforts and sacrifices made by the U.K's healthcare workers in their frontline battle against COVID-19.
Politicians also joined in the clapping, with Prime Minister Boris Johnson and Chancellor Rishi Sunak clapping outside Downing Street.
The organizer behind the applause, Annemarie Plas, said last week's clap for carers would be her last, as she believes that for the symbolic gesture to have its biggest impact, it's "best to stop at its peak."
Although the campaign's organizer may no longer be clapping, Dr. Meenal Viz is urging the public to continue to support healthcare workers.
She said: "People are so grateful for the [National Health Service] NHS, to doctors, nurses and healthcare workers, considering the conditions we work in every day to have that public support, it really meant a lot to us, it gave us a nice fuzzy feeling in our heart every Thursday knowing that the public is on our side considering the extent of the pandemic and the things we have to see in hospital."
However, Dr. Viz is worried that with the possibility clap for carers no longer making headlines, the struggles that healthcare workers like herself have to go through and the support they need could be forgotten.
She said: "The public can continue to show their support in many other ways, in the sense that the next time you go see a doctor and they tell you 'you have to wait an extra five minutes in the queue', don't get angry, just be patient.
"Remember that this is a job we do on a daily basis and these are the people we see.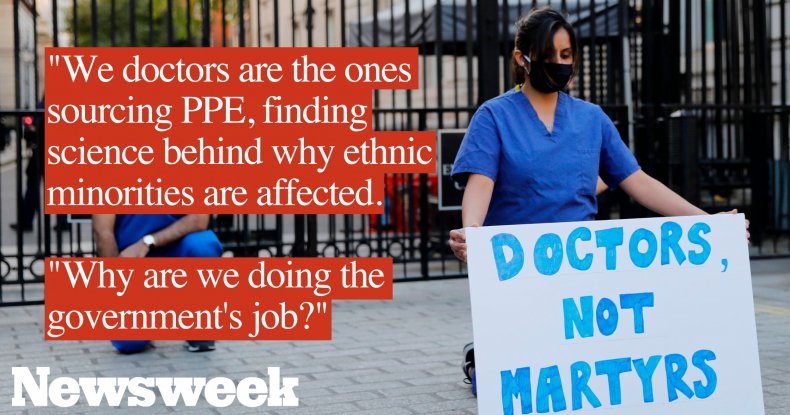 "Also just remember that when you come into a hospital and go to A and E, as doctors we don't even have a room for us to put our feet up to have a coffee or have a cup of tea because there's no funding for that.
"If you want to help us then just remember these small things before you get angry, before you get impatient, before you feel like the NHS is not there to help you because we have been dealing with this for many many years and now we're dealing with the healthcare cuts in the pandemic and that's even more challenging for us."
However, Dr. Viz was also critical of politicians who "co-opted" the clap for carers message and turned it into what she fears was a publicity stunt.
She said: "We started to see our own ministers who failed to support health care workers, who failed to protect the NHS, also clapping as well. It became a media stunt and a movement co-opted by politicians and, once that started to happen, it left a funny taste in my mouth.
"Something that which started out from the very pure sense of gratitude became co-opted by politicians purely to show the media and to show the public that they're on our side but their clapping on one side and they would just turn around and make decisions which were causing, unfortunately, the death of healthcare workers.
"The public have supported us immensely throughout the whole pandemic and they've taken the role of the government, really, with the fundraising and all of the amazing things that have been done. But it's not really their job, it's the government's job to do that."
Dr. Viz also applauded the public's efforts to fundraise for the NHS, but said that it should not distract from why such funding was needed in the first place, which she blamed on cuts to the NHS from years of austerity.
She said: "The reason why people are fundraising is because it's years of negligence for the NHS, its years of cutting funds of taking things away now the public have had to step up to help doctors so we can help them."
"My message to the government is that they should be using their hands for something else, they should take their hands out of their pockets and instead of clapping they should use them to do their actual job.
"Because as doctors we are the ones who are sourcing PPE (personal protective equipment), the public is sourcing PPE, doctors are actually finding the science behind what is the right PPE to use, doctors are finding the science as to why ethnic minorities are being affected.
"Why are we doing the government's job?"
Dr. Viz urged the government to listen to doctors in order to make progress and prevent more deaths.
Last Thursday Dr. Viz and some of her colleagues turned their backs outside Downing Street while the clap for carers took place, choosing instead to hold a 237-second silence, one second for every dead doctor, nurse and carer.
Newsweek has approached the Department of Health and Social Care for comment.