Health officials in Canada have declared a COVID-19 outbreak at a mink farm in British Columbia.
Fraser Health—one of five publicly funded health care regions in the province—said in a statement that eight people at the farm had tested positive for the disease. Officials are screening several more employees as well as tracing the contacts of those that are infected.
Operators of the farm located in Fraser Valley, which has not been identified, and affected staff are now self-isolating, according to Fraser Health.
Scientists have found that minks are susceptible to the SARS-CoV-2 virus that causes COVID-19, with the animals capable of suffering a range of symptoms, including severe pneumonia.
Minks kept on fur farms across several countries have caught the virus from infected employees. And in a small handful of cases, the virus appears to have made its way back into humans after having mutated.
It is not currently clear whether any minks on the British Columbia farm have been infected with SARS-CoV-2, but the Canadian Ministry of Agriculture is now conducting tests of animals on site.
Under the B.C. Animal Health Act, the mink farm—one of 14 in Fraser Valley—has been ordered to restrict the transport of animals, products and goods.
So far, no confirmed SARS-CoV-2 infections in mink have been reported in British Columbia. But outbreaks of the virus have led to the deaths of thousands of the small mammals in farms across several U.S. states across the border, including Utah, Wisconsin, Michigan and Oregon.
In November, Denmark ordered the culling of 17 million mink after a mutated strain of the novel coronavirus circulating in the animals infected around a dozen farm workers. Large culls of mink on fur farms have also been carried out in Spain and the Netherlands.
Last month, Canadian health officials conducted inspections of every mink farm in British Columbia to ensure that appropriate measures were being taken to prevent the spillover of the virus between animals and humans, the Vancouver Sun reported.
"Ministry of Agriculture staff have been in contact with the province's licensed mink farms within the last several months to ensure that all necessary precautions are being taken to reduce the risk of spreading COVID-19 through human to animal or animal to human transmission," the ministry said in a statement.
But Lesley Fox, executive director of Fur-Bearers—a Canadian non-profit that works to end the commercial fur trade—told the Vancouver Sun the COVID-19 outbreak in Fraser Valley indicated that the government's safety measures are not sufficient.
"The ministry knew this was a problem—they knew mink are highly susceptible to this virus and despite whatever efforts they made... it was a failure. They can't contain it," Fox said.
Ben Williamson, Programs Director for World Animal Protection, U.S., told Newsweek that the outbreak of COVID-19 on the Canadian mink farm is the latest example of the risks posed by "close interaction between wild animals and people."
"The demand for and exploitation of wild animals exposes us to disease and puts us all at risk," he said. "The cruel fur trade is no exception to this rule. The animal suffering taking place on fur farms makes matters worse, as cramped and stressful conditions weaken the animals' immune systems, creating a perfect storm for diseases to thrive."
"U.S. and Canadian authorities should immediately close all mink farms to prevent the spread of COVID-19 and save minks from being bred, confined, and killed for an unnecessary and unethical 'luxury' product. Wild animals don't belong to us. They belong in the wild. This latest example adds to the increasingly urgent case for a ban on the global trade in wild animals."
This article was updated to include comments from Ben Williamson.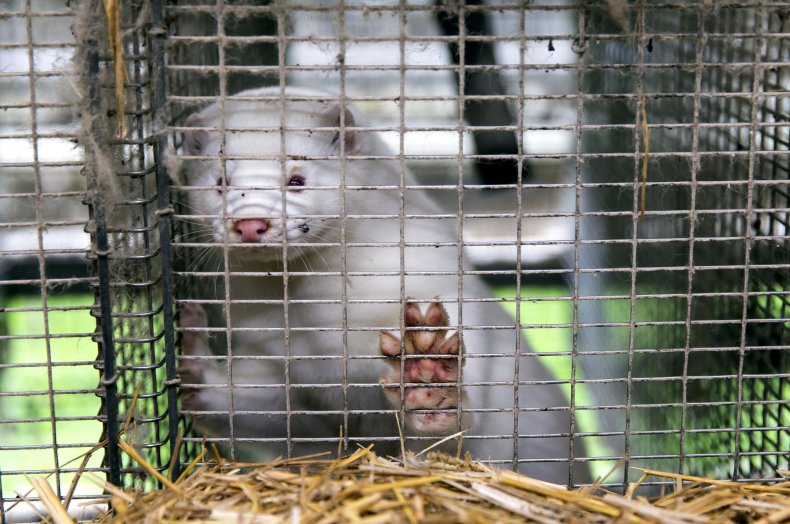 About the writer
Aristos is a Newsweek science reporter with the London, U.K., bureau. He reports on science and health topics, including; animal, mental health, and psychology-related stories. Aristos joined Newsweek in 2018 from IBTimes UK and had previously worked at The World Weekly. He is a graduate of the University of Nottingham and City University, London. Languages: English. You can get in touch with Aristos by emailing a.georgiou@newsweek.com.