U.N. Official Blames Years of Austerity for Poor Bearing the Biggest Burden of COVID-19
The United Nations Special Rapporteur on extreme poverty and human rights believes that years of austerity from governments has resulted in the poorest in society now having to bear the brunt of COVID-19.
Newly appointed Olivier De Schutter is urging world leaders to rethink economic policies once the crisis is over. He believes that "five shocks" that have hit the global economy will harm countries in the short term but could lead to the entire political idea of austerity being rethought.
In a wide-ranging discussion with Newsweek, one of his first since taking the role, De Schutter talked about the lack of universal healthcare, $100bn being pulled out of emerging markets and how historic government policy has led to a much higher number of deaths from COVID-19 for those from disadvantaged backgrounds.
"All governments across the world now realize that austerity policies have weakened the ability for societies to build resilience in the face of shocks like the pandemic," De Schutter told Newsweek in his first interview since taking the role.
"I'm confident that the approach to creating public deficits to respond to social emergencies will change because of the crisis. This is a once in a lifetime opportunity to rethink how we can define human progress and prosperity. The idea that reducing public budgets in the name of some budgetary orthodoxy and being able to continue to borrow at low costs in international markets has to be reexamined.
"We need to spread wealth much more equally and have a social protection scheme including access to health care that is significantly stronger because it's the best investment you can make in the future of a nation. Austerity has worsened the ability of governments to respond," said De Schutter.
The U.N. official said that access to healthcare for many had been made more difficult for people in poverty as a result of austerity measures since the financial crisis of 2008.
In the U.S., for example, around 16 percent of people in poverty did not receive the required treatment for a condition, compared to 5 percent of well-off patients, according to the Centers for Disease Control and Prevention. This gap actually has shrunk since the introduction of the Affordable Care Act in 2010 but the discrepancy still remains.
In the U.K., healthcare provided by the National Health Service is free at the point of use but there still are still significant differences in wellness between rich and poor.
The Office for National Statistics in the U.K. released data showing that the mortality rate of deaths involving COVID-19 in the most deprived areas of England was more than double than in the least deprived areas.
The British Medical Association has previously condemned £550 million in public health cuts between 2015 and 2019/20 which it says has left local authorities and general practioner offices struggling to meet the increased demand for public health services.
Meanwhile, the number of rough sleepers has increased by 165 percent between 2010 and 2019 in England, according to Ministry of Housing, Communities and Local Government data, which also showed that in 2017/18, nearly £1 billion ($1.24 billion) less was spent on single homelessness than was spent in 2008/9—a fall of more than 50 percent.
De Schutter condemned the U.K. government for "significantly slashing" funding for healthcare over a number of years.
He said: "The British Medical Association has denounced this repeatedly," claiming that the quality of the healthcare may be weaker as a result of the budgetary cuts.
In May 2019, De Schutter's predecessor, Philip Alston, published a report into the levels of poverty in the U.K., which he described as "systemic" and "tragic" and in which he said the country's social safety net had been "deliberately removed and replaced with a harsh and uncaring ethos."
Ministers at the time dismissed his report as "barely believable."
However, De Schutter defended the idea that there was "extreme poverty in the U.K. which has become a reality for millions."
He said: "Obviously it's not the same thing to speak about extreme poverty in Brighton than it is in [Ethiopian capital] Addis Ababa or [Nigerian city] Lagos.
"But we define extreme poverty as belonging to or being in a condition in which you face exclusion from society as a result of a lack of income and being unable as a result to enjoy the standard of living that the average person aspires to, then there is extreme poverty in the U.K.
"Families have been forced to make very tough choices as a result, particularly due to the increased cost of housing. Foodbanks have become a permanent feature of social protection in the U.K. over the past 10 to 15 years."
De Schutter said there were a few main reasons he thought people from low-income neighborhoods were particularly impacted by the COVID-19 virus, with overcrowding, high levels of pollution, and being more likely to suffer from comorbidities such as obesity all harming health and recovery levels.
"Many people in these neighborhoods are manual workers and work in essential services. They must travel to go to work in shops and the food industry, for example, exposing themselves to the virus," De Schutter said.
"This impacts essential workers in lockdown conditions. Clearly these are people who have to choose between being temporarily unemployed or to risk being contaminated by going to work."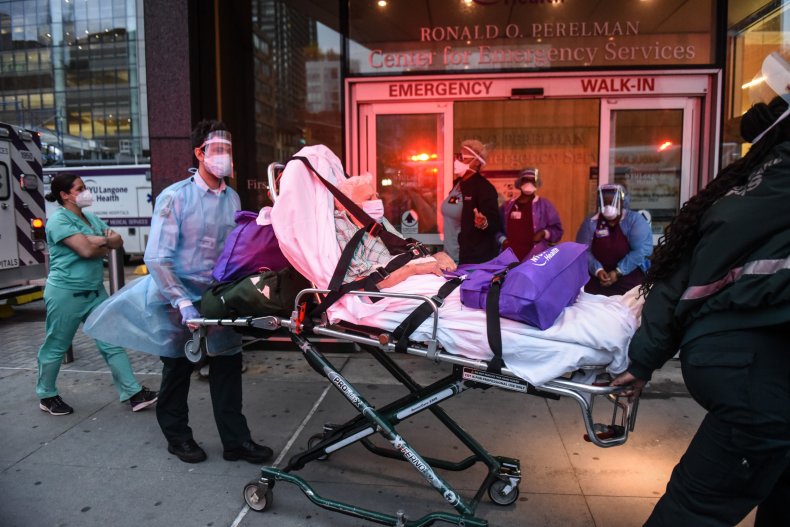 Commenting on the disproportionate impact of COVID-19 on people from black, Asian and ethnic minority backgrounds both in the U.K. and U.S., De Schutter said it was as a result of "social and economic discrimination ethnic minorities face."
He said: "Particularly in the U.S. there is very clear and very worrying data showing the links between obesity and diabetes that are particularly high amongst the African Americans and of course the risk of developing serious illness as a result of COVID-19.
"People with these health conditions find it far more difficult to have their immune system react effectively, and that is because of the socio-economic discrimination they have been facing."
De Schutter also said that poorer and developing countries across the world are facing "five huge shocks" as a result of the virus.
He said: "First, these countries are experiencing a significant drop in production because of people becoming ill and workers not able to work, so that will be a very significant loss in GDP.
"Secondly, the remittance [payments from family overseas] have gone down. Quite a few countries in the global south depend very heavily on that flow of money in order to keep families afloat. Remittances have fallen by at least 20 percent in developing countries.
"Thirdly, they have been witnessing a very important capital flight, investors have run away from these countries."
De Schutter said the fourth shock had come about because of "capital flight."
Nearly $100 billion ($92.5 billion) of investments in emerging markets held by non-residents was removed in the 70 days after January 21, Institute of International Finance reports.
For the equivalent period in the aftermath of the 2008 global financial crisis, around $25 billion was removed from the same markets, with the current situation being nearly four times as severe.
The fifth "shock," De Schutter says, is that the price of raw commodities had gone down, harming countries depending on the exportation of natural resources for their revenue and public services.
And, for now at least, statistics are showing that poorer people are much more likely to die from a virus that, according to the U.K. government, "doesn't discriminate."
Responding to claims that austerity had meant that the most disadvantaged in society had borne the brunt of COVID-19 in the U.K., a government spokesperson said: "We are doing whatever it takes to ensure people are supported through these unprecedented times.
"We have significantly strengthened our safety net and our support package to protect jobs and incomes is one of the most generous in the world and unprecedented in the history of the British state. This is only possible because of the difficult decisions taken over the last decade."