People of Color Still 50 percent More Likely to be Fined for COVID Breaches in U.K.
People of color are still 50 percent more likely to be fined for a COVID-19 breach than those from white backgrounds, official figures show.
The latest date from the National Police Chiefs Council shows that 32,329 Fixed Penalty Notices (FPNs) were issued in England and Wales between March 27 and December 20, 2020.
The figures showed that while 80 percent of fines were issued to white people, 18 percent of fines went to those who identified as Asian and Chinese (11 percent), Black (5 percent) or Mixed (2 percent). Black Asian and Minority Ethnic backgrounds (BAME) make up 13 percent of the population in England and Wales. White people make up 86 percent of the population in the two countries. The remaining 1 percent of the population is classified as "other" in the same way as the remaining 2 percent of fines data.
Across all age groups, that means people of color were around 1.5 times more likely than white people to be fined for a breach of the COVID-19 regulations. The latest data however, excludes 22 percent of Fixed Penalty Notices (FPNs) where the ethnicity of the individual issued with the notice was unknown.
Analysis of National Police Chief Council (NPCC) figures in 2020 between March 27 and May 25 showed that police were twice as likely to fine young BAME men for breaching coronavirus lockdown regulations than white men of the same age.
The latest figures also cover the second national lockdown in England, imposed by Prime Minister Boris Johnson between November 5 and December 2, 2020. It comes as the U.K.'s Home Secretary Priti Patel earlier in the week said 45,000 fines had been issued to members of the public who flouted COVID-19 regulations across the U.K. since the pandemic began.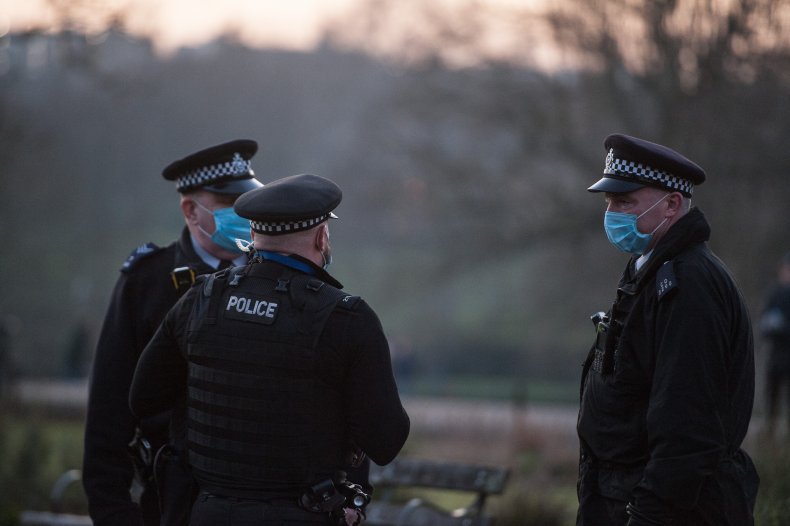 Speaking at a Downing Street press conference with Patel, Martin Hewitt, chair of the National Police Chiefs Council said police would "make no apology" for the 45,000 fixed penalty notices issued across the U.K. On the latest figures, the NPCC said FPN data analysis would enable chief constables to understand data in a local context and allow communities to more effectively scrutinize local police forces.
National Police Chiefs' Council Chair Martin Hewitt, said: "The number of FPNs issued overall is low reflecting our approach of enforcing only as a last resort. It is also important to recognize that this data presents only a partial picture as it does not show the hundreds of thousands of interactions with the public where engagement, explanation and encouragement was effective and there was no need to issue a fine. Those who were given a fine did not follow the regulations that millions of others were abiding by, which were there to control the spread of a deadly virus, protect the NHS and save lives.
"Of the relatively small group who were issued with an FPN, there are disparities across gender, age and ethnicity – with young men most disproportionately represented against the population. The analysis in this report is complex and needs to be interpreted carefully – the data available makes drawing definitive conclusions about disproportionality challenging and comparisons between forces are difficult due to their varying local contexts."
He also added that rural and coastal forces that attract tourists issued significantly more FPNs to non-residents, which as a result has significantly affected the level of disparity between white and people from black, Asian and other minority ethnic backgrounds compared with other forces who issued fewer relatively to non-residents.
Hewitt said: "For a number of forces, continued focus on crime and violence could affect their disparity rate as areas of that have been a focus of police activity are also areas with a higher concentration of black, Asian and minority ethnic people, which also increases the possibility of officers identifying and dealing with breaches during those deployments." The Home Office has been contacted for comment.
*Study methodology and notes
Data from the National Police Chiefs Council on FPNs issued between March 27 and December 20, 2020 can be found here.