Why Are Illegal Raves Still Taking Place During Lockdown?
Despite stringent lockdown measures being put in place by the government to combat the spread of COVID-19, illegal raves and parties have continued to take place across the U.K.
Police issued over £15,000 ($20,500) in fines after breaking up an illegal rave in London after around 300 people were found at an illegal party in Hackney in the northeast of the capital. In the summer, 6,000 revelers attended two illegal raves in Manchester, where a woman was raped and a man died of a suspected drug overdose.
Despite Home Secretary Priti Patel bringing in rules such as a £10,000 ($13,700) fine for organizers of raves and a new fine of £800 ($1,100) for those caught at house parties, some remain undeterred. So why are unlicensed music events and house parties still continuing?
"I think it's interesting here that the terminology that is deployed conveys a lot," social psychology Professor Clifford Stott, of Keele University, tells Newsweek. "We're asking about raves but some people also refer to those gatherings as block parties so it begs the question what's the difference between a rave and a block party? A rave would be prominently white and a block party might be more ethnically mixed."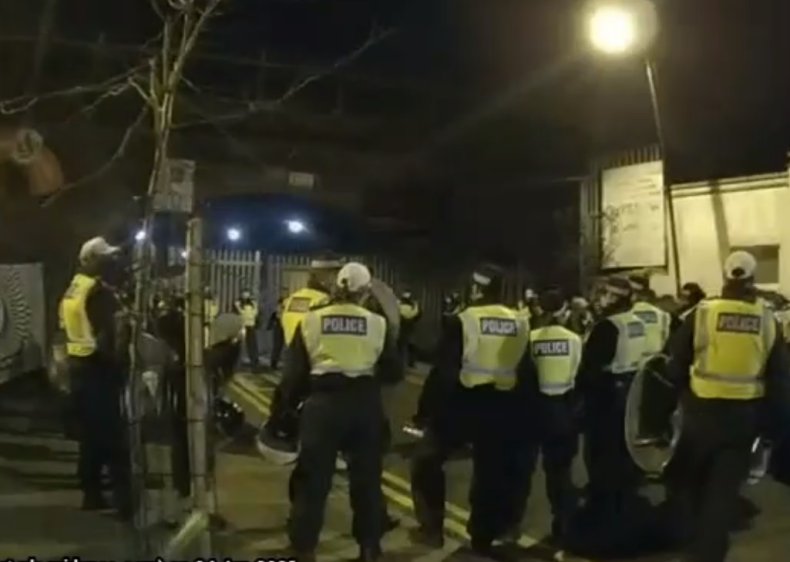 Prof Stott is keen to highlight the difference in the two to show how different forms of assembly relate to different types of culture and communities and why they take place.
"When we're using the terminology of raves or block parties what we're generally talking about is the policing of young people," he says. "It's young people's lives that are effectively the most affected by the control measures. It's young people who can't socialize or access employment in the hospitality industry. It's young people's education that's been disrupted and young people's ability to socialize and form social relationships that is being denied to them and they are being required to suffer what is nothing short of house imprisonment."
These raves, or block parties, have seen an unprecedented increase after lockdown measures were reestablished in November, the Night Time Industries Association (NTIA) says. Because of the nature of these parties, the exact number is unknown.
In the U.K., 93 percent of COVID-related deaths have been of people 60 years or older, not the archetypal age for a rave. This means that younger people, therefore, want to exercise the "right" to freedom of assembly in a context where they don't perceive themselves to be at risk. Some organizers of these parties have said that they are "very proud" of getting the events organized.
And these events fall into a small number of categories, as set out in Vice magazine.
Established unlicensed parties organized by experienced crews with safety measures in place
Established free parties where the community self-polices, including returning to clean up afterward and with crowds most likely to already know each other
"Moneygrab" parties which are advertised online and aimed at profiting from the pandemic
The parties are relatively easy to find online, through social networks and on WhatsApp groups and, Prof Stott says, fines on their own might not be enough to deter younger people from attending. The majority of Fixed Penalty Notices (FPNs) he says are unpaid and if a young person is unable to pay the fine, they are taken to court where the ability to pay is means-tested.
With the English court system already backlogged due to the pandemic and with serious offenses such as domestic violence, burglary and rape unlikely to be tried in court for two to three years, according to Professor Stott, the cases of young people going to court for organizing parties are unlikely to be heard for three to four years and are likely to get dropped.
"My fear is with tougher penalties in place people who attend these parties will become more radicalized, they will potentially become more violent if the police turn up, they will certainly become less cooperative with the police," he says.
"It's important to bear in mind that these actions are crowd events, you're not just policing individuals, you're policing crowds who are likely to see the intervention of the police antagonistically and possibly even as illegitimate and we know that those dynamics are foundational for riots. Our concern from the outset has been trying to help avoid the dynamics of riot and I think as we go into the spring and summer when public gatherings outside become more prevalent we need to be extremely careful that we don't inadvertently ignite the conditions of widespread disorder."
Andy Dykes, chairman of SEDA DJ Association, thinks the illegal raves act as a release for young people.
He says: "It's desperate times out there, it's a release for people to get away from everyday life, having been locked away as long as we have, I can understand it happening but it shouldn't be happening, I don't support that [illegal raves] in any way shape or form."
Dykes suspects that most of the organizing for such events is done online but strongly condemns any DJ attending such events, no matter how difficult a situation they may find themselves in. He does hope however that the government can provide more support for the music and entertainment industries to help DJs who are struggling financially due to the lockdown.
The Home Office has been contacted for comment.