Restarting the Economy Will Depend on Widespread Testing, Public Confidence and Financial Support, Experts Say
As major metropolitan regions grapple with how to reopen society amid news of abating COVID-19 hospitalizations, public health experts and economists warn that any such efforts must be accompanied by a massive expansion of testing capacity.
"Before we do anything, we need to widely deploy a rapid antibody test," David Celentano, a professor of infectious disease epidemiology at Johns Hopkins University, told Newsweek.
An antibody test would help reveal who has survived exposure to the virus and, therefore, who has potentially acquired immunity against it.
"To date, we really do not know what proportion of the population has been infected, who has immunity and how large is the pool of susceptible people," Celentano explained.
On Tuesday, California Governor Gavin Newsom, whose state was among the first to experience community transmission and later recover from the outbreak, laid out a six-point plan that will control how and when the stay-at-home order is lifted.
Indicating the importance of testing to this transition, the first point that will determine how the state lifts restrictions involves "the ability to monitor and protect our communities through testing, contact tracing, isolating, and supporting those who are positive or exposed."
New York Governor Andrew Cuomo, whose state was, until recently, the epicenter of the U.S. outbreak, previewed how the East Coast might come back to life. Such an approach also involved widespread testing. He announced a coalition of seven Northeastern states that will work together to implement a coordinated response.
Notwithstanding these efforts to mitigate future harm through a controlled reopening of society, economists caution that some depressive impacts from the nationwide lockdowns have already been baked in.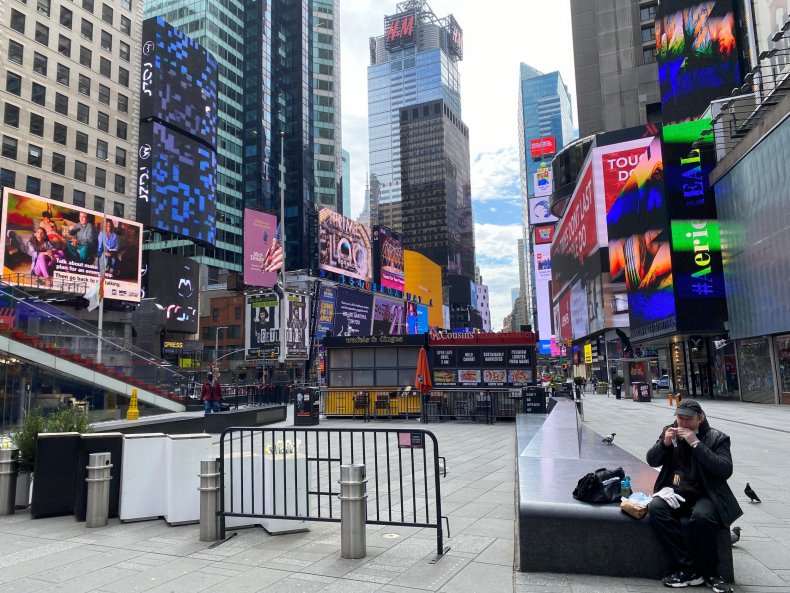 In a Gallup poll in early April, just 20 percent of Americans said they would readily resume normal activities once allowed to do so. The vast majority—71 percent—said they would "wait to see what happens" before embracing public life once more.
"People will begin to discern the differences in risk," Sara Solnick, a professor of microeconomics at the University of Vermont, told Newsweek. "I think people will be very deliberate about what environments they choose to enter."
Solnick explained that the impetus for reopening the economy will present a clear fork in the road for the ensuing recovery: If restrictions are lifted because of official and popular confidence in the ability to constrain the novel coronavirus, then "people will have confidence to return to public activities." However, if restrictions are lifted because of impatience, "there would be much more caution and reluctance" to re-engage with public life.
On Wednesday, Cuomo said New York would be guided by "a phased reopening of the economy as educated by testing and tracing," identifying to whom an infected person might have spread the disease.
He called the mobilization of resources necessary to implement this plan on a wide-enough scale "the equivalent of trying to get Apollo 13 back to Earth."
Megan Greene, an economist and senior fellow at the Harvard Kennedy School, described a spectrum of approaches states will consider when formulating their post-lockdown policies, emphasizing a likely scenario that would involve ongoing, intermittent isolations.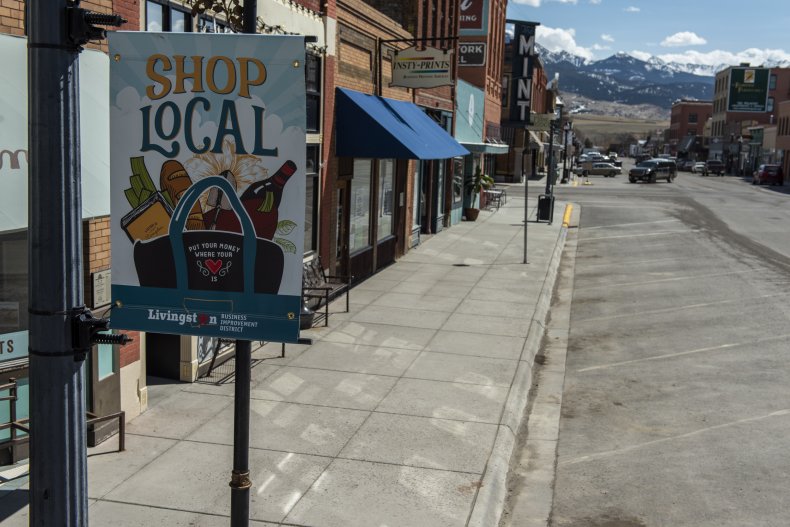 The most expedient response, she said, citing a popular proposal, would revolve around "testing like mad."
"If you just test everyone every one-to-two weeks, you figure out who has it and can isolate them," Greene explained. "Everyone can then go about their normal business."
The problem, however, is that approach could require testing millions, perhaps tens of millions, of Americans each day. Currently, the United States is conducting around 150,000 tests each day, according to The COVID Tracking Project.
"I just don't think we're going to see the kind of V-shaped recovery economists had hoped for," she said, referring to some of the rosier, mission-ready scenarios that have been bandied about. "Consumer confidence has completely tanked. And if people are not going out and buying stuff as they used to, why would businesses make the decision to produce stuff as they used to."
The ability of businesses to adapt to a post-COVID world may be a determinative factor in how states recover from the pandemic. Many gyms and fitness instructors have temporarily transitioned classes to popular telecommuting applications such as Zoom. Restaurants able to remain open increasingly rely on take-out and delivery orders as dine-in services are banned. And streaming companies are cementing their unique role as the central purveyor of entertainment.
The extent to which these shifts will persist once life is allowed to return to normal is unclear. But restaurants and retailers resuming operations may find it challenging to convince customers to revert to pre-COVID habits.
Even before the pandemic, the hurdles to success for small businesses have been severe. A survey conducted by the Federal Reserve found that in 2017, just 57 percent of businesses with fewer than 500 employees were profitable.
"Retailers, their landlords, and suppliers were already responding to multiple industry-wide trends before the coronavirus struck, including tariffs, a shift in consumer demand from products to experiences, e-commerce, and the sharing economy," Tracy Hadden Loh, a scholar with the Brookings Institution's metropolitan policy program, wrote in a blog post. "The resulting strains were already motivating these players to innovate or exit. The coronavirus disruption simply accelerates the need to be creative and embrace new models."
The pot of money allocated by Congress to the Small Business Administration to extend a lifeline to struggling firms has almost entirely run dry. A survey from the group Main Street America found that 3.5 million small businesses are at risk of closing permanently in the next two months. Regarding their ability to adapt, Main Street noted that 63 percent of survey respondents could not even conduct sales through the internet.
"It's not surprising in a time of social distancing and stay-at-home orders that online shopping would be rising dramatically and represent a critical component to small business survivability during the pandemic," the group wrote, imploring that "minimizing permanent business closures is critical to downtown and district recovery."