COVID-19 Restrictions for New Recruits Eat Up Navy, Marines Budgets
Officials in the Marines and Navy have said that safety prevention measures for preventing the spread of COVID-19 have made both military branches scramble for cheaper alternatives as their budgets run out.
In order to prevent infections, the Marines have been accepting fewer recruits so that trainees can be spaced out. Trainees are tested for symptoms, given face masks, spaced out on busses and then are instituted a 14-day staging period at a separate facility with its own laundry, infirmary and mess facilities.
While in staging, each new recruit is screened and observed by medical care providers twice a day every day during the two-week period. The Navy also tests all new recruits upon arrival.
To help with testing, contact tracing and monitoring, the Navy has increased staff with medical technicians, according to USNI News, the U.S. Naval Institute's online news and analysis portal.
More than 800 recruit division commanders and other instructors are sequestered on base and forbidden from going home at night, a precaution to reduce the risk of possible COVID-19 contact with others.
Furthermore, the Marines have canceled family day and graduation ceremonies and eliminated the 10-day leave period after graduation that customarily allows training camp graduates some public freedom before being shipped off for further training.
If available, the Navy uses military aircraft to transport graduates. If not, it hires private busses.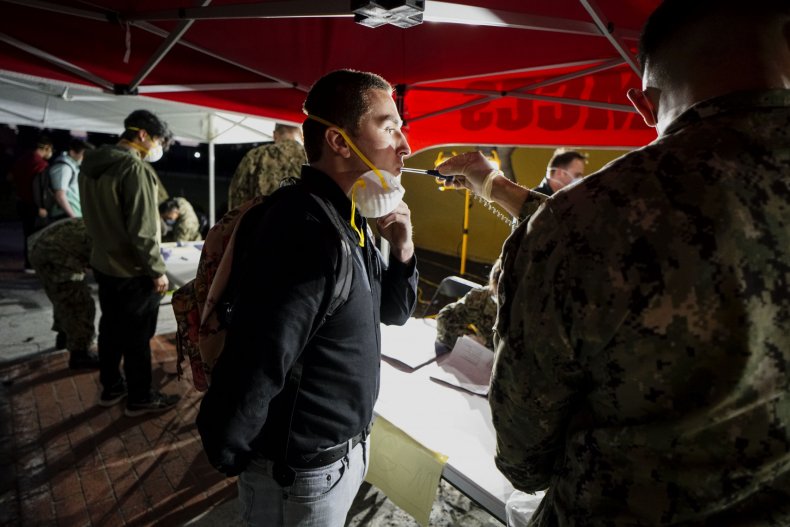 Despite the precautions, both the Navy and Marine officials have said that recruits are receiving the same training as would occur under normal circumstances. Nevertheless, the extra money needed for medical staff, housing, staging facilities, facemasks and other changes have quickly added substantial costs to the branches' usual operating budgets.
In a press briefing on Tuesday, commanders of both branches said a $10 billion supplemental fund passed by Congress earlier in 2020 has kept them from running out of funds, according to The Marine Corps Times. However, it's unclear how quickly the branches may run out.
"We obviously have the COVID supplemental that's been very helpful," said General William F. Mullen, commanding general for Marine Corps Training and Education Command. "I can't really say right now, whether we're going to be short, or over."
In early May, an "interim guidance" memo from the U.S. Military Entrance Processing Command (MEPCOM) said that the U.S. military would stop recruiting applicants who have tested positive for COVID-19.
That guidance has since been dropped, though the Department of Defense has never released concrete numbers on how many recruits and actively serving members have contracted COVID-19.