COVID-19 Sex Advice from NYC: Make It 'A Little Kinky'
When Isabella, 21, moved from Long Island to Manhattan in mid-June, she was considering downloading dating apps to meet men in the city, but ultimately held back after seeing the New York City sex guidelines published in early June.
With suggestions like "wear a face covering" and "no kissing" before sex, she found them something of a turn off. "I can't hook up without seeing the person's face and kissing them," she says. "Who is even going to follow these?"
The New York City Department of Health and Mental Hygiene first posted sex guidelines when COVID-19 cases began rising back in early March. The original rules discouraged sex with new people. Instead, they promoted masturbation as the safest option ("you are your safest sex partner"). They allowed for sex with other people, but only those you live with, and advised keeping all other interactions virtual. "Consider taking a break from in-person dates. Video dates, sexting or chat rooms may be options for you," it read.
New York City wasn't the only government entity to discourage casual sex during the COVID-19 pandemic--so did Los Angeles, San Francisco, Washington, Oregon and other cities and states in the U.S. The Netherlands suggested single people find "sex buddies" but later clarified that they did not advise having "random sex contacts." Canada's Society of Obstetricians and Gynecologists released guidelines discouraging sex with people outside the home, but added: "if you choose not to follow that advice, please consider minimizing travel back and forth (can one of you stay over for a few nights?)".
While some praised the guidelines as helpful, others ridiculed them on social media. For instance, Reddit posters scoffed at New York's requirements: "Lmao, 'wash those sex toys!'---'keep your sexual encounters to a small group' so orgies are ok?" asked one user. "It says group sex is not ok. Sad!" replied another.
The Big Apple's June update appears to be, in part, a concession to the reality that single people are not going to put their sex lives on hold just because there's an infectious coronavirus on the loose. It incorporates rules of social distancing to accommodate people who want to have sex with those outside their immediate household.
"Wear a face covering or mask," the guidance says. "Maybe it's your thing, maybe it's not, but during COVID-19, wearing a face covering that covers your nose and mouth is a good way to add a layer of protection during sex." The health department also suggests making it "a little kinky" and getting creative to avoid face-to-face contact by adding a wall barrier.
"The assumption behind all these is, this is not someone you live with every day, but you have kind of a new sexual partner, or you've gone out of your shelter at home to find a partner or invited somebody over," says Dr. William Schaffner, a physician and professor of preventive medicine and infectious disease at Vanderbilt University. "Have sex with masks and stuff like that seems kind of a strange recommendation to many people. But nonetheless, there it is." Officials at the Health Dept did not respond to Newsweek's requests for comment.
The new guidelines are in line with research that casts doubt on the effectiveness of abstinence as a public health intervention. A 2007 study, for example, shows that comprehensive sex education programs reduce sexual risk behaviors, whereas abstinence-only policies withhold potentially life-saving information.
Sex guidelines may also help reduce touch starvation, which has also become a reality for many single people, who have gone months without a hug, handshake, or physical touch. A 2014 study conducted at Carnegie Mellon University shows that physical contact with a close other reduces the effects of stress. Another 2005 study shows that hugs and frequent physical contact with another human can reduce blood pressure and heart rate in women.
Despite all the rules and awkwardness of safer sex during a pandemic, some experts believe that single people can still have a passionate and healthy sex life if they can get creative.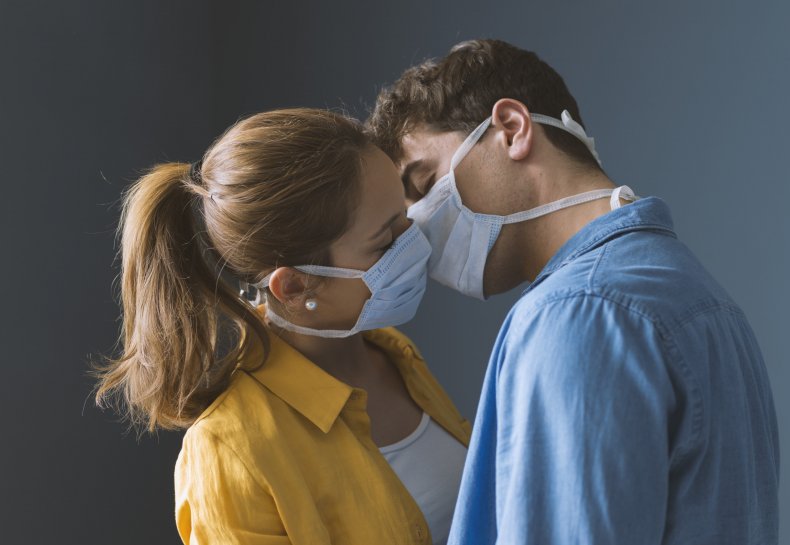 "I think the [New York City] guidelines are pretty smart and generous", says Ian Kerner, PhD in clinical sexology from American Academy of Clinical Sexologists and a Licensed Marriage and Family Therapist. "With the risk of any kind of infection or disease, there's no such thing as perfectly safe sex, but there is such a thing as safer sex."
Schaffner hopes two people would become well acquainted with each other before having sex, including being on the same page regarding social distancing, hand hygiene, and making sure they've not had any symptoms. He agrees that the mask-wearing recommendation may be a barrier to getting intimate.
"When people start becoming intimate with each other, it certainly would be an impediment wearing a mask," says Schaffner while laughing. "If those two people don't start to laugh about that, I think they may just tear their masks off."
Kerner, on the other hand, says that sexual encounters while wearing a mask don't have to be awkward, and if two people want to make it work, they can.
"I am working with [a client] who has a partner and they're not monogamous toward each other. They recently got in a car with the windows open wearing masks and had a sexually adventurous romp – that was really charged and erotic but also safe," he says.
So far there have not been any reported cases of COVID-19 being spread through sex. For this reason, some scientists don't think it's likely, even though the virus has been found in men's semen after they've started to recover from COVID-19. "We still have a lot to learn about COVID-19 and sex," the guidelines state. "We do not know if COVID-19 can be spread through vaginal or anal sex. We know that other coronaviruses do not easily spread through sex."
The guidelines specifically warn again any sexual practices that involve bringing a mouth in contact with an anus, however. Some studies show that the coronavirus is present in feces.
With all the new rules, Kerner believes enjoying sex during a pandemic is just a matter of changing your priorities.
Although kissing is often one of the first things people do as a prelude to sex, in the end it's just one of many behaviors you can engage in to be more intimate with somebody, says Kerner.
American culture tends to privilege relational sex, but now's a time to explore other options, he says. "With eyes open and eye to eye love making and missionary position – which is considered the most popular position in the United States," says Kerner. "But look, there are other ways – sex from behind – you don't have to be looking right into your partners face to enjoy sex. You can be spooning and wearing masks. Just have fun with it."
The new guidelines raised a lot of questions on Twitter. Some people were confused. "Wait is walls a euphemism for something or am I doing sex wrong?" asked one Twitter user.
Another joked about the seriousness of the guidelines. "Also was not prepared for the NYC Health Dept. to tell me to "make it a little kinky." Is this legally binding?"
Meanwhile, many were left wondering why the revised guidelines were necessary in the first place. "There are people who want to have sex with randos in the middle of a pandemic?" went one Tweet.
But there are people who don't like the idea of changing up the routines they enjoy. "Kissing is such a pleasurable aspect of sex, personally," says David Comeau, 32, a performer on a cruise ship who had been anchored and quarantined on the ship outside of Port Canaveral in Fort Lauderdale until early June. Now that he's back on land and done his two weeks of quarantine, he has considered dating but has put it off due to potential risks and impracticality of the guidelines. "I don't think I'll be having sex with a stranger until there are no cases, or a vaccine."
Correction: Isabella's surname was removed from the article at her request. 7/6/2020