COVID-19 is Spiking in Haiti. Can We Trust the Numbers? | Opinion
Haiti has all the factors for a COVID-19 perfect storm: high population density, poor or non-existent health services and scant public participation in social distancing or wearing masks. Worse, the country has yet to administer a single dose of any COVID-19 vaccine currently available.
As Haiti grapples with a new infection spike that is proportionally large for its pandemic numbers to date, the need for reliable figures takes on a new urgency for Haiti's COVID-19 preparedness.
Haiti reported fewer than 400 deaths since the start of the pandemic and about 16,500 total infections, according to data from Johns Hopkins University (JHU). That compares with about 3,700 deaths and more than 300,000 infections in the Dominican Republic, Haiti's neighbor on the island of Hispaniola. The two countries have populations of roughly the same size, or about 11 million each.
Cuba, another of Haiti's neighbors, reported about 1,000 deaths and over 150,000 infections, while the United States—where many Haitians work, live and transit from to visit family—has recorded nearly 600,000 deaths and over 33 million infections. The World Health Organization, in its latest update from June 8, tallied similar figures.
So, are Haiti's numbers accurate, or are other factors in the famously troubled Caribbean country giving a lie to the data?
'Multiply By At Least 10'
Some experts contend that Haiti's pandemic figures are far below the likely reality.
"The data on the number of persons infected are underestimated. We should multiply the number of reported infections by at least 10," said Jean William Pape, the head of the Haitian Global Health Alliance, also known by the acronym GHESKIO, based in the country's capital, Port-au-Prince.
"In the majority of cases the patients have very few or no symptoms," Pape said, explaining that only those showing symptoms are counted—which naturally undershoots the full scale of those who may be infected but don't know it, or don't show it.
Pape noted that, in contrast to the low infection figures, the number of reported deaths from COVID-19 is "rather reliable." This is true, he said, even for populations where keeping count is difficult—especially in Haiti's urban shantytowns, which are also known by the French term bidonville. These impoverished neighborhoods suffer from overcrowding and lack of running water, which make simple measures like social-distancing and washing one's hands all but impossible.
"We [at GHESKIO] have community workers who work in the bidonvilles" of Port-au-Prince, he explained. "If there had been deaths, we would have known."
Pape also underscored that it is precisely because of Haiti's low death count that Haitians remain skeptical about, or even deny, the existence of the pandemic in their country.
Between Denial and 'Dirty Politics'
That denial is not hard to come by among ordinary Haitians.
Kiki Antoine, a tour operator based in the southern town of Jacmel, pointed to the country's government as the main actor—and a self-interested one—behind the COVID-19 discussion in Haiti.
"It's political," Antoine said. "The government wants foreign aid [for the pandemic], so they can enrich themselves. It's dirty politics. The government makes a lot; the doctors and the nurses make a little."
Jean-Ruid Senatus, a hotel manager also from Jacmel, shared Antoine's distrust of government. Senatus assumed the worst of any pandemic-related efforts or funds made available from abroad.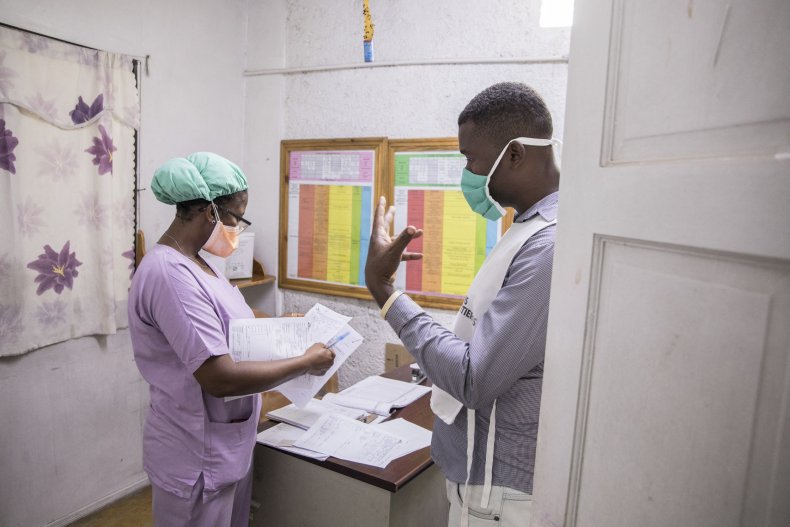 The government "is a mafia state," he said. "The state enriches itself at the expense of the population."
Antoine, reflecting the views of many Haitians, cited natural antidotes—from Haiti's tropical climate to a need to consume more ginger—as the best ways to ward off the virus.
"You see all this sunshine?" he said, pointing skyward. "It kills microbes. That's it."
Antoine went further, dismissing the entire pandemic, at least in his own country. "Coronavirus—it doesn't exist in Haiti. I ask people, 'Do you know anyone affected by COVID-19?' They say no. Zero."
That seeing-is-believing approach to the disease is paradoxically a reason for continued popular skepticism around the virus' existence in Haiti, GHESKIO's Pape pointed out.
In terms of deaths, "It's also the [fact of the] few deaths in Haiti which explains why the population doesn't believe in coronavirus," Pape said.
Haiti's population has long experience in distrusting government calls to exercise caution—or to trust public institutions in handling crises. Wary Haitians have been slow to seek vaccinations for past diseases, including diphtheria and tuberculosis. COVID-19 has triggered more of the same behavior.
Life as Usual, While COVID-19 Numbers Rise
Others recognize the pandemic's presence in Haiti but acknowledged that compliance with public health guidelines is scant to non-existent.
"COVID-19 is growing from one day to the next. It's spreading," said Pierre-Dhimy Dimanche, a commercial artist from Jacmel. "People believe once they observe it. If they don't see it, they doubt. It's like HIV," referring to the early days of the HIV/AIDS epidemic in Haiti and the disease-spreading effects of popular skepticism.
"People only wear masks when they have to," as when entering stores or public buildings, said Watly Valcin, a motorcycle taxi driver based in Fort Jacques, a suburb south of Port-au-Prince. "Most don't believe it. Look around here,"—he gestured to the cafeteria where he was sitting. "No masks."
That Haiti's COVID-19 figures have remained low does not mean infections and deaths can't rise in the future—as they have been doing recently. A spike in Haiti's pandemic incidence rates has put the pandemic at its highest levels since the crisis first arrived in Haiti early last year.
The spike in cases—and deaths—is raising alarm among medical experts. In a June 2 press briefing, the Pan American Health Organization (PAHO), said it was "particularly concerned about the situation in Haiti," amid reports of sharply rising infections, fatalities and hospitalizations.
The forms of civic engagement needed to curb spreading, like mask wearing, are "being largely ignored by the general population," PAHO said.
"There really is no time to waste," said PAHO Director Carissa Etienne. The organization welcomed Haiti's plan to administer its first COVID-19 vaccinations, which will come in the form of the AstraZeneca vaccine, via the COVAX program for the developing world. COVAX aims for "global equitable access to a vaccine," which entails delivering doses from advanced countries to developing ones worldwide.
COVAX doses are scheduled to begin distribution in Haiti later this month.
For the Future, 'Remember the Lessons' of Past Haitian Health Crises
Elizabeth Campa, a senior health and policy advisor for the prominent medical non-profit Partners in Health, took a measured view of both the recent surge in Haiti and the numbers since the pandemic's beginning.
There has been a "major change" in COVID-19 rates from recent weeks, Campa said. When asked whether prior data is trustworthy, she said there is "no reason to believe that the JHU numbers are not accurate."
Campa also noted that over half of Haiti's population is under the age of 24, a younger population than its regional neighbors, which translates to lower core morbidities such as diabetes or respiratory diseases that COVID-19 can aggravate to the point of hospitalization or death.
Haiti's Ministry of Public Health and Population, Ministry of Communication and the Ministry of Planning and External Cooperation did not respond to requests for comment.
For the future, Campa urged stakeholders to call to mind the experience of Haiti's past health battles as a guide for the current one with COVID-19. She likewise called for vaccine equity, as well as a scaled-up distribution of doses from rich countries to poorer ones—a humanitarian notion that extends well beyond Haiti's borders.
"We need to remember the lessons from HIV/AIDS, tuberculosis, cholera," Campa said, and echoed the COVAX program's push for equitable vaccine access. "If we don't remember, we fail all of humanity."
William Fleeson is a writer and freelance journalist based in Washington, D.C.
The views expressed in this article are the writer's own.