How Do COVID-19 Swab Tests Work? Unpleasant Illustration Reveals All
A pediatric nurse has posted an unpleasant-looking illustration of a test for COVID-19—the disease caused by the novel coronavirus—which has been shared more than 50,000 times.
The illustration shows how medical staff carry out the standard nasopharyngeal swab test for the disease, which is used to collect genetic material.
"This test being demonstrated is a nasopharyngeal swab or NP swab collection. It uses a small flocked swab on a flexible plastic shaft to collect a sample from the posterior nasopharynx," Wesley Long, a microbiologist from Houston Methodist Hospital, told Newsweek.
"Nasopharynx" is a term that refers to the back part of your nose where it joins the throat. This is where the virus is most likely to be found.
"Although it looks unpleasant, in actuality, when done properly, it should not be painful, and in fact a person can still breathe and even talk while the NP swab is being collected," he said.
Once the genetic material has been collected from the nasopharynx, it is then analyzed to determine whether or not the novel coronavirus, known as SARS-CoV-2, is present.
"The swab is placed in a broth that preserves and promotes the virus and then tests are done on the broth to detect RNA from the virus directly," Luis Ostrosky, professor of infectious diseases at McGovern Medical School at UTHealth in Houston, told Newsweek. "The swab takes two minutes. Genetic testing of the broth takes as little as 45 minutes in newer machines that do single person testing, or four hours in bigger machines that do multiple tests at one time."
"Currently, those swabs are the most reliable [COVID-19 test]—better than swabs through the mouth. But in patients who are producing phlegm, or patients who are intubated, we prefer samples from the lungs. The nasopharyngeal swab is the best test if the patient is not intubated," he said.
Other swab tests for COVID-19 which are approved by the U.S. Centers for Disease Control and Prevention are the oropharyngeal (back of the throat through the mouth) and anterior nares (up the nostril—although the nasopharyngeal is most effective.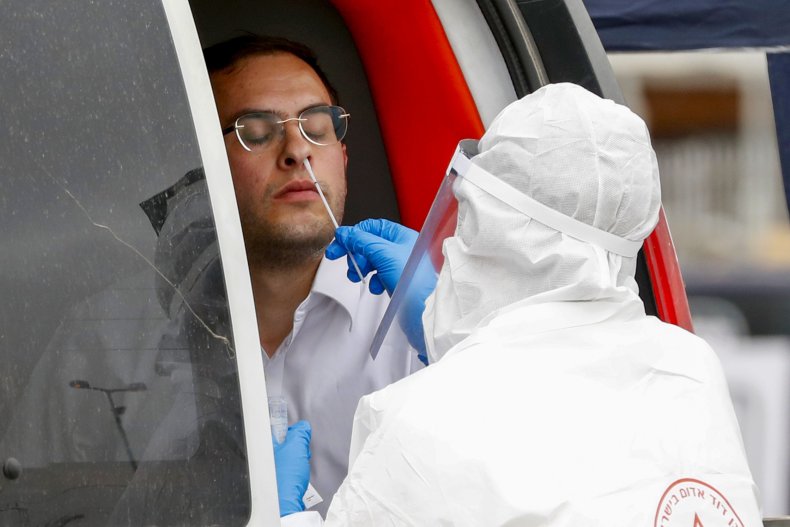 "Efficacy of these tests depend on the volume of virus particle on the swab so can be hampered by the different stages of infection—where viral load is lower/higher," Joshua Moon, a Research Fellow in Sustainability Research Methods in the Science Policy Research Unit at the University of Sussex Business School in the U.K. told Newsweek.
"They will also be affected by the swabbing technique, as oropharyngeal and anterior nares swabs are likely to pick up less virus particles—because COVID infects the Nasopharynx and upper respiratory tract—they may be less effective at detecting cases," he said.
According to Moon, testing is crucial for authorities to determine who is infected with COVID-19 and who isn't.
"Importantly, if we are only testing the most critical cases, we are only getting a partial picture of those who are infected," he said. "By being able to know who is and isn't infected, we can isolate cases and contacts while still allowing others to freely move about the country and work. This is why testing is absolutely key to reducing the lockdown we currently have, otherwise undetected cases will go on to infect others and the cycle will continue."
World Health Organization advice for avoiding spread of coronavirus disease (COVID-19)
Hygiene advice
Clean hands frequently with soap and water, or alcohol-based hand rub.
Wash hands after coughing or sneezing; when caring for the sick; before, during and after food preparation; before eating; after using the toilet; when hands are visibly dirty; and after handling animals or waste.
Maintain at least 1 meter (3 feet) distance from anyone who is coughing or sneezing.
Avoid touching your hands, nose and mouth. Do not spit in public.
Cover your mouth and nose with a tissue or bent elbow when coughing or sneezing. Discard the tissue immediately and clean your hands.
Medical advice
Avoid close contact with others if you have any symptoms.
Stay at home if you feel unwell, even with mild symptoms such as headache and runny nose, to avoid potential spread of the disease to medical facilities and other people.
If you develop serious symptoms (fever, cough, difficulty breathing) seek medical care early and contact local health authorities in advance.
Note any recent contact with others and travel details to provide to authorities who can trace and prevent spread of the disease.
Stay up to date on COVID-19 developments issued by health authorities and follow their guidance.
Mask and glove usage
Healthy individuals only need to wear a mask if taking care of a sick person.
Wear a mask if you are coughing or sneezing.
Masks are effective when used in combination with frequent hand cleaning.
Do not touch the mask while wearing it. Clean hands if you touch the mask.
Learn how to properly put on, remove and dispose of masks. Clean hands after disposing of the mask.
Do not reuse single-use masks.
Regularly washing bare hands is more effective against catching COVID-19 than wearing rubber gloves.
The COVID-19 virus can still be picked up on rubber gloves and transmitted by touching your face.