Highest Ever Number of New COVID-19 Cases Recorded in U.K.
The U.K has recorded its highest ever number of new COVID-19 cases in a single day, with 7,143 cases reported in the last 24 hours according to government figures.
The country has also recorded 71 deaths, the highest figure since July 1.
The number of new confirmed cases is a sharp increase on Monday's figures, when 4,044 positive tests were reported. It is the first time the seven-day rolling average has exceeded 6,000 cases a day.
The latest figures come after Prime Minister Boris Johnson confirmed the country was going through a second wave of the COVID-19 virus that has so far claimed the lives of over 42,000 people in the U.K.
However, the latest daily figure is still likely to be less than the number of daily cases occurring in the months of April and May, after Imperial College suggested there were more than 100,000 new infections each day, but which were missed due to a lack of testing capacity.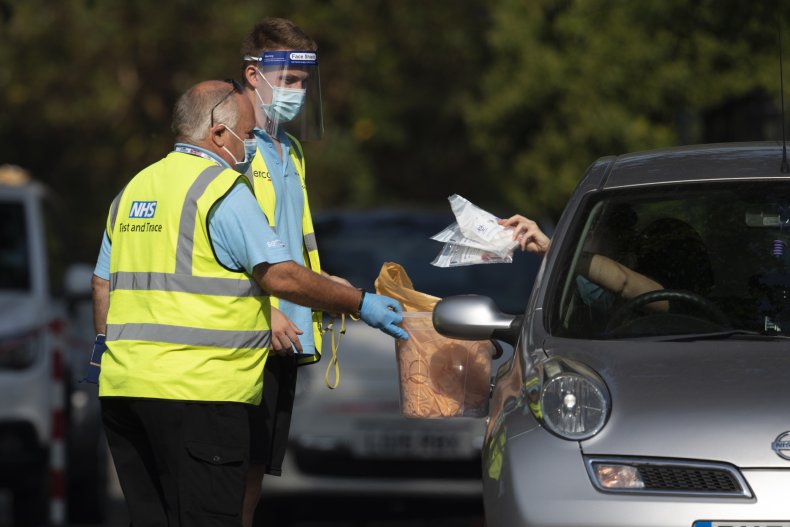 The prime minister is due to give an update on the outbreak tomorrow from Downing Street, alongside England's Chief Medical Officer Professor Chris Whitty, and Chief Scientific Officer Sir Patrick Vallance.
Restrictions have already been imposed on the northeast of England following a rise in the number of cases, with people from different households told they cannot meet in any indoor social setting, and should "avoid socialising with other households outside".
The government has also bought in the rule of six which applies across England, meaning that social gatherings of more than six people are not allowed.
Police will also be allowed to disperse any such gatherings that breach the rules and fine individuals involved £100 ($128), doubling up to a maximum of £3,200 ($4,108).
Meanwhile, according to the Office for National Statistics (ONS), COVID-19 deaths have increased in six of the nine regions in England. The regions where deaths increased were the north west, the west midlands, London, Yorkshire & the Humber, the north east and the east midlands.
Across the world, more than 1,000,000 people have died from the virus, according to data from the Johns Hopkins University Coronavirus Resource Centre.
There have also been 33,417,386 cases of the virus since the pandemic began.
The U.S. accounts for more than 20 percent of global deaths and has the highest fatality count, with over 200,000 deaths recorded so far. Vice President Mike Pence has warned Americans to expect cases to continue rising, as President Trump announced plans to deploy 150 million COVID-19 rapid tests that the administration claims can produce a diagnosis in minutes.