Countries across Europe have suspended flights and closed borders to the U.K. over fears of a new strain of COVID-19 that spreads more easily. Will travel remain open between the U.S. and U.K.?
According to a member of the White House task force, the U.S. does not need to follow in the footsteps of other countries and suspend flights from the U.K. "I really don't believe we need to do that yet," Assistant Secretary for Health Brett Giroir said on ABC's This Week.
Prime Minister Boris Johnson has placed London and the south-east of England under tier 4 restrictions, the highest level, in order to fight the new strain of COVID-19. Countries across Europe, including Germany, Poland, Sweden, Denmark, Finland, Austria, Bulgaria, Romania, Malta, Croatia, Lithuania, Latvia and Estonia have all suspended flights from the U.K, while France has closed its borders.
U.K. health officials have raised the alarm over the new strain of the virus, which PM Johnson says is 70 percent more transmissible.
Officials from European Union (EU) member countries are meeting to discuss a joint response to the new strain. Two meetings will be taking place in Brussels - one involving health ministers and another with the EU's crisis response team.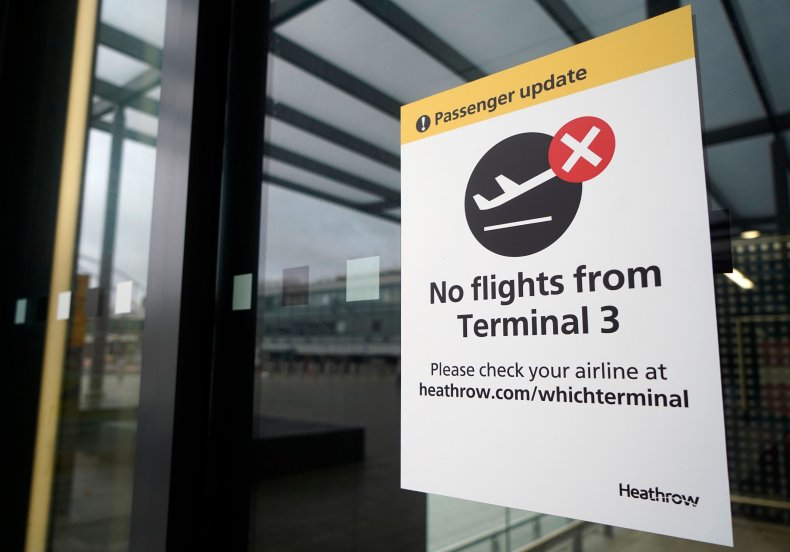 But in the U.S., health experts have sought to expel fears surrounding the new strain. President-elect Joe Biden's pick for surgeon general, Vivek Murthy, said he was confident that vaccines developed to fight the virus will be effective against the mutated form of COVID-19.
Dr. Moncef Slaoui, the chief scientific adviser to Operation Warp Speed - responsible for developing and delivering safe and effective vaccines across the U.S. - told CNN that it was unlikely vaccines would not work against the new strain of the virus.
Meanwhile, President Trump's Surgeon General Jerome Adams said that although it was not unusual for viruses to mutate, any new COVID-19 strain means Americans must be more careful about washing hands, wearing masks and avoiding crowds.
He told CBS: "Right now, we have no indication that it is going to hurt our ability to continue to vaccinate people or that it is any more dangerous or deadly than the strains that are currently out there that we know about it."
Asked about the potential impact of the new strain of COVID-19 on U.S. and U.K. travel, Assistant U.S. Health Secretary Admiral Brett Giroir told ABC News: "I don't think there should be any reason for alarm right now. We continue to watch."
The U.K.'s Health Secretary Matt Hancock has urged people to "behave as if they have the virus" to bring the new strain under control. "Cases have absolutely rocketed, so we've got a long way to go," Hancock told Sky News. "I think it will be very difficult to keep it under control until the vaccine has rolled out."