COVID-19 Vaccine by 2021? Dr. Fauci is 'Cautiously Optimistic'
In an interview with Facebook CEO Mark Zuckerberg, infectious disease expert Dr. Anthony Fauci said he was "cautiously optimistic" that a vaccine for COVID-19 could be available by the end of the year.
Fauci said multiple candidates for a viable vaccine were ready to move into clinical trials, beginning in July. One vaccine, manufactured by the biotech firm Moderna, was shown to have had a positive effect against the virus, producing neutralizing antibodies. Moderna's vaccine is set to enter the third stage of clinical trials in July with testing involving 30,000 individuals.
"If everything works out the way we hope and we don't get any unpredictable potholes or bumps in the road, we should know as we get into the mid-to-late fall—early winter, but probably late fall—whether we have candidates that really are safe and effective," Fauci said Thursday. "And I hope and anticipate that we will have one or more. If that's the case, by the time we get to the end of this year, the beginning of calendar year 2021, we may have vaccine one or more candidate that is actually safe and effective. That being the case, we can start distributing doses widely at that time."
Fauci said that pharmaceutical companies are expected to create doses of coronavirus vaccines before they know if the vaccines are effective. "If it works, they've saved months," Fauci said. "If it doesn't work, we've lost a lot of money.
But we figure it's worth the risk."
"I'm really quite cautiously optimistic that we'll be able to have something as we get into the end of this year and the beginning of next year," Fauci added.
Newsweek reached out to Moderna for comment.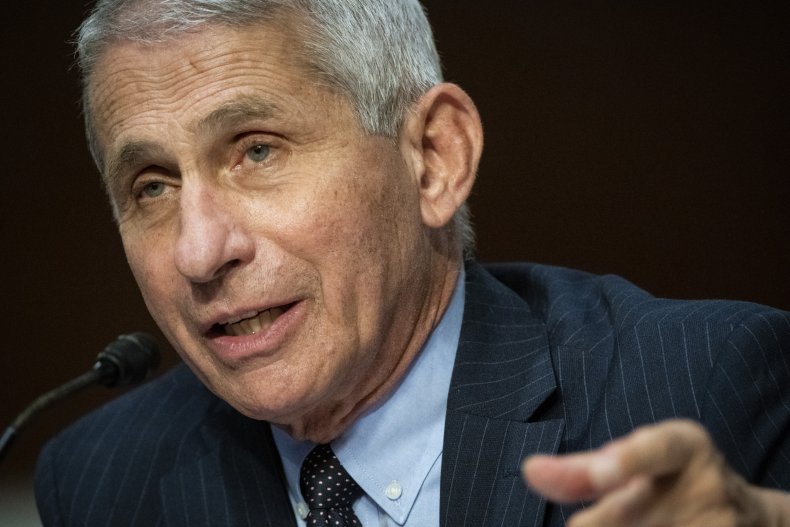 Fauci has received criticism for disagreeing with the Trump Administration's response to the outbreak of COVID-19. President Donald Trump has pushed for the reopening of both U.S. schools and businesses despite a surge of new positive coronavirus cases across the country. In an interview published by The Atlantic magazine on Wednesday, Fauci said the country needed to get the number of positive cases down by calling a "time out."
"By pushing a reset button, I don't mean everybody locking down again," Fauci said. "We've got to call a time-out and say, 'If you're going to open, we've got to get everybody on the same team." Fauci said that if residents in the states where positive coronavirus cases were spiking followed guidelines, including closing bars and wearing face masks for "a few weeks in a row, I'll guarantee you those numbers will come down."
Director of Trade and Manufacturing Policy Peter Navarro said in a USA Today op-ed piece published on Tuesday that Fauci had been "wrong about everything I have interacted with him on."
"So when you ask me whether I listen to Dr. Fauci's advice," Navarro wrote, "my answer is: only with skepticism and caution."
The White House attempted to distance itself from Navarro's comments. In a Wednesday tweet, White House Director of Strategic Communications Alyssa Farah said Navarro's article had not undergone "normal White House clearance processes and is the opinion of Peter alone."
"@realDonaldTrump values the expertise of the medical professionals in his administration," Farah continued.
Vice President Mike Pence has lauded Fauci's work with the White House Coronavirus Task Force, telling reporters on a Wednesday press call that he was grateful for Fauci's "steady counsel as we continue to meet this moment with a whole of government approach, a whole of America approach."
Trump has downplayed allegations that his association with Fauci is strained. Wednesday, Trump told reporters that he and Fauci "get along very well."
"I have a very good relationship with Dr. Fauci," Trump added.
Fauci said in an interview with InStyle magazine Wednesday that his relationship with Trump was "complicated."
"Because in some respects I have a very good relationship with him," Fauci said. "During the times that I was seeing him a fair amount, it was quite a collegial relationship. And in many respects, it probably still is, but I don't see him very much anymore."