COVID-19 Vaccine Has 98 Percent Success Rate in Johnson & Johnson Early Trial
Pharmaceutical manufacturer Johnson & Johnson announced Friday that early trials of a COVID-19 vaccine showed a 98 percent success rate in showing a boost in the immune system.
According to research from Johnson & Johnson, the vaccine enabled 98 percent of those who took it to create antibodies that fight off the coronavirus infection. Those neutralizing antibodies were present 29 days after receiving the vaccination.
Positive responses to the vaccine, called Ad26.COV2.S, helped Johnson & Johnson to move the vaccine into Phase 3 trials by the end of 2020 or early in 2021. More than 60,000 individuals would be required to take the vaccine for that trial.
"We encourage Americans to enroll in the vaccine trial," President Donald Trump said during a Thursday press conference. "It's not only interesting, it will be a terrific thing for our country. We encourage everybody to enroll, as many people as we can."
Trump said that Johnson & Johnson had reached phase 3 trials for its coronavirus "far ahead of schedule."
Researchers said that muscle soreness and fatigue were reported in 36 percent of individuals over the age of 65 who had taken the vaccine. A higher number of younger individuals, 64 percent, reported similar side effects.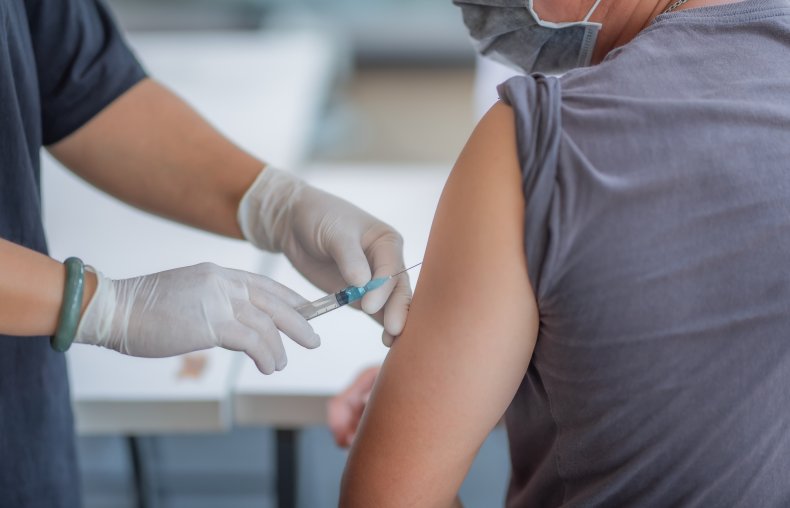 Currently, four U.S. vaccines are in the final trial stages. Vaccines from other pharmaceutical companies such as Pfizer and Moderna are administered in two doses while the Johnson & Johnson vaccine only requires one.
"What's very special here is that it works as a single dose," said Johnson & Johnson's chief scientific officer, Dr. Paul Stoffels said Friday, according to Cheddar. "So we have studied upfront in the lab and in animal models and then in volunteers and we have been able to show that with a single dose we get a very good response as well as a good safety profile."
Newsweek reached out to Johnson & Johnson for comment.
President Trump said that it plans on distributing a COVID-19 vaccine as soon as one is approved by the Federal Drug Administration. On Thursday, Trump announced that $200 million would be awarded to states to prepare for distribution.
"We want to do that the instant it is approved," Trump said, "not the following day, but the following moment. And so we're going to be doing that, and we'll be distributing, getting it ready, because we have some great vaccines going to be coming out."
Data compiled on Friday indicated that the U.S. had reported 7,226,112 cases of COVID-19 since the beginning of the pandemic with 208,195 fatalities attributable to the virus.