COVID-19 Vaccine Maps Reveal Political Divide, Public Health Service Disparities
As efforts to vaccinate the American population sped up this spring, similarities began to emerge between states' vaccination rates and the 2020 electoral map. which health experts say demonstrates lackluster public health investments in conservative states.
The Associated Press noted the slower rollout of COVID-19 vaccines in red states in mid-April. As of May 30, data from the Centers for Disease Control and Prevention (CDC) showed the five states with the lowest numbers of vaccine doses administered per 100,000 people were Mississippi, Alabama, Louisiana, Wyoming and Arkansas—each of which former President Donald Trump won last November.
Meanwhile, President Joe Biden won Vermont, Massachusetts, Connecticut, Hawaii and Maine—the five states with the highest number of administered doses per 100,000 residents.
Dr. Georges Benjamin, the executive director of the American Public Health Association, said the vaccination trends, which could still shift over time as the vaccination rollout continues, are "disappointing" but "not surprising."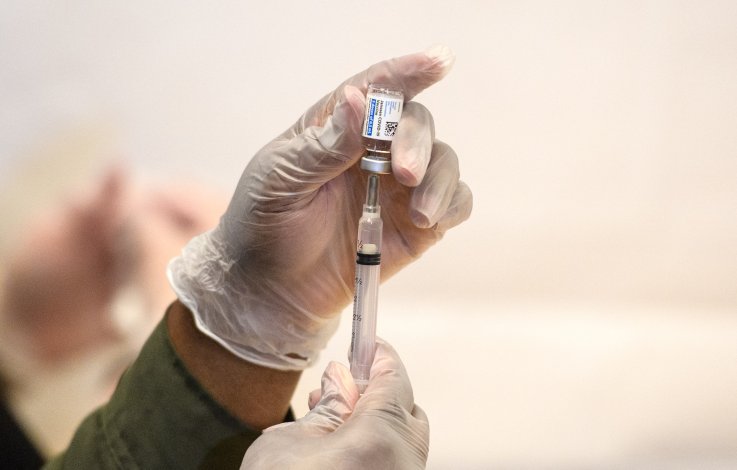 "It is in some ways not surprising, but also very disappointing, that we're seeing the communities that didn't take the disease as seriously, or did not follow the science, are communities where vaccinations are not as robust," said Dr. Georges Benjamin, the executive director of the American Public Health Association. In the photo above, a healthcare worker prepares a syringe with a vial of the J&J/Janssen COVID-19 vaccine at a temporary vaccination site at Grand Central Terminal train station on May 12, 202 in New York City.
ANGELA WEISS/AFP via Getty Images
"The vaccination level that we're seeing tells you a lot about the commitment of those communities to public health," Benjamin told Newsweek. "It is in some ways not surprising, but also very disappointing, that we're seeing the communities that didn't take the disease as seriously, or did not follow the science, are communities where vaccinations are not as robust."
Like the CDC's map showing vaccination rates across the country, efforts at the state level to reopen businesses and implement mask mandates also reveal a patchwork of red and blue, with Democratic states like California not yet fully reopened, while Florida's Republican governor last fall reopened his state ahead of the winter virus surge.
Though there are clear similarities between the 2020 electoral map and vaccination rates across the country, Timothy Callaghan, an assistant professor at Texas A&M's School of Public Health, said political leanings are not the only explanation.
"We can't assume that politics alone is driving the difference we're seeing between states that have higher and lower levels of vaccination rates," Callaghan told Newsweek. "We also have to recognize that other factors can be at play."
Public health access is a big piece of that puzzle, according to Benjamin. Investment in public health infrastructure differs by state, but rural communities—which are typically more conservative—often have fewer health centers and health care professionals than urban areas, which tend to be wealthier and lean Democratic.
The pandemic shined a light on what Benjamin said is a widespread problem of inadequate investment in public health. Even Democratic-run cities like Los Angeles and New York City struggled with the early crush of COVID-19 infections, as medical centers ran low on supplies, caregivers and space for suffering patients. But for states that had even less public health infrastructure in place before the pandemic, the problem continues to impact vaccination efforts.
Benjamin pointed to states like Alabama, Mississippi and Texas that he said had "inadequate" health infrastructure before the pandemic and are among the 20 states with the lowest COVID-19 vaccination rates.
"In some of the southern states, which don't have adequate vaccination levels, their core infrastructure is pretty weak," Benjamin said, "if you look at the amount of money they actually put into public health in terms of what the infrastructure is for the health department to actually go out and help vaccinate."
Benjamin said the "huge disparity" in states' health infrastructure investments translates "directly" to their success in vaccinating residents.
The lack of unified messaging on the COVID-19 response from the federal government also left important decisions up to the states at a highly polarized time in American politics.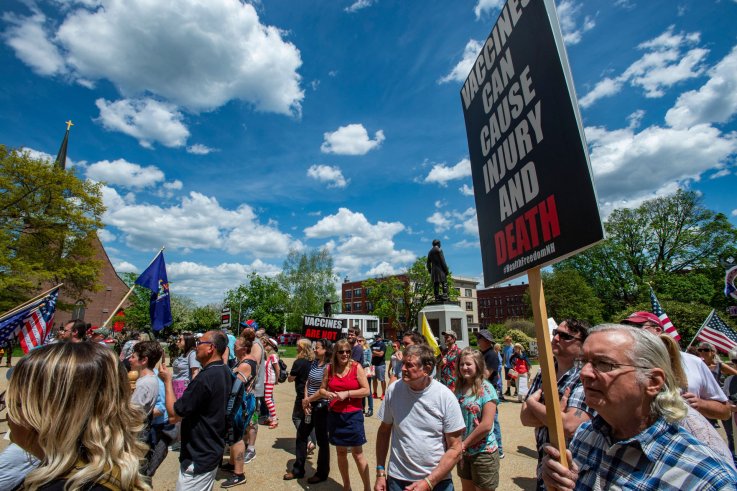 Rally goers hold signs protesting vaccines at the "World Wide Rally for Freedom", an anti-mask and anti-vaccine rally, at the State House in Concord, New Hampshire, May 15, 2021.
JOSEPH PREZIOSO/AFP via Getty Images
"People who don't trust government, who didn't believe the disease was real—why should the vaccine suddenly be something that they believe in, or that they're committed to really doing?" Benjamin asked.
He pointed to the results of polls conducted before any of the COVID-19 vaccines received emergency use authorization from the Food and Drug Administration, which suggested conservatives were less likely than their political counterparts to seek immunization.
"COVID-19 seemed to supercharge what was already an existing trend in vaccination," Callaghan said. "We know that anti-science beliefs are stronger in the conservative party. For that reason, it's perhaps unsurprising that conservative states have lower vaccine uptake."
Throughout the pandemic, responses and mandates have varied, and they continue to do so. GOP-led states tended to reopen sooner and have looser restrictions than states led by Democrats.
California and Hawaii still mandate that everyone wear masks when leaving their homes. Florida, Georgia, Oklahoma, Missouri, Alaska, Nebraska and South Dakota never had any mask mandates. South Dakota, a GOP-led state, never closed down or placed capacity restrictions on places of business or on gatherings. California, a Democratic-led state, won't remove its capacity restrictions until June 15.
Out of the 27 states with Republican governors, four made the top 15 most vaccinated states —Biden won all four of those states in the 2020 election.
The Associated Press reported that the gap in vaccination is correlated to factors including religious and political beliefs, and levels of income and education. CNN observed that White education level and vaccination levels seem be consistent with those observed in the 2020 election, with those who have been vaccinated and those who voted for Biden tending to have higher levels of education.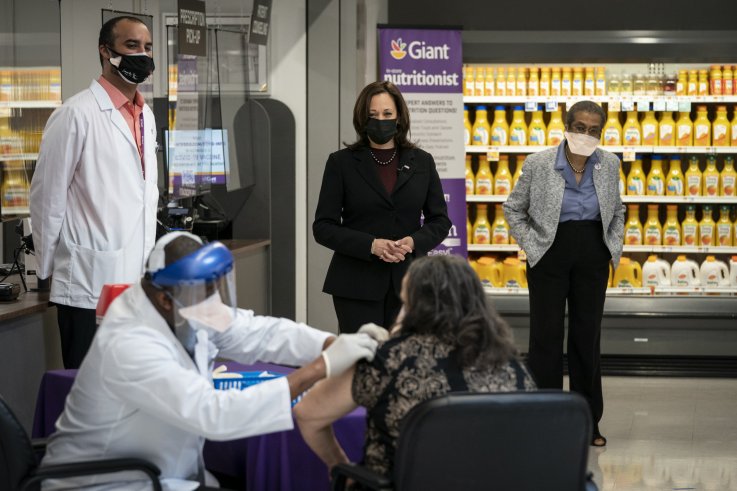 Vice President Kamala Harris watches as Dr. Linval Matthews administers a Moderna COVID-19 vaccine to Brenda Thompson during a visit to the pharmacy of a Giant Foods grocery store on February 25, 2021 in Washington, D.C.
Drew Angerer/Getty Images
With many factors affecting people's decisions whether or not to get vaccinated, some governors have rolled out vaccine incentives.
Ohio was among first to offer a lottery incentive, with five winners of $1 million each. California joined on May 27 with the highest vaccine lottery incentive, $116.5 million. West Virginia announced a plan to increase its incentives last week, with details to follow.
After the CDC's May 13 announcement that vaccinated individuals could go maskless, CNN reported an increased interest in vaccination.
"The decision that the CDC made was not as an incentive to get people vaccinated,' Dr. Anthony Fauci told CNN, "but this could actually have the indirect effect of getting people to be incentivized to get vaccinated."
But vaccination rates have yet to match April's levels.
"The reality is, vaccination for most people is a far more individual decision," Callaghan said. "It's about protecting yourself, it's about protecting your family and your loved ones."
Yet many are still hesitant.
Dr Eric Topol, head of the Scripps Research Translational Institute, told the Associated Press that the "anti-science" views of Repblican leaders has had an impact on the vaccine rollout.
The United States is not the only country struggling with conservative resistance to the COVID vaccines. The New York Times reported on a Polish town where Dr. Roman Szelemej, the mayor, who is also a heart surgeon, received public backlash for trying to mandate vaccines. Szelemeji was compared to Josef Mengele, the German "Angel of Death," who conducted horrific medical experiments on the prisoners of the infamous Nazi concentration camp in Auschwitz, Poland, during World War II.
The United States has also seen conservatives draw parallels between COVID regulations and Nazis. Marjorie Taylor Greene, a Republican congresswoman from Georgia, tweeted a comparison between vaccine passports and mask mandates and the Nazi's forcing Jews to wear yellow stars.
Vaccine hesitancy is not new; the anti vax movement has been around since the first vaccine.
"Even before COVID-19, there was a well-established relationship between ideology and vaccine uptake," Callaghan said, "with prior literature demonstrating that conservatives were less likely to vaccinate."
Despite the similarities between the 2020 election map and the CDC's vaccination data, public health experts say the disparities observed throughout the pandemic are evidence of larger health infrastructure problems that predate the country's polarized responses to COVID-19.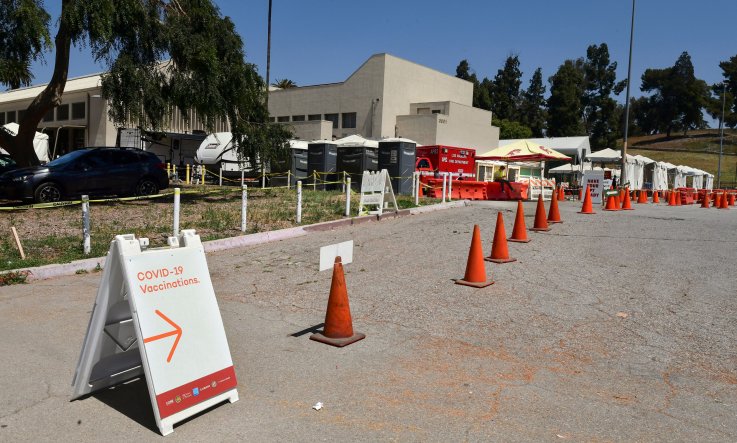 A COVID-19 vaccine site worker sits alone waiting for people at the Lincoln Park Covid-19 vaccine facility in Los Angeles, California on May 3, 2021.
FREDERIC J. BROWN/AFP via Getty Images
According to a May report published by the nonprofit health policy organization Trust for America's Health, "chronic underfunding" became a "key contributing factor" to the COVID-19 experience in the U.S., along with the lack of a unified federal response and existing inequities in low-income areas and communities of color.
The report said last year's "missteps" in the U.S. COVID-19 response were "rooted in a public health system weakened by years of underfunding, the federal government's failure to communicate and follow the best available science, and, health inequities that put communities of color and Tribal Nations at particular risk."
The report said that the country's health care systems will need to improve in order to meet patient demands, which are expected to increase in the years ahead, as many Americans continue struggling with obesity, drug overdoses, chronic health problems and injuries or illnesses caused by weather-related events, such as hurricanes or wildfires. Even so, Trust for America's Health said funding allocated for the CDC has decreased in recent years, and dipped another 1% in the federal budget for the 2021 fiscal year.
"The tricky thing about public health is, if we're doing a very good job, no one's going to notice the public health efforts that are going on around them," Callaghan said, "which makes it really tricky for people to understand the need to invest in public health when things are going well."
But Callaghan said he believes the U.S. pandemic experience has demonstrated why those long-term investments are necessary.
"I think there is growing recognition, as this pandemic comes close to wrapping up," he said, "that we're going to need to make large investments into public health infrastructure moving forward."
As Benjamin acknowledged, vaccination efforts are ongoing, and it is possible rural communities with more limited access to health care will eventually catch up with areas that have the public health infrastructure needed to quickly supply their residents with doses.
The extent to which political beliefs impact vaccination decisions will vary from one person to another, but Callaghan said it is important to remember that politics do play a role in health care messaging.
"The fact that the vaccine was politicized throughout the course of the pandemic, and that the pandemic in and of itself is politicized, is unfortunately going to have implications for individual health behavior," Callaghan said.
"It would be naive to think that politics alone is driving everything," he added. "Politics certainly matters, but other factors, like access and social determinants of health, also matter."