Property Firm Offered Doctors $135,000 to Skip COVID Vaccine Queue
A number of doctor's surgeries in the U.K. have received an email from a private company offering £5,000 ($6,700) per vaccine to staff members or as a charitable donation for any "unused COVID-19 vaccines."
The email seen by Newsweek from the property company Hacking Trust, states: "We write to you as a private medical company who is looking to vaccinate their front-line staff as soon as possible.
"We require approx. 20 vaccinations and we understand you are operating a COVID-19 vaccine center. We have been informed that many appointments are not kept and some do not attend at all. On this basis, we would like to be informed as soon as possible of any "no shows" or cancellations on any given day which would result in unnecessary wastage of the vaccination.
"We will donate to the individual the sum of £5,000 ($6,792) for each successful vaccine for our staff members. This can either be paid as a charitable donation or to the staff member directly. We are able to attend within a few hours following a telephone call email response."
The email is signed off by "Justine, Health Officer."
The Hacking Trust describes itself as specialists in purchasing residential and commercial properties in London and also invests in medical centers and veterinary practices.
The email was first highlighted by Robyn Clark on Twitter, a GP practice manager, who tweeted: "Just received an email from The Hacking Trust offering £5,000 ($6,792) as a charitable donation or TO A SPECIFIC INDIVIDUAL at my practice if we give their staff any unused vaccine. This is bribery right? As if I'm not going to call every eligible PATIENT I can find."
Josiane Wadey, premium primary care partner chair of the West Sussex Practice Managers Association, said she too had received the email.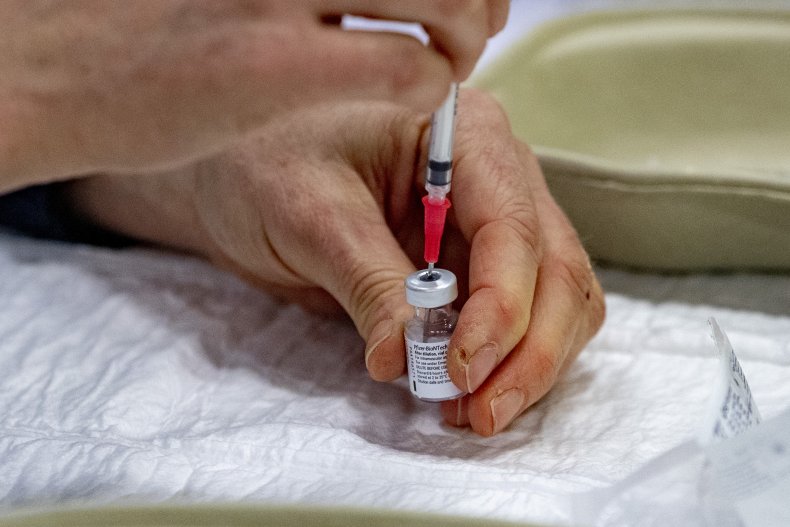 It comes on the day that the U.K. approve use of the Moderna vaccine, the third COVID-19 jab to be approved for use in the U.K. The vaccine has been shown to have 94 percent efficacy against COVID-19 in final stage trials.
The U.K. government is aiming to vaccinate 14 million people by February in a bid to stop the spread of the virus, a new variant of which has seen case numbers reach record levels as well as a rising death toll.
A spokesperson for the Hacking Trust said: "The Hacking Health Trust has offered in open correspondence to some GP's charitable donations to staff or surgeries in this difficult time for any vaccines which were unused. We had heard that some vaccines were being unused due to missed appointments.
"We would apologise that our good intentions have been misinterpreted."
West Sussex CCG and NHS England have been contacted for comment.