Man Catches COVID After Getting J&J Vaccine, Is Thankful He Wasn't Sicker
A man from Indiana who caught COVID after getting vaccinated said he thinks he would have been sicker if he hadn't gotten the shot.
Kevin Fletcher had his Johnson & Johnson COVID vaccination on April 5, he told ABC-affiliate WHAS11. Unlike the Moderna, Pfizer and AstraZeneca shots, only one dose of the Johnson & Johnson shot is required to offer full protection.
A few weeks later he developed symptoms that he put down to allergies. There is an overlap between the symptoms of COVID and seasonal allergies, including a cough and a sore throat, but when Fletcher got a temperature and body aches, his wife suggested he get tested for COVID.
Fletcher and his wife both got tested, and he was diagnosed with COVID. He told WHAS11: "When it happened to us, we were like 'OK this could be worse if we hadn't been vaccinated'."
Fletcher is among the 1,193 COVID vaccine-breakthrough cases reported in Indiana, according to official data. They comprise 0.05 percent of people testing positive for COVID at least 14 days after getting fully vaccinated.
Dr. Eric Yazel, health officer of Clark County, which has had 37 such cases, told WHAS11: "If you say there has been 1,000 breakthrough cases, that sounds like a lot until you realize that there have been over 2.4 million people [vaccinated]."
Similar cases have been detected elsewhere in the U.S. Ohio resident Brendon Hrepic, for instance, was hospitalized after catching COVID following his Pfizer vaccine. Like Fletcher, he initially didn't believe he had COVID as he had been vaccinated.
On Tuesday, the U.S. Centers for Disease Control (CDC) released data showing 10,262 vaccine breakthrough infections had been reported in 46 U.S states and territories this year through April 30, among 101 million fully vaccinated people. The chart below by Statista puts the data into perspective.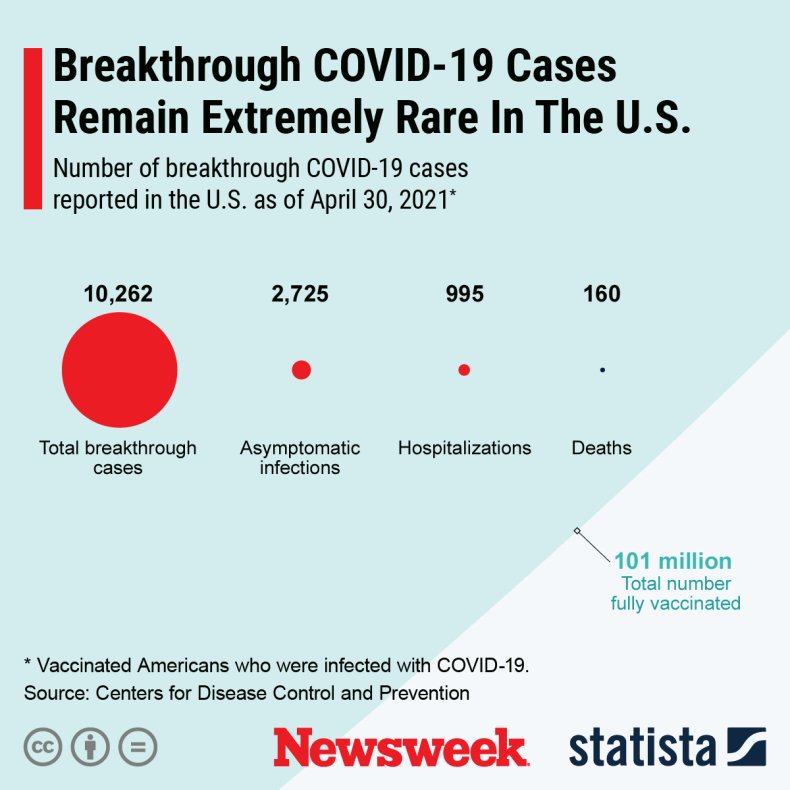 A case is counted by the CDC as a breakthrough if the person has the virus or antigens present in swabs taken from their respiratory tract 14 days or more after they have received COVID vaccines authorized by the FDA.
Since May 1, the CDC has only counted breakthrough cases where people have been hospitalized or died in its data. The latest figures from May 17 show 1,949 breakthrough cases have occurred. Of the 1,811 hospitalizations, 443 cases were reported as asymptomatic or not related to COVID, and 63 of the 353 fatal cases were reported as asymptomatic or not related to COVID, according to the CDC.
The CDC states on its website: "Vaccine breakthrough cases are expected. COVID-19 vaccines are effective and are a critical tool to bring the pandemic under control.
"However, no vaccines are 100 percent effective at preventing illness in vaccinated people. There will be a small percentage of fully vaccinated people who still get sick, are hospitalized, or die from COVID-19."
Dr. Susan R. Bailey, president of the American Medical Association, previously told Newsweek: "Each of the COVID-19 vaccines authorized for use in the United States have undergone rigorous, transparent development, testing and authorization, and all three vaccines are highly effective at preventing severe illness, hospitalization and death from COVID-19. Vaccinations against the virus that causes COVID-19 have helped flatten the curve of new cases, offering a clear path toward normalcy.
"For your health, for your loved ones, and for your community, I urge you to get vaccinated. If you or people you love have questions about vaccines, I urge you to talk to your physician. The consensus of public health and medical professionals confirms that vaccines are the best way to defeat this virus—with benefits far outweighing the risk for most people."