COVID Cases Among Olympic Athletes Are Rising Just 4 Days Before Games
COVID-19 cases are on the rise among athletes and team personnel just days before the 2022 Winter Olympic Games are set to kick off in Beijing on February 4.
In the past four days, China has reported 119 new virus cases among people involved in the games, including 37 people who tested positive on Sunday and 34 on Saturday, according to Olympics organizers.
The organizers said most of those people have tested positive for the virus after arriving at the Beijing airport. On Sunday, eight athletes and team officials were among 28 people who tested positive at the airport.
The latest positive cases will prevent some athletes from carrying out their dream of participating in the games. Those who test positive but are asymptomatic are required to isolate in Beijing until they receive a negative test, while symptomatic people will receive care at Chinese hospitals, according to USA Today.
Russian athlete Valeria Vasnetsova, who tested positive for the virus twice after arriving in Beijing on Monday, said that her Olympic ambitions are over for now.
"Unfortunately, my Olympic dream will remain just a dream," Vasnetsova said on social media Monday. "Maybe one day I will find the strength to rise again but it will be a completely different story."
American luger Chris Mazdzer said that the prospect of catching the virus has athletes on edge, considering how much effort they put into training for the games.
"There have been a lot of athletes that are testing positive right now and it's scary because you put in four years since the last Games and for all of that to go to waste in the last week, last couple of days, it would be a tragedy," Mazdzer told reporters, according to Reuters.
Brian McCloskey, the chair of Beijing 2022's medical expert panel, said during a news conference that cases are now peaking and are expected to reach their highest stage as participants arrive in China from around the world.
"We are now just going through the peak period of people arriving in China and therefore we expect to see the highest numbers at this stage," McCloskey said.
In order to prevent the virus from further spreading, games organizers have developed a strict "closed-loop" system to isolate all Olympic participants from the general public. All athletes, personnel and media officials are required to test negative for the virus at least twice before entering the Olympic area, and then once more upon arrival.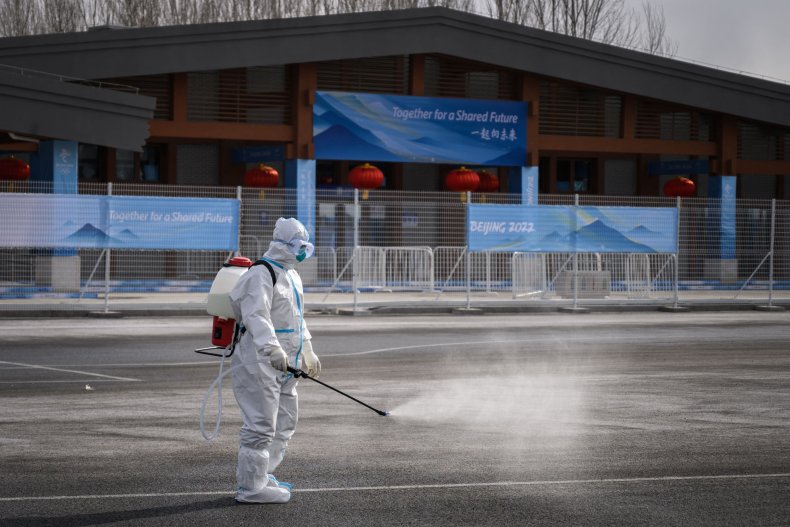 Once cleared, all Olympic participants will be taken to hotels built with protective temporary walls, while specially designated vehicles will transport them to and from competition venues.
In addition to the closed-loop system, China has prepared for the games with a strict "zero tolerance" virus policy that has included closing down schools and universities, cutting off transportation to Beijing from areas with reported infections, and forcing citizens to show proof of a negative test in order to leave their municipality.
On Sunday, Beijing locked down two additional residential communities nearby after it was reported that there were two new cases of COVID-19.
Newsweek contacted Olympics organizers for additional comment.