COVID Cases Are Now Rising in These European Countries
A second wave of COVID-19 has swept across Europe, leading to a record-breaking number of cases. Last week, Europe reported its highest single-week count, with more than 1.2 million new cases, according to the World Health Organization.
Spain and France became the sixth and seventh countries to surpass 1 million confirmed cases each. The U.K., Italy, Germany, the Czech Republic, the Netherlands and Belgium also reported new highs.
A number of European countries have recently implemented stricter regulations in attempts to control the spikes in infections, deaths and hospitalizations.
The European Centre for Disease Prevention and Control reported that the infection rate in Europe has been increasing for more than 90 days and high levels of COVID-19 have been observed in 28 countries across the continent.
With the death toll nearing 210,000 across Europe, here are the nations experiencing the greatest strains from the pandemic and what they're doing to contain the accelerating spread of the virus.
Spain
On Sunday, Spanish Prime Minister Pedro Sánchez declared a national state of emergency, saying he'll ask Parliament to extend it until May.
He also imposed a night-time curfew between 11 p.m. and 6 a.m., which went into effect Sunday night, and gave local authorities the power to impose travel restrictions between regions and limit gatherings.
"The reality is that Europe and Spain are immersed in a second wave of the pandemic," Sánchez said after meeting with cabinet officials.
Spain was hit particularly hard by the pandemic's first wave in the spring and underwent one of the harshest lockdowns in the world. The level of emergency announced Sunday will be the same one introduced in April.
France
France reported an all-time daily high on Sunday with 52,010 new COVID cases. This was the fourth day in a row that the country exceeded more than 40,000 daily cases.
Over the weekend, France reported more than 139,000 new cases—exceeding the total number of infections confirmed over its two-month lockdown from March to May. The positivity testing rate has now increased to 17 percent. A month ago, the rate was closer to seven percent.
The government implemented a nightly curfew on October 16 in the Ile-de-France region and eight cities.
United Kingdom
The death toll in the U.K. remains the highest in Europe. According to Public Health England, there have been 44,896 deaths in the country since the pandemic began. On Sunday, the U.K. reported another 19,790 cases and 1,142 new hospitalizations.
On October 17, the U.K. Health Secretary announced that London, among other cities, would move to high alert and restrict gatherings to six people or fewer in outdoor settings.
Wales shut down all nonessential businesses this weekend as it began a 17-day lockdown.
"If we do this now and if we then have a consistent set of national rules, to keep the transmission and the intensity of the virus at a lower level, then we can have a much more normal Christmas season for businesses," Welsh Health Minister Vaughan Gething told BBC Radio.
Italy
Italy, once the center of the coronavirus pandemic, began clamping down on its safety measures earlier this month after observing more than 2,000 new cases for the first time since April. However, the country has continued to see infections rise, setting a new record on Sunday with 21,273 new cases.
As of Monday, gyms, cinemas, swimming peoples, concert halls and theaters will be shut down. Bars and restaurants have also been ordered to stop serving by 6 p.m. for the next month.
"We think that we will suffer a bit this month but by gritting our teeth with these restrictions, we'll be able to breathe again in December," Italian Prime Minister Giuseppe Conte said on Sunday.
"If we don't think like this, we won't be able to keep the curve of contagion under control and manage the pandemic," he added. "These measure are necessary, and I hope sufficient."
Conte noted that he does not want to reimplement Italy's national lockdown, imposed in March and April, due to the economic fallout that followed.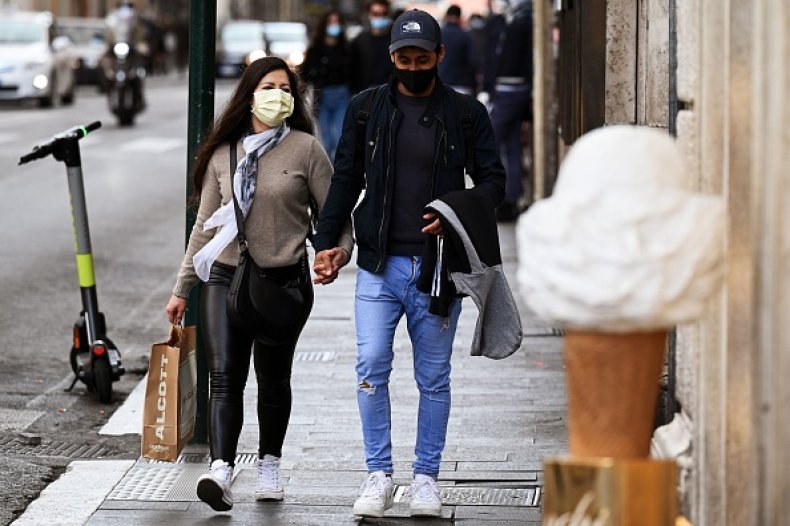 Germany
After being praised for its COVID-19 response in the spring, Germany is now struggling to keep its daily infection count to under 10,000 new cases, a number the country has surpassed every day since Friday.
"There are already speeches being held praising the German success, but it is not quite clear where it came from," said Christian Drosten, director of the Institute of Virology at Berlin's Charité Hospital, at the World Health Summit over the weekend. "This success came simply because we reacted about four weeks earlier than other countries."
German Chancellor Angela Merkel urged people to cut back on nonessential travel and refrain from gathering with anyone outside their households in a video released over the weekend.
State governments, on the other hand, have introduced regional rules, including local lockdowns and mask mandates in outdoor spaces.
Czech Republic
The Czech Republic saw its highest daily tally on Friday with 15,253 new infections. In the first 17 days of October, more Czechs died from the novel coronavirus than in the previous eight months combined.
Fearing that the surge in cases will threaten its health system, the Czech Republic implemented new lockdowns this weekend—the same restrictions citizens faced in the spring.
Prime Minister Andrej Babis, who previously said there would not be a second lockdown, apologized for the order on Wednesday.
"I apologize even for the fact that I ruled out this option in the past because I was not able to imagine it might happen," he said. "Unfortunately, it has happened and now, above all, we have to protect the lives of our citizens."
"We have no time to wait," he added. "The surge is enormous."
Russia
Russia has now surpassed 1.5 million infections. Despite the country's rise in cases—Russia confirmed a record 17,349 new cases on Friday—authorities have promised to not impose a second lockdown and have said the pandemic is "under control."
Russian President Vladimir Putin said last week, "Regarding the possibility of severe, total, restrictive measures, we aren't planning to do this. The government doesn't have any such plans."
Russia remains the fourth hardest-hit country in the world, according to data from Johns Hopkins University.
Netherlands, Belgium and Switzerland
Despite the closure of bars and restaurants earlier this month, the Netherlands reported 10,203 new confirmed cases on Sunday, its highest daily count yet.
On Monday, Belgium officials warned that the country is facing a critical period after figures from last week showed that more than 12,000 new COVID-19 cases are being reported on average every day. According to the latest data from Belgium's COVID-19 crisis center, there are currently almost 5,000 hospitalizations.
Swiss authorities announced on Monday that the number of coronavirus cases rose by more than 17,000 over the weekend.
Newsweek has reached out to the European Centre for Disease Prevention for additional information.