Nearly 250,000 New COVID Cases in U.S. Breaks Record for Daily Increase
The positive news of a second COVID vaccine being given Food and Drug Administration (FDA) approval has been tempered by sobering figures revealing that the U.S. has recorded its highest daily jump in coronavirus cases.
Data from Johns Hopkins University and CNN revealed that 249,709 new coronavirus cases were recorded on Friday, up by more than 2,000 from the previous day, and the highest single rise since the pandemic began.
There were also 2,814 virus-related deaths, which was down from more than 3,300 recorded the previous day, but it is still among the deadliest days in the pandemic and brings the total death toll to 313,764. Overall, the number of cases in the U.S. stands at 17,472,522.
Meanwhile, information from the Covid Tracking Project, showed that a record 114,751 people were hospitalised on Friday and nearly 22,000 people were in intensive care.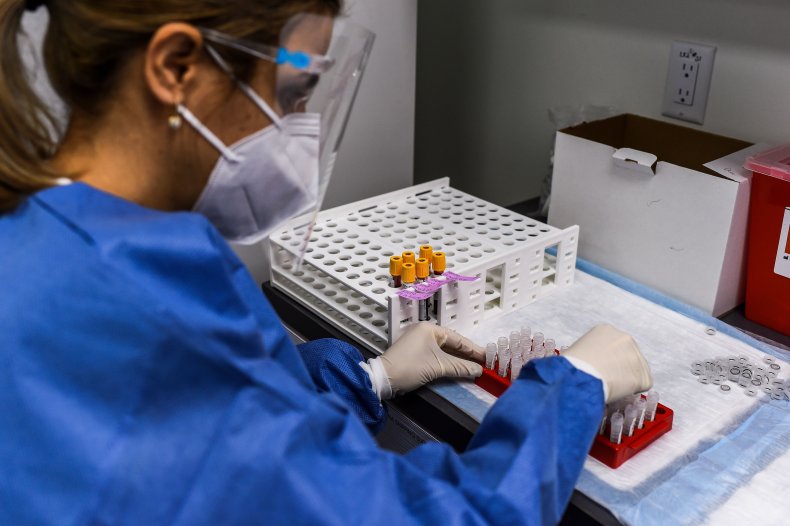 CNN reported that the U.S. is now averaging 230,930 new coronavirus cases per day which is the highest seven-day rolling average since the pandemic began. Over the last week, the most populous state, California, has reported more than a quarter-million cases and 1,500 deaths.
New cases were trending downwards three months ago, but those gains have been lost, with nearly six times as many cases and three times as many deaths being reported daily, according to a New York Times database.
The University of Washington's Institute for Health Metrics and Evaluation projects another more than 237,000 Americans will die from the disease in the next three months.
The scale of the disease's spread is stretching medical facilities to their limits. "There's no room at the inn, so to speak," Mark Uffer, chief executive of Los Angeles' Corona Regional Medical Center, told the Associated Press. "Literally every nook and cranny of the hospital is being used."
The country's top infectious-disease expert, Dr. Anthony Fauci said on Friday some areas of California are "just right at that cusp of getting overrun."
The bleak figures come at a time when frontline medical staff have hailed the start of a vaccination rollout. Optimism was further swelled by news that the FDA had authorized a vaccine developed by Moderna for emergency use, which follows the approval given to the Pfizer and BioNTech vaccine last week.
Fauci told CNN on Saturday that adults and children still needed to wear masks around older family members who had received a vaccine "until we get this blanket of protection over everyone."
"Vaccines are extremely important to ending this outbreak but until we get the full component of almost everyone vaccinated, we can't abandon the common public health measures of wearing a mask. So yes, you still should be wearing a mask," he told the network.
The graphic below by Statista shows how willing Americans are to receive a COVID-19 vaccine.