COVID Cases Rising in 21 States But Texas, Mississippi and Florida Not Among Them
Texas and Mississippi lifting their statewide mask mandates was chalked up to "neanderthal" thinking by President Joe Biden, but in the weeks following the easing of restrictions, the two states haven't yet seen a massive spike in COVID-19 cases.
At least 21 states are seeing a rise in COVID-19 cases, but Texas and Mississippi aren't among them, and neither is Florida, where Governor Ron DeSantis has been criticized for the lack of statewide restrictions. With masks commonly believed to be one of the easiest preventative measures against COVID, it's possible that the lack of a spike in cases is attributable to people still being hesitant to gather and the increase in vaccinations.
"I do think vaccinations are playing a role, and I think one of the take-homes is it's not an all-or-none phenomenon," Dr. Daniel Havlichek, former chief of the College of Human Medicine's Infectious Diseases Division at Michigan State University, told Newsweek. "It's not like until you're at 70 percent you're not making any progress. I think you're getting value from vaccines all along."
Mississippi's mask mandate was lifted on March 3, although Governor Tate Reeves advised Mississippians to continue following guidelines from the Centers for Disease Control and Prevention (CDC), which encourage mask-wearing in public. Even without a formal mandate, Havlichek reasoned that some people would continue wearing a mask, ballparking the number at about 25 percent, but putting it definitely above 0 percent.
In the two weeks preceding Reeves' announcement about the mask mandate, the average daily increase in cases was 465. In the 14 days since the mandate was lifted, the average daily new cases were 343, according to data from the Mississippi Department of Health.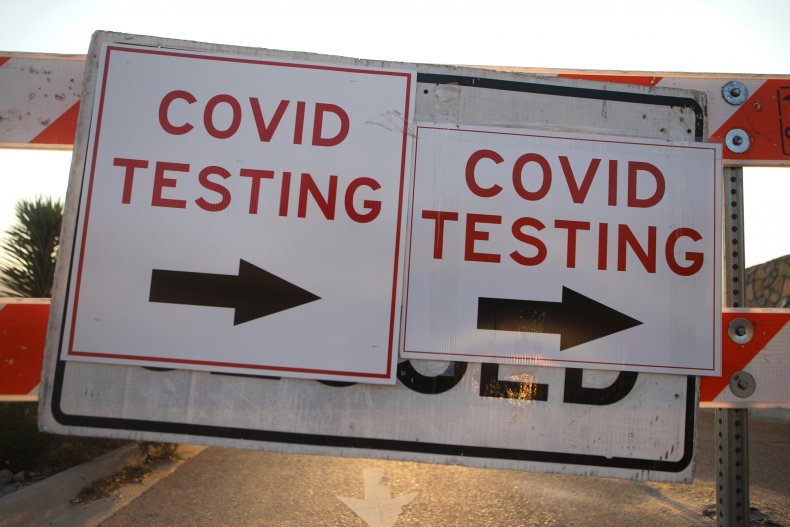 Given that people could see symptoms more than a week after contracting COVID, it takes about two weeks' worth of data to gauge the impact that restrictions or the easing of them have on case levels. Texas has yet to hit that mark—as the mask mandate lifted officially on March 10—but so far, the Lone Star State has not seen a large spike in cases, according to a Johns Hopkins University tracker.
Neither Mississippi nor Texas have had particularly impressive rollouts of the vaccine and rank near the bottom of states with regard to vaccines administered per 100,000 people. Florida fared better with regard to vaccinations, and CDC data shows that the Sunshine State had similar results regarding cases and deaths as California, where Governor Gavin Newsom implemented one of the first stay-at-home orders.
In all three states, the lifting of a statewide mask mandate hasn't completely negated the need to wear a mask, and local legislators have implemented their own requirements. Masks are still required in Miami Dade County, several Texas cities (including Houston and Austin) and the Mississippi cities of Jackson, Greenville and Hattiesburg.
The warm climates of Florida, Texas and Mississippi could also be helping to keep cases from spiking, according to Havlichek, although he couldn't say for certain if people in those states are outside any more than the rest of the country's population.
"In terms of what's going on, nobody knows for sure and we'll figure it out later, but when mask mandates go away, I think people still have their concerns and behaviors that will continue with social distancing, avoiding large crowds and staying home when their sick," Havlichek said.
Nearly 30 million people in the United States have contracted COVID-19, according to the CDC, and more than 530,000 people have died from the virus. With cases plateauing after weeks of declines, Dr. Anthony Fauci, director of the National Institute of Allergy and Infectious Diseases (NIAID), urged people not to get complacent because it was "quite risky" to "declare victory" before cases were much lower.
"It is unfortunate, but not surprising, to me that you are seeing increases in number of cases per day in areas—cities, states or regions—even though vaccines are being distributed at a pretty good clip of 2 to 3 million per day," Fauci said on Friday. "That could be overcome if certain areas pull back prematurely on the mitigation and public health measures that we all talk about."
Two weeks is the minimum time needed to evaluate a response effort; a look at the hospitalization and death rates follows in the weeks afterward, because of the nature of the virus. With highly infectious variants spreading, officials are trying to ramp up vaccination efforts in an attempt to reach herd immunity before another possible surge in cases.