Seventy-five coronavirus infections and one death were reported at a Belgian care home after a visit by a man dressed as Santa Claus.
According to a Sunday release from the municipality of Mol, the Hemelrijick care home in Antwerp reported 61 infected residents and 14 infected employees.
One of the residents who previously received palliative care has passed due to COVID-19. Another resident with severe symptoms has been given oxygen therapy at the care home, said the municipality.
However, the municipality noted, the "vast majority" of those infected were doing well and not showing symptoms.
While inferring that the infection surge was a result of the visit, the municipality said "in-depth scientific research" would be needed to determine for certain that it was the cause.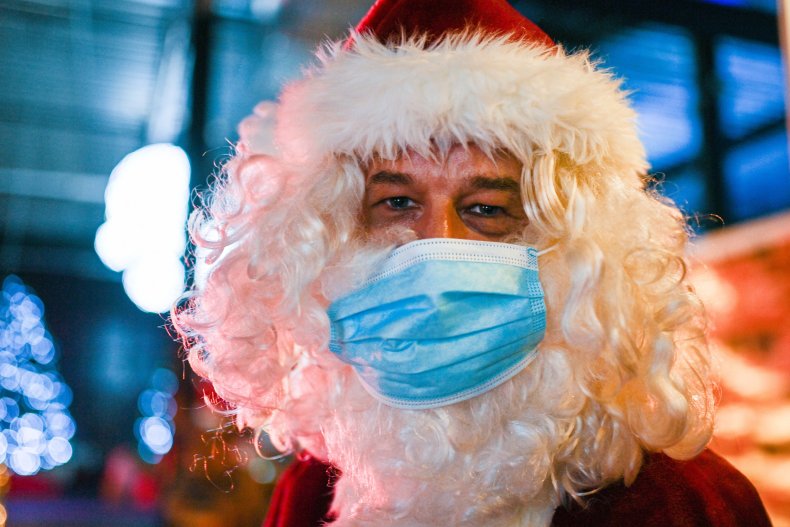 The mayor of Mol, Wim Caeyers, told TV station VRT News that Santa's visit to the home was a judgment error.
"It was made with the best intent, but it went wrong. It has been a very black day for the care home," Caeyers said. "It is a very great mental strain to bear for the man that played Saint Nicholas, as well as for the organizers and the staff."
The man who played the part visited the home on December 6. He is reportedly the son of one of the residents and tested positive for COVID-19 shortly afterwards.
The man "was not feeling sick at the time of the visit," but "the activity was not cleared beforehand with the crisis center, otherwise negative advice would have been given," according to the municipality.
"Contrary to reports in the media, St. Nicholas did not visit every room. The management reassures us that the saint only visited common areas, including the seating areas," said the municipality.
It continued: "The saint maintained distance at all times from the residents, and didn't remain in any area longer than a few minutes. The saint did not hand out presents."
However, VRT News reported that in photos of the event, visitors were wearing masks, but the residents of the home were not.
Jannes Verheyen, a representative for Armonea, the company the operates the care home, told the Brussels Times that everyone was "shocked" over the infections after the event.
"It makes no sense to condemn people," said Verheyen. "The team is very shocked by what happened, but that also makes them very motivated to get the virus out again."
Newsweek reached out to Caeyers and Armonea but didn't hear back in time for publication.
Uncommon Knowledge
Newsweek is committed to challenging conventional wisdom and finding connections in the search for common ground.
Newsweek is committed to challenging conventional wisdom and finding connections in the search for common ground.