COVID Deaths in U.S. Military Spike in Last Four Months Despite 96 Percent Being Vaccinated
Over the 18 months between March 2020 to August 2021, America's armed forces experienced 43 deaths attributed to COVID-19. Over the past four months, from September through December, the military has seen the same number of deaths, according to a report from the Pentagon reviewed by Newsweek.
This increase in military deaths comes despite the fact that 96 percent of active-duty soldiers being fully vaccinated, a memo by the Pentagon states.
The Omicron variant has emerged as the dominant strain of COVID-19 in the United States, the Centers for Disease Control and Prevention reported on December 20. With it has come a 215 percent increase in cases over the past two weeks and an 82 percent uptick in hospitalizations. However, deaths have increased at a far less rapid rate, increasing by only 16 percent.
Amid the surge in contractions, a number of states, including California and Rhode Island have reimposed indoor mask mandates. Cities, including Boston and Washington, D.C., have ratcheted up their requirements on what indoor spaces one can enter without vaccination. The Pentagon has followed suit in ramping up its preventive measures.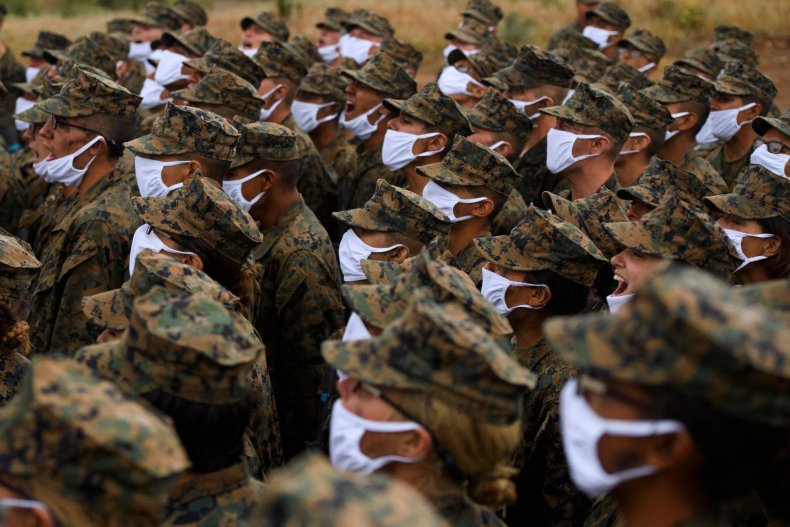 Troops who test positive for the virus or come in close contact with an infected peer must self-quarantine for at least five days, according to a memo dated January 6. Those who are exposed must quarantine unless they receive an initial negative test and test negative once again five days later.
Of the troops who died upon contracting the virus over the past four months, 19 were between the ages of 50 and 59, 10 were between the ages of 40 and 49, seven were between the ages of 30 and 39, and two were between the ages of 20 and 29, according to the available data provided by the Pentagon that was reviewed by Newsweek.
Earlier this month, the Pentagon's leader, 68-year-old Secretary of Defense Lloyd Austin contracted the virus. He said that because he was vaccinated and had receive the booster in October his symptoms were "more mild than it would otherwise have been." Austin provided the following statement upon news of his contracting the virus:
"The vaccines work and will remain a military medical requirement for our workforce. I continue to encourage everyone eligible for a booster shot to get one. Stemming the spread of this virus, safeguarding our workforce and ensuring my own speedy and safe recovery remain my priorities."
There was an increase in military deaths when the Delta variant swept across the nation, correlating with the rise in the rest of society. As Delta started to decrease, so did military deaths.