COVID Doctor's Emotional Message Ahead of Thanksgiving Goes Viral: 'We Are Overflowing Our Units'
A doctor's emotional message highlighting a "disconnect between hospitals and surrounding communities" has gone viral, as families plan for Thanksgiving amid soaring COVID-19 patient numbers in many parts of the U.S.
The message was shared Monday by actress June Diane Raphael who tweeted a screenshot of a text received from her "best friend (pulmonary and critical care doctor)."
Asked by Raphael "how she was doing", the doctor responded: "We are overflowing our units. We are short staffed. We are physically, mentally and emotionally exhausted.
"We are completely surging. I am carrying more and sicker patients than ever in my career. They are almost all covid. I expect at least half of them to die but probably not for an average of 1-3 weeks (which they will spend alone in the hospital)," the doctor wrote, describing the difficulty of providing grim daily updates to the families of patients.
Recalling one such call, she wrote: "I sobbed on the phone with one mom who I had to update about her daughter who will likely die."
The doctor, whose location is unknown, compared scenes in her hospital to those in the surrounding communities, where some have ignored social distancing rules.
"People here aren't wearing masks, they are having Sunday family lunches, going to church, planning for Thanksgiving.
"There is such a disconnect between hospitals and surrounding communities...I drive home stunned through a college town with lines out the doors for the local bars.
"People complain about their personal freedoms being limited and the mental effects of social distancing and wearing a mask...but give no respect to others' right to live and give thought to the mental effects of accidentally infecting and killing grandma or the trauma they are imposing on their healthcare workers," the doctor added.
The post, containing the screenshot, has received more than 25,000 retweets and over 65,000 likes since it was first shared.
The message came as hospitalizations in the U.S. soared. There are nearly 70,000 COVID-19 patients reported to be currently in hospital, as of Sunday, according to data compiled by The Atlantic's The COVID Tracking Project.
On Sunday, there were more than 4.1 million active cases (those currently infected who are being treated in hospital or recovering at home) in the U.S., according to data compiled by Worldometer.
The total number of confirmed cases in the U.S. has surpassed 11 million, with nearly 250,000 reported deaths, as of Monday, according to Johns Hopkins University.
There may be 11,700 new fatalities recorded by Thanksgiving, with the death toll projected to reach around 257,958 on November 26, according to the Institute for Health Metrics and Evaluation (IHME) at the University of Washington, even with "95 percent mask usage in public in every location and mandates are reimposed for six weeks if daily deaths reach eight per million people."
The daily case count is projected to reach around 315,314 by Thanksgiving, more than double the latest daily case tally of around 133,000 reported Sunday, with "continued easing of social distancing mandates and mandates are not reimposed," according to the IHME.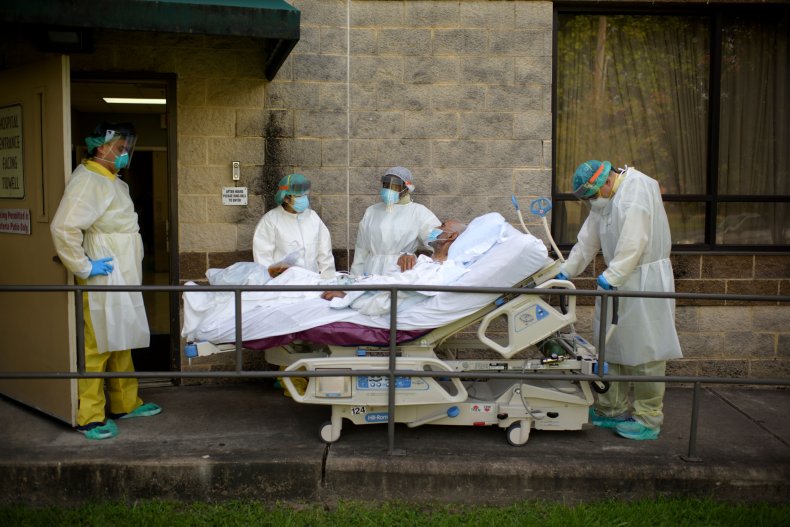 The wider picture
The novel coronavirus has infected more than 54.3 million people since it was first reported in Wuhan, China.
Globally, more than 1.3 million have died while more than 34.9 million have recovered as of Monday, according to Johns Hopkins University.
The graphic below, provided by Statista, illustrates the number of COVID-19 hospitalizations reported from March to November.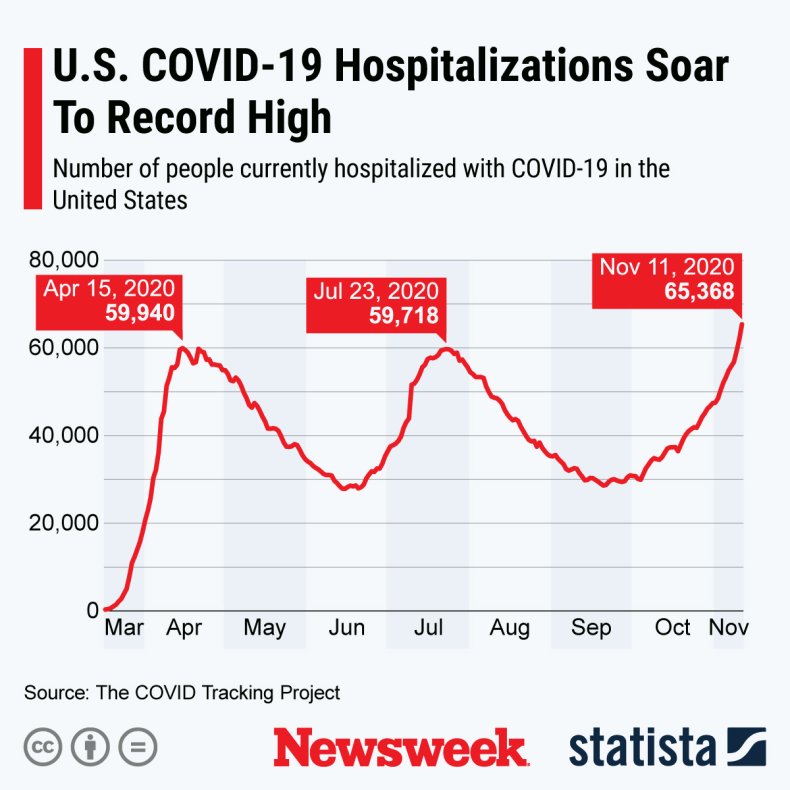 The graphic below, produced by Statista, the spread of COVID-19 cases across the U.S.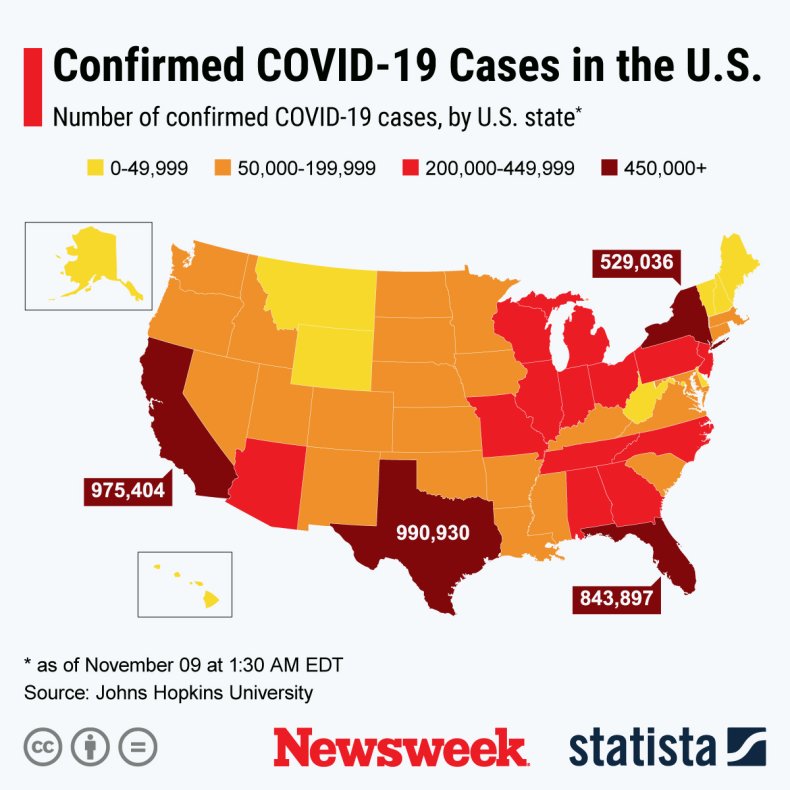 The graphic below, also provided by Statista, the spread of COVID-19 cases across the world.