COVID Evaluation Model Estimates 57 Percent of World Population Infected at Least Once
An estimated 57 percent of the world population has been infected with COVID at least once, according to the Institute for Health Metrics and Evaluation Model.
The huge increase in those that have been infected globally is due to the Omicron wave and will continue to grow in the upcoming four to six weeks, Dr. Christopher Murray of the University of Washington, who created the model, said in an email to Newsweek.
The model projects that almost all nations will be over the Omicron surge by mid-March, a briefing from the institute said. This includes China and other countries with "zero- COVID" policies, according to the Associated Press. Murray said in the email that the peak of the Omicron wave in states or countries appears around 20-25 days after "taking off," likely because of a lack of susceptible people to infect.
In the wake of the surge, there will be high levels of immunity, both from infection and vaccination, that may lead to low transmission rates for many weeks or months, according to the briefing. The briefing notes low transmission rate could extend into the latter part of the year in the Northern Hemisphere if there are more decreases in transmission potential in the summer.
"What do we end up with at the end of this?" said Murray, according to AP. "We end up with the highest levels of global immunity that we've seen in the pandemic."
"If you survive a COVID-19 infection, we are learning that infection acquired immunity is as good as vaccine-derived immunity and may wane more slowly. More prior infection in the world will lower future incidence," Murray said in the email.
However, he pointed out that past infection and vaccinations will provide "better protection against severe disease and death" instead of greater protection against infection.
The briefing says the model projects most figures to peak in late January, then decline. Daily hospitalizations globally will increase to 2.3 million by the end of January, according to the model, and COVID-related deaths would increase to 7,190, then decrease, according to the model. It projects a total of 6,334,000 reported COVID deaths globally by May 1.
Case numbers have peaked and are quickly decreasing in the U.S., AP reported. The same pattern has been seen in Britain and South Africa. Despite U.S. deaths still increasing, currently at 2,000 reported daily, hospital admissions have begun to decrease. A reduction in deaths is expected to follow.
The World Health Organization also released a statement Monday, saying the group hopes to end the emergency phase this year and that "Omicron offers plausible hope for stabilization and normalization."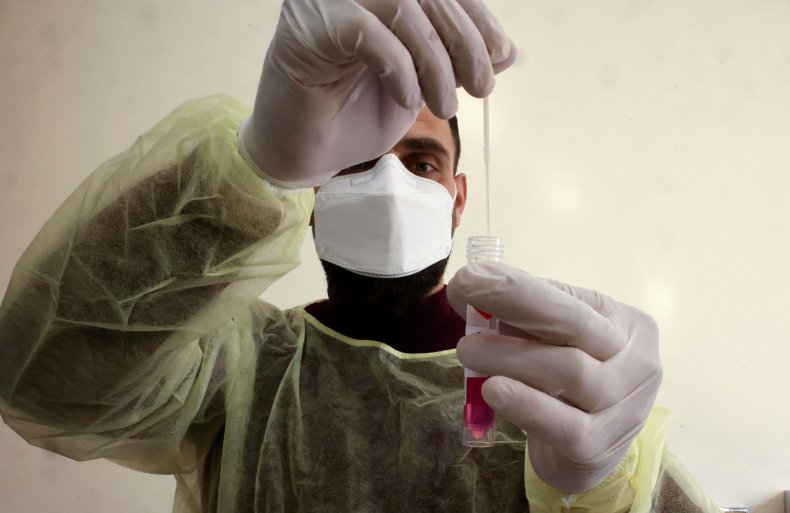 However, in many other countries, there are reports of twice as many cases in the past two weeks compared with the previous 14 days, DW reported. Increase in cases were reported in 141 countries, with 93 reporting twice as many in the past two weeks. Forty-four countries reported having less cases these past two weeks compared to the two weeks prior. Of those 44 countries, just two reported no new cases in the past four weeks.
While researchers may also predict high immunity, it may not be herd immunity. Between 70 and 90 percent of the population needs to be infected to acquire herd immunity, according to the American Lung Association. In a majority of cases, herd immunity is achieved with an effective vaccine. Out of the global population, 60.5 percent of people have had at least one dose of COVID vaccine, according to Our World In Data.
A new variant could also impact the growing immunity, AP reported.
"There's still a lot of pain before Omicron has run its course," Lauren Ancel Meyers, director of the University of Texas COVID-19 Modeling Consortium, said, according to AP. "It's very plausible that Omicron will be a turning point in terms of our relationship with this virus."
"For Omicron, the protection from prior infections was lower, perhaps 50 percent protection against infection," Murray said in the email. "For a new variant, we simply do not know. The key point, however, is that even if past infection does not provide great protection against infection with a new variant, we expect that past infection and vaccination will provide considerable protection against hospitalization and death."
Murray said in the email that while a new variant is highly likely, any future surges are expected to differ from the ones seen in the pandemic so far.
"...With heightened global immunity from vaccination and widespread infection with Omicron, combined with the increasing availability of the new and highly effective anti-virals, and the knowledge that high-risk individuals can protect themselves with high quality masks and social distancing, we expect that hospitalization and death for future surges should be more like seasonal flu than the original waves of the COVID-19 pandemic," Murray said.
Update 01/24 9:49 PM: This story was updated to include comments from Dr. Christopher Murray.