Covid Is Hitting Correctional Officers. Prisoners Are Paying the Price | Opinion
Many vulnerable populations have been ravaged by the COVID-19 pandemic. Seniors, the disabled, and prisoners have been at the top of the list. According to the Marshall Project, one in five prisoners has tested positive for the virus, over four times the nation's average.
This is a tragedy. But there is another, untold story about the toll the pandemic has taken—on the correctional officers in charge of these prisoners. There have been at least 105,777 cases and 193 deaths among prison and jail staff. Beyond the personal tragedy, this has resulted in a lack of available staff, which has led to correctional officers working inhumane hours.
NBC recently reported that correctional officers on Rikers Island have been working triple shifts. As if getting stuck for an additional eight hours isn't inhumane enough during a dangerous pandemic, now correctional workers are being forced to work twenty-four hours straight. That means mothers and fathers don't see their children for days, even weeks at a time. This mismanagement has lead to mental breakdowns, as well as 1,400 Rikers officers who tested positive for COVID. Eight are dead. And while Mayor De Blasio called it a "dumb managerial mistake," it's still happening.
But as someone who worked at Rikers for five years, the truth is, this is not new. Obsessive overtime on Rikers Island has been a problem for years. It was ingrained in us from the first day we entered the academy. I remember the commanding officer of the training facility clearly telling us how it would be: "You're here for the cheddar. That money. And you're gonna make lots of it. You're all gonna work hard and long. So get ready 'cause you'll know when you start your tours but not when you'll end them. And for the single moms in here: You better get a back-up for the back-up. 'I can't find a babysitter' ain't gonna cut it here. When it's your turn to get stuck and work that overtime, you're gonna work it."
He wasn't joking. While I worked at Rikers Island, the hours were ridiculous. You'd make good money—around $50,000 a year, and after five years, it went up to $99,073. But you had to sacrifice for it. At one point, I was working so much overtime that I wouldn't really see my wife and kids for as long as two straight weeks. I had to sacrifice soccer games, marching band shows, plays, and just overall quality time with my family to the job.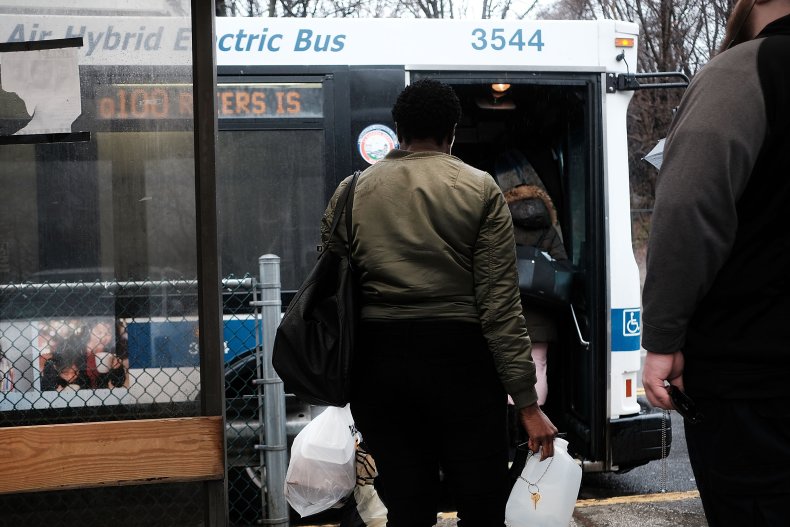 But it wasn't just the lost time with my family. It was also the increased danger, for officers and prisoners alike. When you're sleep deprived after a midnight shift, mistakes are bound to happen.
It was common practice for me to be working 24 hours at a time. And it was so dangerous. An officer who's been working 24 hours is not be alert enough to react quickly to emergency situations, let alone be shielded and capable of protecting others from the virus.
I worked at Otis Bantum Correctional Center, which was known as the overtime capital of Rikers Island at the time. The area I oversaw was a dorm-style setting that at full capacity housed 60 inmates. There were no cells; the beds were out in the open. The inmates in these housing areas were free to walk around and mingle, fight, and get really close to the correction officers if we were not paying attention. A tired correction officer was a good target for an inmate wishing to start trouble or even assault the officer.
And in this setting, it was not uncommon for me to fall asleep standing up or sitting at my desk after a double shift. A few times, the inmates themselves woke me up by poking me on my chest with a finger and saying, "Wake up, bro." I was fortunate and did not have anything bad happen to me as I slept. Some of my colleagues were not as lucky.
At the end of endless shifts, we prayed to be allowed to go home. I constantly stared at my watch praying I would be able to leave on time and see my family and get some rest. I saw women routinely plead with the captains to be allowed to go home to their children, especially when they didn't have proper babysitters. They never succeeded. Not wanting to leave her child alone, I saw one officer remove her shield from her uniform and hand it to the captain, quitting on the spot. "I'm done," she said. "You can keep the job and money. I'm going home."
Hearing about the toll the pandemic has taken on inmates, I felt for them. I always had a lot of compassion for the inmates while I worked at Rikers. I felt lucky not be an inmate myself. Many of the inmates I spoke with had almost the same upbringing as I did: high school dropout, raised by a single mom, poor and Latino in a bad neighborhood. I had the perfect recipe for going down the wrong path. I was lucky that I did not end up at Rikers Island. I did feel bad for the inmates. Not every inmate was a bad person, and none of the inmates have been convicted, though often they were treated as if they had been. To see your own kind, Latino, feel as if there was no hope left for them, it was tough to bear.
And it's the inmates who pay the highest price for unsafe working conditions of correctional officers. For as bad as we had it when I worked at Rikers, it's even worse now.
Ralph Ortiz has worked for both FDNY as an Emergency Medical Technician and as a Correction Officer for the New York City Department of Corrections. He now works as a case manager for the Department of Children and Families in NJ where he also lives.
The views in this article are the writer's own.