More than 20 counties across the United States have "high" rates of COVID-19 hospitalizations, according to the latest data from the Centers for Disease Control and Prevention (CDC).
It comes as the U.S. approved updated COVID-19 vaccines on Monday, hoping the shots will amp up protection against the latest coronavirus strains and prevent a surge this winter.
COVID-19 hospitalizations have been steadily increasing in the past several months, but are still considered low in about 92 percent of the country, according to the CDC. There were 18,871 admissions in the week ending September 2, an increase of 8.7 percent from the previous week.
There are 22 counties in nine states where hospital admissions for COVID-19 are more than 20 per 100,000 people, which the CDC classes as "high."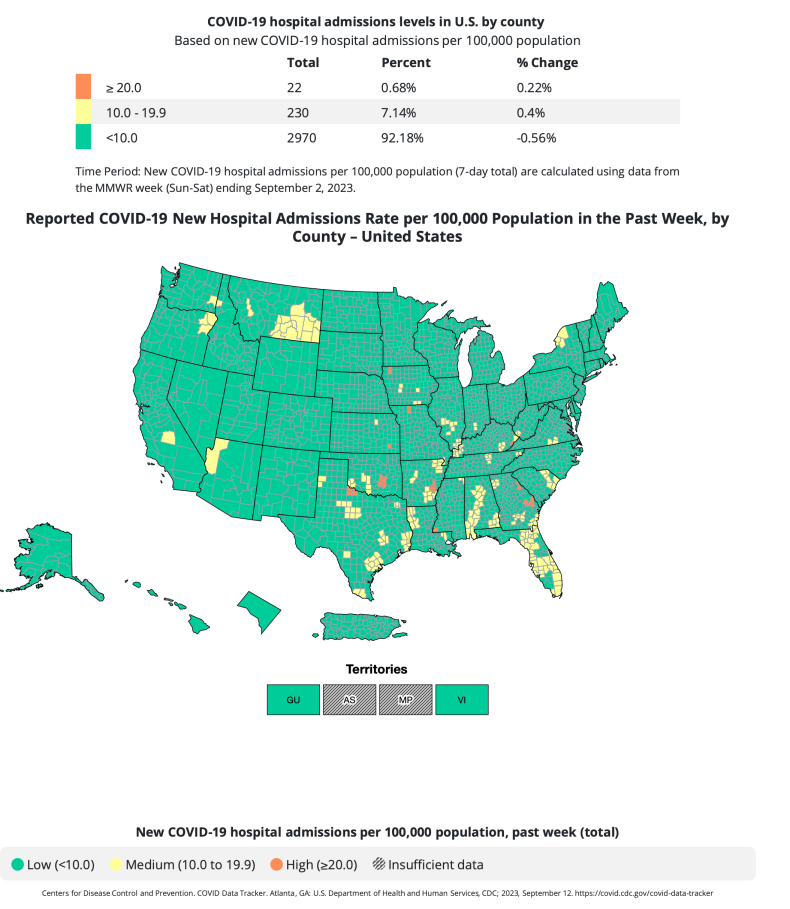 Wilson County in Kansas has the highest rate, with 70.4 admissions per 100,000 people in the week through September 2. Two counties in Missouri—Grundy and Mercer—had the next highest rates: 44.6 admissions per 100,000 people.
Kentucky's Letcher County's rate was 27.8, followed by Arkansas and Monroe counties in Arkansas with 24.8 and Georgia's Elbert and Wilkes counties with 24.2.
Mississippi's Wilkinson County had a rate of 23.3, and Georgia's Bullock, Candler, Emanuel and Screven counties had 22.8.
Three counties in Texas also had high rates of hospitalizations: Foard, Hardeman and Wilbarger counties had 22.4 admissions per 100,000 people. Oklahoma's Coal, Hughes, Pontotoc and Seminole counties had a rate of 20.9, and Iowa's O'Brien and Osceola counties had 20.3.
On Monday, the Food and Drug Administration (FDA) approved updated COVID-19 vaccines from Moderna and Pfizer for most Americans, even if they've never had a coronavirus vaccination before.
"Vaccination remains critical to public health and continued protection against serious consequences of COVID-19, including hospitalization and death," Peter Marks, the director of the FDA's Center for Biologics Evaluation and Research, said in a statement.
"The public can be assured that these updated vaccines have met the agency's rigorous scientific standards for safety, effectiveness, and manufacturing quality. We very much encourage those who are eligible to consider getting vaccinated."
The FDA isn't calling this latest round a "booster" but rather a vaccine updated to better match the virus currently circulating.
The updated vaccine was created to target an omicron variant named XBB.1.5, replacing outdated combination vaccines that mixed protection against the original coronavirus strain and an older omicron strain.
The XBB.1.5 variant is no longer dominant, but the FDA determined that it is close enough to coronavirus strains causing most COVID-19 illnesses today to offer good crossover protection.
As with earlier vaccinations, the new shot is cleared for adults and children as young as 6 months old.
The FDA said those aged 5 and above can get a single dose even if they've never had a prior COVID-19 shot. Younger children may need additional doses depending on their history of COVID-19 infections and vaccinations.
While the FDA's decision allows for wide use of the updated shots, the CDC will decide how strongly different groups are urged to get them.
A CDC advisory panel will meet on Tuesday before issuing their recommendations.
"While we can't say what the possible recommendations will be, or who (if anyone) would be prioritized; we expect the vaccine to be available in mid-September," a CDC spokesperson told Newsweek on Monday.