COVID Hospitalizations Are Down From This Time Last Year—But Not for Young People, Kids
People under 30 years old are being hospitalized at higher rates than they were at this time last year and pediatric hospitals are seeing an influx in patients this winter.
Hospitalizations overall are down from this point last year but admissions among the 18-29 demographic and 0-17 demographic have been ticking up since mid-December. Younger people are still less susceptible to becoming seriously ill with COVID-19 than older people, but New York officials are warning that kids are being hospitalized at alarming rates.
"We are alerting New Yorkers to this recent striking increase in pediatric COVID-19 admissions so that pediatricians, parents and guardians can take urgent action to protect our youngest New Yorkers," New York Health Commissioner Mary Bassett said in a statement.
In a letter to health care providers, the New York Department of Health said hospitalizations among children had a four-fold increase from December 5 to the week starting on December 19. About half the admissions involved children under the age of 5, meaning they were ineligible to be vaccinated.
None of the hospitalized patients in the week beginning on December 19 who were between the ages of 5 and 11 were fully vaccinated and only 23 percent of 12- to 17-year-olds who were hospitalized were fully vaccinated.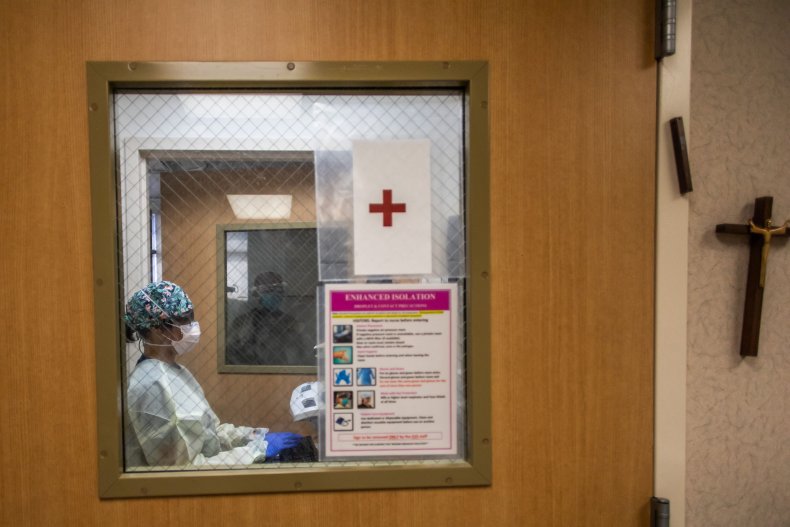 Nationwide, an estimated 262 children were admitted to the hospital on December 24 because of COVID-19, up from an estimated 174 on the same day last year, according to data from the Centers for Disease Control and Prevention (CDC). New pediatric hospitalizations were highest in the Department of Health and Human Services (HHS) Regions 2 and 5, which includes New York, New Jersey, Illinois, Indiana, Michigan, Minnesota, Ohio and Wisconsin.
The spike in hospitalizations among children comes as Omicron spreads rapidly and experts are warning that cases could continue to rise for at least a few weeks. Dr. Kristin Moffitt, an infectious disease specialist at Boston Children's Hospital told ABC News that even if severe infection from COVID-19 remains rare in children, if cases among children increase, so will pediatric hospitalizations.
About 608 18- to 29-year-olds were hospitalized on December 24 with COVID-19, up from the estimated 586 on the same day last year. The highest new admission rates were in HHS Regions 2 and 5, the same as children, but Region 8, which includes Colorado, Montana, North Dakota, South Dakota, Utah, Wyoming, is also seeing high rates of new admissions among 18- to 29-year-olds.
Omicron has shown to be extremely infectious, reaching both the vaccinated and unvaccinated. However, experts believe that even if it is generally mild, it'll be much more likely to put unvaccinated people in the hospital.
"No variant of COVID-19 is going to be safe for unvaccinated hosts," Dr. Michael Benninghoff, section chief for medical critical care at Delaware's Christiana Hospital, the largest in the state, previously told Newsweek. "The only vaccinated patients I see in the ICU are ones who have some other comorbidities."
Newsweek reached out to the Centers for Disease Control and Prevention (CDC) for comment but did not receive a response in time for publication.
While new hospitalizations among the under 30 demographic are higher than last year, they're lower than the national rate. They're also still significantly lower than the rate of new admissions among people who are at least 50 years old, despite new admissions being lower among older demographics than at the same time last year.