COVID Hospitalizations More Than Triple in Past Month, Nearly 40 Percent Are in 3 States
Hospitalizations for COVID-19 in the U.S. more than tripled in the past month, growing from an average of around 12,000 to nearly 43,000, according to the Centers for Disease Control and Prevention (CDC). Nearly 40 percent of hospitalizations nationwide are concentrated in Florida, Georgia and Louisiana, the Associated Press reported.
With 38 percent of their residents fully vaccinated, compared with the national rate of 49 percent, Louisiana and Georgia are among the states with the lowest inoculation rates. While Florida's vaccination campaign is closer to the national standard, most states in New England have fully vaccinated more than 60 percent of their populations, the AP said.
As the virus's highly contagious Delta variant continues to spread, the U.S. is averaging 94,000 new infections daily, similar to rates from mid-February. Daily deaths nationwide surged 75 percent in the past two weeks, from an average of 244 to 426, the AP said.
For more reporting from the Associated Press, see below: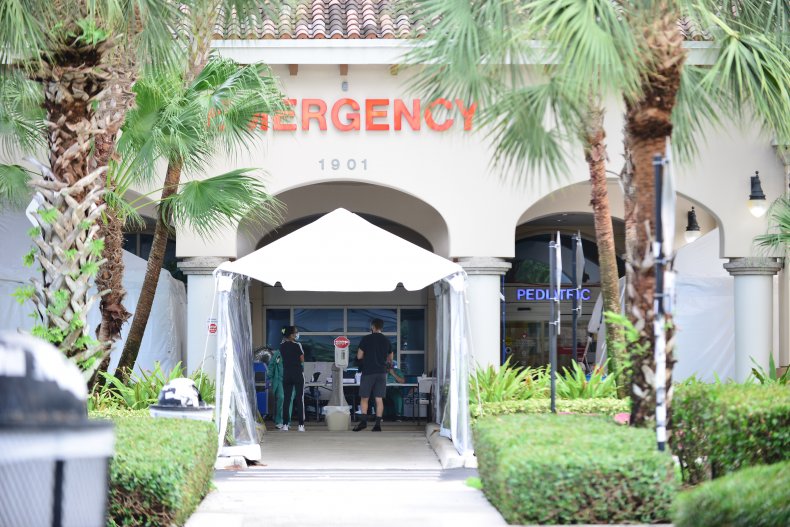 In Florida, Democratic members of the congressional delegation called Republican Governor Ron DeSantis a "bully" and a "zealot" for blocking schools and local governments from imposing mask mandates.
Representative Debbie Wasserman Schultz says Florida, which has accounted for about 20 percent of the nation's new cases in the past three weeks, has become "one of the most dangerous and least prepared places to be in America."
Florida had 12,500 COVID patients hospitalized Thursday, according to the CDC, nearly seven times the state's figure in mid-June. It is reporting 17,000 new cases per day, 10 times more than two months ago. Those are records, eclipsing numbers posted last summer before vaccinations were available.
Wasserman Schultz criticized DeSantis for threatening to withhold millions in state funding from school districts that require students to wear masks in the upcoming school year.
"That is not leadership. That is dereliction of his duty to protect people and the kind of big government overreach and obstruction of local control that conservatives should be outraged over," she said.
DeSantis has argued children rarely become ill from the coronavirus and wearing masks interferes with their learning and breathing. He has said mask wearing should be left up to individuals and the spike in cases is seasonal.
In Louisiana, another daily hospitalization record was set amid a surge of COVID-19 cases. The state health department reported 2,350 COVID-19 patients were in hospitals around the state. That's 103 more than a day earlier.
More than 30,000 people in the state have tested positive for the coronavirus in the past week, according to the CDC, which says Louisiana has the highest per capita rate of new cases across the country.
The CEO of the 40-hospital Ochsner Health system says there's no sign of the hardship easing. "We do not see any plateauing at this point in time on our models," Warner Thomas said Thursday during a New Orleans news conference.
He says the system had 890 COVID-19 patients Thursday, a 73 percent increase from last week. And 90 percent of the patients are unvaccinated.