Americans are most concerned about rising prices and coronavirus heading into the winter months, according to a new poll.
The Monmouth University survey that was released Wednesday found the top issue for most respondents (18 percent) was the COVID-19 pandemic. The poll was conducted after the emergence of the Omicron strain, which the World Health Organization listed as a variant of concern.
Omicron has been detected in at least 21 states since the first case was reported in California on December 1. Scientists are still working to discover whether the Omicron variant is more or less transmissible, if it causes more severe illness and if it evades currently available vaccines.
The coronavirus has been among the top concerns for Americans since the outbreak began in March 2020. But rising worries for U.S. adults, according to the survey, are inflation and paying everyday bills.
Roughly 3 in 10 Americans named household bills and inflation as their top concerns. The amount of respondents who said groceries and other bills were a key concern jumped 4 percentage points since July.
The number of people worried about inflation has nearly tripled in the same period. Consumer prices jumped by 6.2 percent in the past year, the largest increase in decades, the U.S. Labor Department reported last month.
As prices rise, the number of Americans who say that paying for groceries is easy has declined by 13 percentage points over the past two years. In December, 19 percent of those polled described paying the grocery tap as "very easy" compared with 33 percent who said so in May 2019.
"Concerns about inflation have taken center stage in discussions around America's kitchen tables," Patrick Murray, director of the independent Monmouth University Polling Institute, said in a statement. "And, as one would expect, many are placing the blame squarely on Washington."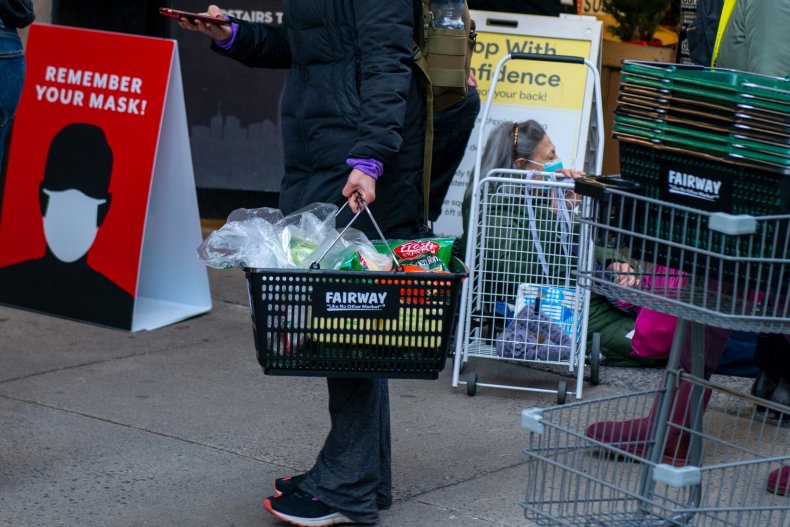 No matter what their top concern was, most Americans said the federal government bears responsibility.
Nearly half, or 46 percent, of respondents said that actions coming from Washington, D.C., have made their top concern worse. Just 25 percent of adults said the federal government has made things better.
President Joe Biden has argued that his Build Back Better legislation, which passed the House last month and is awaiting a vote in the Senate, will ease inflationary pressures.
While the survey showed the sweeping social safety net package is broadly popular, Biden is less so with an approval rating of 40 percent. Fifty percent of respondents disapprove of the job Biden is doing, according to the poll.
Monmouth University surveyed 808 adults in the U.S. between December 2 and December 6. The margin of error for the poll is plus or minus 3.5 percentage points.