COVID Infusion Treatment Center near Me—Where to Receive Monoclonal Antibody Therapy
Amid the ongoing COVID-19 pandemic, in recent weeks monoclonal antibody therapy has been a treatment option for some patients at high risk of disease progression," the U.S. Centers for Disease Control and Prevention (CDC) notes.
Earlier this month, the U.S. Department of Health and Human Services (HHS) launched an online locator which patients and health care providers can use to track down where the monoclonal antibody COVID-19 infusion treatment could be received.
"These medicines are authorized for emergency use in treating patients with mild or moderate COVID-19 who are at high risk of developing severe symptoms and requiring hospitalization," the HHS noted in a statement.
Back in November, the U.S. Food and Drug Administration (FDA) issued an emergency use authorization (EUA) for two monoclonal antibodies for the treatment of COVID-19.
The FDA noted in a statement at the time: "In a clinical trial of patients with COVID-19, casirivimab and imdevimab, administered together, were shown to reduce COVID-19-related hospitalization or emergency room visits in patients at high risk for disease progression within 28 days after treatment when compared to placebo.
"Casirivimab and imdevimab must be administered together by intravenous (IV) infusion.
"The safety and effectiveness of this investigational therapy for use in the treatment of COVID-19 continues to be evaluated," the FDA said at the time.
In a statement updated in early December, the CDC noted: "The FDA has issued EUAs for two investigational monoclonal antibodies that can attach to parts of the virus. These antibodies could help the immune system recognize and respond more effectively to the virus.
"Bamlanivimab and casirivimab plus imdevimab are available under FDA EUAs for patients at high risk of disease progression and severe illness. Preliminary data suggests that some outpatients may benefit from receiving anti-SARS-CoV-2 monoclonal antibodies early in the course of infection.
"The NIH [National Institutes of Health] COVID-19 Treatment Guidelines find that, to date, there is insufficient data from clinical trials to recommend for or against these treatments and these treatments should not be considered standard of care," the CDC noted.
Where to get monoclonal antibody therapy
Locations across the U.S. where monoclonal antibody therapy is offered can be found using the online locator at the HHS website, where users will see a map of locations where the treatment is available.
The map indicates the locations that have received shipments of monoclonal antibody therapeutics under the EUA issued by the FDA within the past several weeks, according to the website.
Users can zoom in and click on their area of interest on the map, which will pull up a list of sites available. Their search can be further narrowed or widened within their area of interest by dragging the distance dial to the left or right.
"This data is based on shipments reported by the distributor, and is not a guarantee of availability. Locations that received fewer than five courses of treatment are not displayed. These therapeutics must be used under the terms of the EUA for appropriate patients. Data displayed on this page is for informational purposes only for clinicians and patients," the HHS warns.
"Although monoclonal antibody therapeutic treatments have been shipped nationwide, shipment locations are displayed for those states that have opted to have their locations displayed on this public website. Individuals in other states should contact their local/regional health authorities for additional information on monoclonal antibody therapeutic treatments," the HHS advises.
As of January 6, the HHS allocated "more than 641,000 patient treatment courses to states and territories which subsequently directed delivery of the medicines to more than 3,700 locations. Approximately 75 percent of the treatment courses allocated to date remain available for use in the authorized patient populations," according to a January 11 statement from the HHS.
"States and territorial health departments must opt in to have information for facilities within their jurisdictions available in the locator" and "HHS is encouraging all states and territories to participate," the department noted.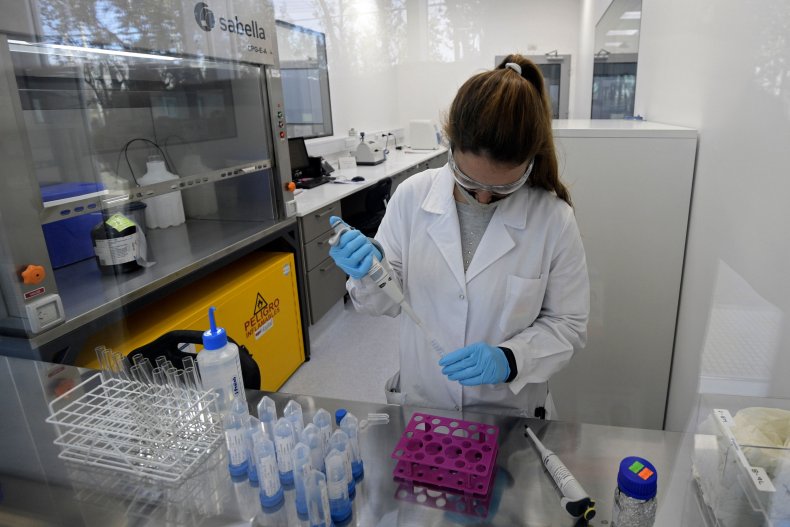 The wider picture
The novel coronavirus has infected more than 97.6 million people, including just over 24.6 million in the U.S., since it was first reported in Wuhan, China.
More than two million people have died worldwide and more than 53.8 million have recovered as of Friday, according to Johns Hopkins University (JHU).
The graphic below, produced by Statista, illustrates countries with the highest rate of COVID-19 vaccination.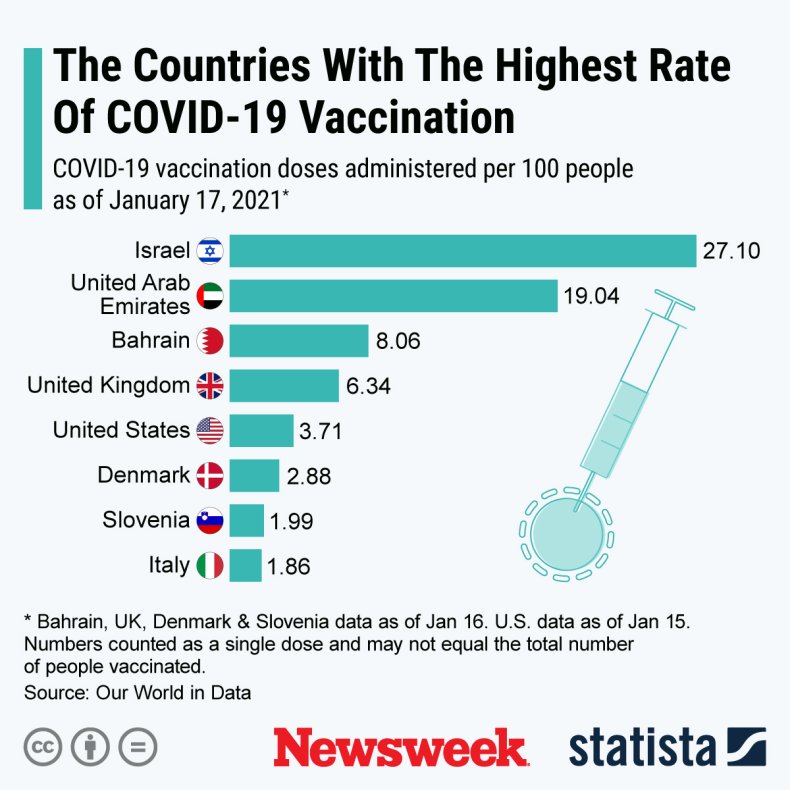 The graphic below, produced by Statista, illustrates the spread of COVID-19 in the U.S.