L.A. Mayor Urges People to 'Not Do Stupid Things' as COVID Cases Surge Ahead of Thanksgiving
Los Angeles mayor Eric Garcetti has urged people to "not do stupid things" that could help the coronavirus spread, as cases and hospitalizations spiked in the area ahead of Thanksgiving.
Garcetti made the comments at a press conference on Wednesday, the day before California became the second state to record one million COVID cases after Texas.
The Los Angeles County Department of Public Health said on Thursday that it was seeing "significant increases in key indicators" in its COVID outbreak, including new daily cases and the proportion of tests that were coming back positive.
Addressing the indicators, Garcetti said: "this should be a bright flashing light to all of us to control our behavior, to not do stupid things. We know what works and we know how to stop this." California has a mask mandate, and residents are advised to follow steps including social distancing and washing hands.
Garcetti acknowledged that Angelinos were "tired" but urged people not to meet with members of households outside of their own, citing data suggesting that one million people had done so last week.
So far in the pandemic, a total 330,450 cases have been recorded in the county, including 2,533 people on Thursday alone. Seven people died, adding to the death toll of 7,221.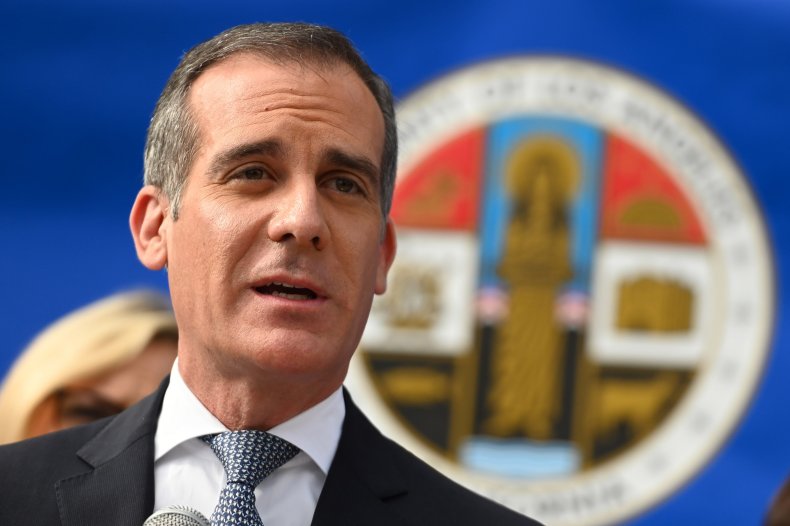 Since last week, the county has reported more than 2,000 new cases almost every day, at 1,464 on November 3, up from 988 on October 3, the health department said. The average daily number of hospitalized COVID patients was at 953 on Thursday, up from 682 on October 3.
On Friday, The New York Times COVID tracker showed the county had the highest number of daily average cases per 100,000 residents of any other in California.
As shown by the graph by Statista below, the situation in Los Angeles is part of a wider pattern in the U.S., as hospitalizations have hit a record high. For a third day in a row on Thursday, the U.S. broke records for the number of new COVID cases, at more than 153,000 according to Johns Hopkins University, as well as hospitalizations at 67,096, as shown in COVID Tracking Project data.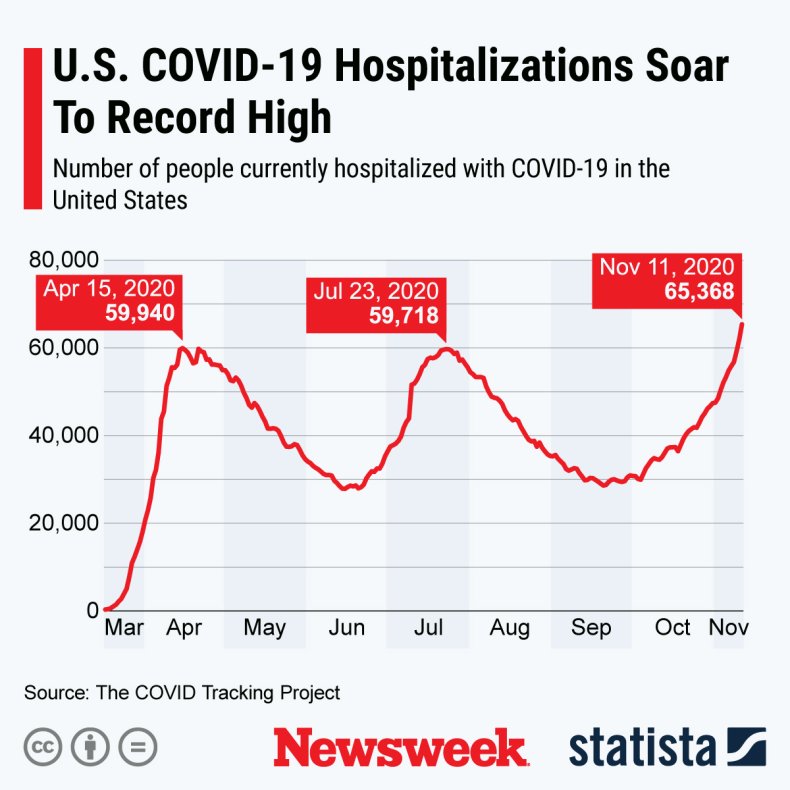 With Thanksgiving approaching, Garcetti told residents that the U.S. Centers for Disease Control and Prevention had advised Americans to celebrate virtually or with members of their household. L.A. County residents are only allowed private gatherings of people from no more than three households, held outdoors, for two hours or less, he said residents should not be travelling to visit people in other cities, or hosting family from out of town.
Barbara Ferrer, Director of Public Health at L.A. County Department of Public Health, said in a statement on Thursday: "It isn't just that our recovery journey is stalled, it is also that we have very tough choices in front of us heading into Thanksgiving and the winter holidays."
She said the full consequences of the surge likely have not yet been seen, and that the "significant increase in cases may very well result in tremendous suffering and tragic deaths."
Ferrer said the county would have no choice but to take additional actions if people did not take action.