COVID Live Updates: Florida Again Breaks Its Daily Record With 58,000 Cases Reported
COVID-19 cases and hospitalizations have increased across the country as the omicron variant continues to spread. Several states have reached record-high COVID numbers this week.
Centers for Disease Control and Prevention (CDC) Director Dr. Rochelle Walensky said cases are up 60 percent in the U.S. this week. Hospitalizations admissions are up 14 percent from the previous week.
The CDC also updated their guidelines for isolation and quarantining when a person is exposed to or tests positive for COVID.
Governors in states, including Georgia and Ohio, called on the National Guard to help overwhelmed health care workers.
COVID cases are also surging worldwide. Global COVID cases are up 11 percent, according to the World Health Organization (WHO).
National Institute of Allergy and Infectious Disease (NIAID) Director Dr. Anthony Fauci encouraged people to have small gatherings for New Year's Eve.
While some cities have canceled or scaled back New Year's celebrations, others are continuing with celebration plans as scheduled.
The live updates for this blog have ended.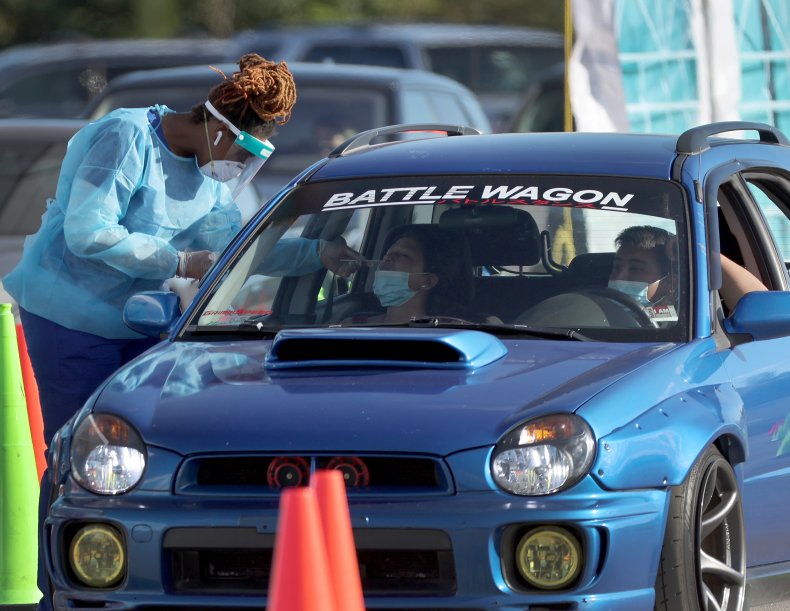 Florida again breaks its daily record with 58,000 cases reported
Florida broke its own COVID-19 daily case record Wednesday, for the fourth time within one week.
The Centers for Disease Control and Prevention (CDC) reported more than 58,000 new cases on Wednesday.
It broke the previous record set Tuesday, initially reported as nearly 47,000 cases and later updated to nearly 53,000.
The U.S. Health and Human Services Department reports hospitals across Florida were treating around 4,000 COVID-19 patients on Thursday, according to the Associated Press.
Statewide, hospitals treated about 3,400 patients with COVID-19 on Wednesday.
Westminster Dog Show postponed due to Omicron spread
The Westminster Kennel Dog Club postponed its dog show due to the climb in COVID-19 cases and the "surge" of the Omicron variant in New York City.
"The health and safety of all participants in the Westminster Kennel Club Dog Show are paramount," the board of governors in a statement. "We appreciate the community's continued interest and support as we delay the show to a time when we can safely convene."
The 146th annual dog show was set to be held at Madison Square Garden in January 2022.
The show will be pushed back to a later date in 2022, Westminster Kennel Club President Chat Reynder said in a statement. A new date will be announced when confirmed.
21 percent of NYPD staff sick with COVID ahead of New Year's Eve
The New York Police Department (NYPD) says staffing shortages have surpassed levels recorded in March of 2020, as the Omicron variant spreads across the state.
As of Thursday morning, 21 percent of NYPD staff were out sick, Police Commissioner Dermot Shea said during a press conference Thursday.
"We're at the highest level that I've ever seen in my career," Shea said.
"When you look at March of '20, we peaked at 19.8 percent, 20 percent. We hit 21 percent today."
Shea said the department is canceling days off and adjusting schedules to continue operations.
"We're in good shape, not just for here, but for all five corners of New York City to make sure we have enough officers on the street," he said.
FDNY says 30 percent of its EMS personnel and 17 percent of its firefighters are also out on medical leave as of Wednesday, CBS New York reported.
WHO chief blames 'narrow nationalism,' vaccine hoarding for Omicron rise
World Health Organization (WHO) Director-General Dr. Tedros Adhanom Ghebreyesus shared an end-of-year message about the importance of equity in ending the global coronavirus pandemic.
While new advancements in tools to prevent and treat COVID-19 should "dramatically increase access and lower mortality," Tedros acknowledged the barriers inequity presents.
"Narrow nationalism and vaccine hoarding by some countries have undermined equity and created the ideal conditions for the emergence of the Omicron variant," he said.
The longer inequity continues, the higher risk of the virus evolving "in ways we can't prevent or predict," Tedros said.
He added that equity will save lives, give respite to health care workers and "relieve the burden of stretched health systems."
"If we end inequity, we end the pandemic," Tedros said. "This will be the year we end it, but only if we do it together."
The FDA will soon authorize a third dose vaccine for kids 12-15
According to CNN reports, the Food and Drug Administration will soon authorize a third dose of the Pfizer-BioNTech COVID vaccine for kids ages 12 to 15.
CDC Director Rochelle Walensky was asked exactly when will kids be able to get the booster, and she replied, "So the FDA (Food and Drug Administration) is looking at that right now. Of course, the CDC will swiftly follow as soon as we hear from them, and I'm hoping to have that in the days to weeks ahead."
Scaled back New Year's celebrations in Times Square moving forward
There are no plans to further scale back or cancel New Year's Eve celebrations in Times Square, New York City Mayor Bill de Blasio said Thursday during an interview on the TODAY Show.
De Blasio said the decision to move forward was made with health leaders, despite the recent rise in COVID-19 cases.
"This event is vaccination only," de Blasio said. "It's going to be outdoors, vaccination only, masks required, socially distanced."
The annual event was already scaled back this year to 15,000 attendees.
In Las Vegas, plans are also moving forward with this year's fireworks show. As many as 300,000 people are expected in Sin City to ring in 2022.
The City of Miami has canceled the Big Orange Drop in Downtown, after crew members tested positive for COVID-19.
The City tweeted, "a digitized laser Big Orange will be created with the traditional countdown clock."
The concert and fireworks show at Bayfront Park will continue as planned.
CDC says to avoid cruise travel regardless of vaccination status
The Centers for Disease Control and Prevention (CDC) recommends avoiding cruise travel, regardless of vaccination status.
The CDC updated the COVID-19 levels to "Very High" on Thursday, citing an increase in cases onboard cruise ships.
"The virus that causes COVID-19 spreads easily between people in close quarters on board ships, and the chance of getting COVID-19 on cruise ships is very high, even if you are fully vaccinated and have received a COVID-19 vaccine booster dose," it reads on the CDC website.
The CDC recommends travelers test for COVID-19 before and after their trip.
In addition, CDC now recommends travelers who are not fully vaccinated to self-quarantine for five days after cruise travel.
The change comes as nearly 90 cruise ships are currently being investigated, observed or monitored for COVID-19.
Child COVID hospitalizations up 58 percent last week
Pediatric COVID hospitalizations are increasing across the U.S. as the omicron variant spreads.
From Dec. 21 to Dec. 27, the seven-day average for daily hospitalizations for children went up 58 percent nationwide, according to the Centers for Disease Control and Prevention (CDC). On average, 334 children were admitted to the hospital with COVID per day during that week.
Dr. Lee Savio Beers, the president of the American Academy of Pediatrics, told CNN Thursday that most of the children admitted to hospitals with COVID are not vaccinated, based on data collected so far.
"There's small numbers who are vaccinated, but the vast majority are unvaccinated and so being unvaccinated increases your risk for hospitalization significantly," Beers said.
About 53 percent of children aged 12 to 17 are vaccinated and fewer than 15 percent of children aged 5 to 11 are vaccinated, according to CDC data.
Vaccinations for children 5 to 11-years-old were approved two months ago.
University of Miami to begin 2022 remotely, require negative COVID tests
The University of Miami will begin the Spring 2022 semester remotely, as COVID-19 cases surge in Florida.
University of Miami President Julio Frenk said instruction will start remotely for two weeks, beginning Jan. 18, with in-person learning resuming Jan. 31.
"Proof of a negative COVID test within 48 to 72 hours of arrival on campus will be required for returning students, and residential students will test again upon arrival," Frenk explained in a video posted Wednesday.
Students who live on campus can move in during the remote instruction period. Indoor activities will be postponed until Jan 31.
"We recognize the impact that these decisions have on our students, faculty, and staff. We carefully analyzed all options and concluded, based on the best available evidence, that the chosen course of action will generate the least disruption among available alternatives," Frenk said.
Paris issues outdoor mask mandate
Paris issued an outdoor mask mandate starting Dec. 31, local authorities said Wednesday.
The policy comes as France hit a record-high number of COVID infections. The country reported 208,099 cases Wednesday, according to Health Ministry data.
"Not complying with this rule will induce a fine of 135 euros," local authorities said in a press release.
Masks are already mandatory inside public buildings and on public transportation across France.
JetBlue cancels 1,280 flights through mid-January
JetBlue Airways is cutting about 1,280 flights Thursday through Jan. 13, because of staffing shortages due to COVID-19, Reuters reports.
The carrier says a growing number of crewmembers are sick with COVID-19 as the Omicron variant surges.
"We expect the number of Covid cases in the northeast -- where most of our crewmembers are based -- to continue to surge for the next week or two," a JetBlue spokesperson said in an emailed statement to Reuters.
"This means there is a high likelihood of additional cancellations until case counts start to come down."
The holiday travel rush has been plagued with issues, with flights being canceled due staffing issues related to COVID-19 and weather.
As of Thursday morning, FlightAware reports 1,070 flights were canceled within, into, or out of the U.S.
Department of Defense to help boost COVID rapid test production
The U.S. Department of Defense (DOD) announced a $136.7 million contract to manufacture a key piece of COVID-19 rapid tests to boost production.
The DOD, in coordination with the U.S. Department of Health and Human Services, is working with the company MilliporeSigma to produce nitrocellulose membranes, the paper that shows results on rapid tests.
The contract will fund the company's facility in Sheboygan, Wisconsin to make more than 83.3 million tests per month, the DOD said in a statement Wednesday.