COVID-19 Live Updates: U.K. to End Self-Isolation Requirements
After the Omicron variant swept across the country, COVID-19 cases are declining in several states.
New cases and the seven-day moving average of cases are both down significantly from one month ago, according to the U.S. Centers for Disease Control and Prevention.
New York Governor Kathy Hochul announced she is lifting the indoor mask mandate across the state but will maintain school mask requirements for the time being. The state will conduct an assessment of COVID data after student return from mid-winter break later this month.
The governors of Illinois and Rhode Island announced their states will lift indoor mask mandates.
Rhode Island, Massachusetts and the city of Denver, Colorado will also end mask requirements in schools.
California Governor Gavin Newsom is also preparing to scale down restrictions on indoor gatherings and masking.
The CDC still recommends wearing masks while indoors.
Dr. Anthony Fauci said Wednesday that the U.S. Food and Drug Administration (FDA) will meet later this month to discuss vaccines for toddlers.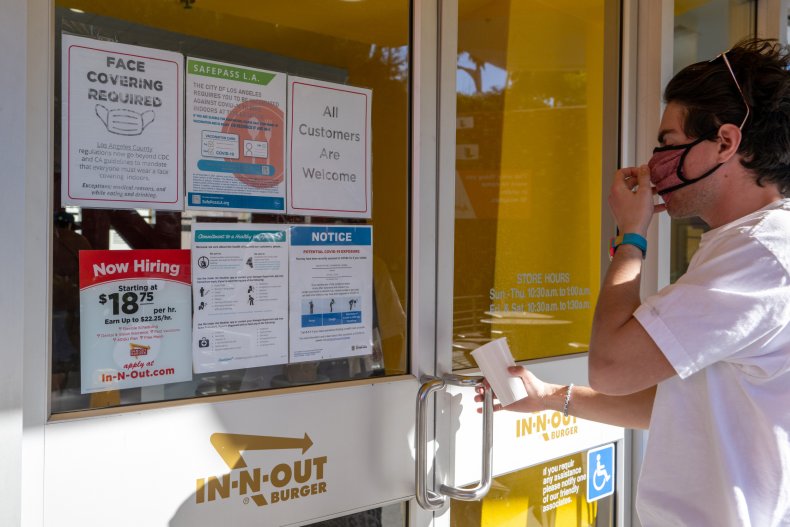 U.K. to end COVID isolation requirement
British Prime Minister Boris Johnson said he will end COVID-19 self-isolation requirements early.
Johnson said the change "shows that the hard work of the British people is paying off."
This move would put an end to all domestic COVID restrictions as the United Kingdom sees a drop in both new COVID infections and hospitalizations.
"Provided the current encouraging trends in the data continue, it is my expectation that we will be able to end the last domestic restrictions – including the legal requirement to self-isolate if you test positive – a full month early," Johnson told Parliament Wednesday.
People who tested positive for COVID were required to self-isolate for five full days. This rule is set to expire on March 24.
The U.K. will also ease travel rules starting Friday. Travelers will no longer need to take a COVID test before or after arrival and those who are not fully vaccinates will not have to isolate.
Johnson also said he will unveil his plan for "living with COVID" when Parliament returns on Feb. 21.
School districts in two states lift mask mandates
School districts in Colorado and Massachusetts lift mask mandates as COVID cases decline across the country.
Department of Elementary and Secondary Education (DESE) Commissioner Jeffrey C. Riley announced Wednesday that the statewide mask requirement for K-12 schools in Massachusetts would end on Feb. 28, one week after February vacation.
"Given the low extremely low risk for young people, the widespread availability and the proven effectiveness of vaccines and the distribution of accurate test protocols and tests, it is time to give our kids a sense of normalcy and lift the mask mandate on a statewide basis for schools," Gov. Charlie Baker said.
Meanwhile, The City and County of Denver announced Wednesday that it's lifting a public health order that requires face coverings in schools and childcare facilities after Feb. 25. Denver Public Schools said they would end mask requirements the same day.
The Denver Department of Public Health and Environment cited rapidly decreasing cases and high vaccination rates in Denver. Nearly 80% of people in Denver, ages five and older, have been vaccinated, and more than 40% have received their booster shot, DDPHE said in a release.
"With the current decline in severe cases and the high rates of immunity that we're seeing, it is safe to lift the school mask mandate at this time," said Dr. Sterling McLaren, Denver's chief medical officer. "The best way to protect children is to make sure they stay up to date with their vaccinations and ensure that the adults around them are vaccinated as well."
New York COVID numbers drop from Omicron surge
COVID-19 numbers are "declining on many fronts" in New York after the Omicron surge months ago, Governor Kathy Hochul said Wednesday.
There has been a 93 percent drop in new COVID-19 cases since 90,000 New Yorkers tested positive on Jan. 7. The seven-day average hit 23 percent Jan. 2. As of Tuesday, the rate is 3.6 percent.
Cases per 100,000 people were up to 381 in January, the second highest in the nation at the time. Now, they are down to 32, the fourth lowest in the country.
"That's an optimistic sign," Hochul said.
Hospitalizations have also dropped by 63 percent since the numbers peaked at 12,000 on Jan. 12. Bed capacity and hospital staffing are also up.
Hochul credits New Yorkers' commitment to following protocols and getting vaccinated for the decline in COVID numbers.
"New Yorkers stepped up and did the right thing," she said.
According to Hochul, New York is number one among the larger states in getting people vaccinated. About 85 percent of adults and 70 percent of teenagers are fully vaccinated. Over 6.6 million New Yorkers have received a booster dose.
While COVID numbers have gone down across the state, Hochul said people may still choose to wear masks in order to feel safe.
"I expect we'll still see many people wearing masks," she said. "We are not saying it's over, we are not saying we're recommending or not recommending now."
Is a 4th shot next? Dr. Fauci answers
Amid a "dramatic" decline in new COVID-19 cases across the U.S. and some states relaxing mask mandates, questions pivot to what comes next regarding vaccines.
Dr. Anthony Fauci, Director of the National Institute of Allergy and Infectious Diseases, says a fourth dose recommendation is unlikely "across the board for everyone," if at all.
"When you're talking about any decisions that will be made, and I'm not anticipating any of that now, but that has to be put into the context of whom you're talking about," Fauci said during Wednesday's White House COVID-19 Response Team briefing.
"There may be the need for yet again another boost, in this case, a fourth-dose boost for an individual receiving the mRNA, that could be based on age, as well as underlying conditions," he explained.
"So, I don't think you're going to be hearing, if you do, any kind of recommendations that would be across the board for everyone. It very likely will take into account what subset of people have a diminished, or not, protection against the important parameters such as hospitalization."
Fauci said research is underway following individuals who received a third shot (booster). Data analyzing the vaccine efficacy, including preventing hospitalizations and "laboratory phenomenon" are all being measured. Fauci expects those data results to soon become available.
There's a "strong possibility" New York will lift school mask mandate in March
New York Governor Kathy Hochul said there is a "strong possibility" the state will lift the school mask mandate on the first week in March.
COVID-19 test kits will be sent home with students so that parents can test children before they return to school after mid-winter break.
Hochul said officials are still waiting to "factor all the data" gathered during that last week of February to assess the most up-to-date COVID situation and reexamine safety protocols for the classroom.
New York Health Commissioner Mary Bassett said this is the "most prudent strategy" identified. She said the risk to schools is related to community transmissions and she and the Governor will continue to study the data.
Hochul said her top priority is keeping kids safe in school. Unlike adults who can move around while working in the office, she said students are in a "very concentrated setting" where they "sit together all day in close proximity."
The next phase of the pandemic will focus on protecting vulnerable people, increasing vaccinations and strengthening the health care system, Hochul said.
"This [pandemic] has not been declared over," she said. "The pandemic is still with us."
Neighboring Governors in New Jersey and Connecticut have already ended their school mask mandates. Hochul said New York is on the same timeframe as the rest of the tri-state area.
CDC still recommends indoor masking
The Centers for Disease Control and Prevention (CDC) continue to recommend masking indoors, but say mask mandate decisions should be made at the local level.
What are the latest masking recommendations?
The CDC continues to recommend indoor masking in areas of high and substantial transmission.
CDC Director Rochelle Walensky calls that "much of the country right now," based on the latest data.
Which guidance should we follow?
During Wednesday's White House COVID-19 Response Team briefing, Walensky was asked if the public should listen to CDC or governors regarding mask mandates and changes.
"We've always said that these decisions are going to have to be made at the local level," Walensky answered.
"Policies at the local level will look at local cases, they'll look at how local hospitals are doing, they'll look at local vaccination rates."
She added in many cases, changes are being made using a "phased-approach."
Walensky explained the CDC is currently reviewing its guidance based on the most updated data and surveillance tools, including wastewater.
The CDC is using wastewater surveillance to help identify cases at the community level. The CDC currently tracks more than 400 testing sites across the U.S. and will double that to 800 sites in the next month.
The surveillance "can give communities an early warning of increasing COVID-19 cases and help them prepare," the CDC tweeted.
Vaccine advisory to discuss toddler shots
The FDA's vaccine advisory committee meets on Feb. 15 to discuss vaccines for toddlers to 4-year-olds.
Dr. Anthony Fauci said Wednesday, any decision that the FDA makes will be based on the "scientific data of both safety and efficacy."
Jeff Zients, the White House Covid response coordinator, said Wednesday that the federal government could start packing and shipping the shots as soon as FDA authorization comes through. The U.S. has procured enough shots to vaccinate all 18 million children six months through 4-years-old, Zients said. He said that the syringes and other materials needed to administer the shots are specially formulated for the youngest children.
"We're working closely with pediatricians and family doctors and children's hospitals and pharmacies to make sure the vaccine is available at thousands of locations across the country locations that parents know and trust," Zients told the public during a White House Covid update.
Cases drop 44 percent across U.S.
New cases of COVID-19 are down nearly 45 percent across the United States this week, following months of fighting the highly transmissible Omicron variant.
"I'm really encouraged that cases are continuing to drop dramatically, hospitalizations are continuing to drop dramatically," Centers for Disease Control and Prevention (CDC) Director Rochelle Walensky said Wednesday.
Walensky provided the latest CDC figures during Wednesday's White House COVID-19 Response Team briefing.
CDC data shows the 7-day average of daily cases is down 44 percent this week compared to the week prior. About 247,000 new cases are currently reported daily, compared to 444,000 the previous week.
The 7-day average of new hospitalization admissions declined about 25 percent from the week prior, currently around 13,000 per day, compared to 17,000.
The 7-day average of daily deaths is up three percent from the week prior, currently about 2,400 per day.
New York ends indoor mask, vaccine requirement
New York Governor Kathy Hochul has lifted the mask-or-vaccination mandate for indoor businesses as COVID-19 numbers have greatly declined across the state.
Individual businesses, counties and cities will be left to "make their own decisions" if they want to maintain mask-or-vaccine requirements.
However, masks will still be required in several places, including schools.
"I want people to know this pandemic is not over," Hochul said. "I want people to feel safe."
Hochul said the state will assess COVID protocols in schools at the end of March after students return from a mid-winter break.
State official will review several data points, including cases numbers, positivity rate and hospital admissions.
State data shows there has been a 93 percent drop in new cases since the Omicron peak in January. The seven-day average positivity rate and new COVID hospitalization have also gone down significantly.
New York to announce mask mandate decision
On Wednesday, New York Governor Kathy Hochul is expected to announce that she'll lift a separate mandate requiring businesses without vaccination requirements to compel workers, customers, and visitors to wear face coverings in public spaces.
Hochul told a group of teachers, administrators, and parents Tuesday that she wants to wait until after the upcoming school breaks the week of Feb. 21 before making a final call on the mask mandate.
This week, Hochul said she would like to see vaccination rates for children improve before she does away with the statewide mandate, which has been in place since August.
The rule was initially slated to last over 90 days. Still, it's unclear if Hochul would issue a renewal over the same period or for a shorter extension.
Watch: White House COVID-19 Response Team briefing
The White House COVID-19 Response Team will hold a press conference Wednesday morning to discuss the latest pandemic data and guidance.
The press conference is scheduled to begin at 11 a.m., watch live here, or below: