COVID Live Updates: White House Lists Actions Taken This Week to Protect Americans
White House launches hotline for ordering free at-home COVID tests just days after launching a website
The UK Health Security Agency (UKHSA) says possible reinfection could occur 90 days or more after a previous confirmed Covid infection, in part because it excludes those who simply shed the virus for longer after infection.
Pediatric infectious disease specialist Dr. Roberta DeBiasi said that at omicron's peak 67 children were hospitalized with Covid at the Children's National Hospital in Washington, D.C
Covid-19 cases in the Northeast are down 48% compared to last week, according to data from Johns Hopkins University.
Preteens may be able to get vaccinated without parental consent in California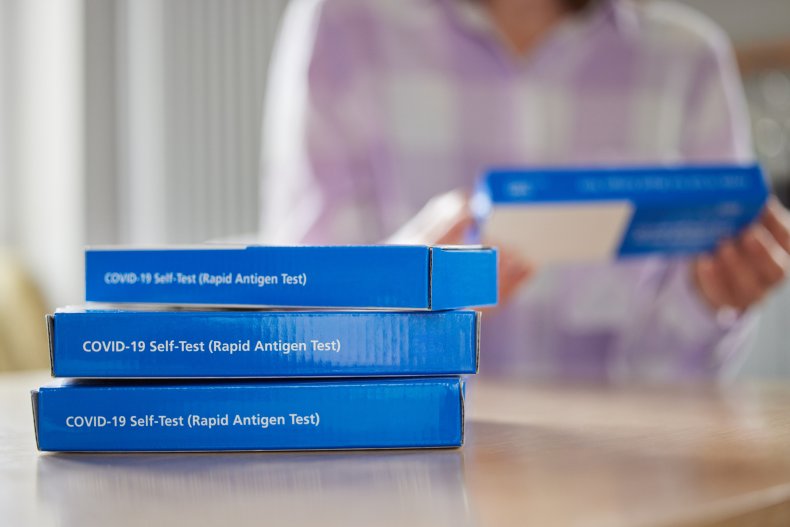 White House tweets list of actions Biden administration completed this week
The White House released a list of actions that the Biden administration completed to curb COVID-19 and protect Americans this week.
The list of completed actions include the launching of COVIDtests.gov, providing 7.7 million shots including 4.3 million people boosted, and announced 400 million free N-95 masks.
U.S. medical will provide help to hospitals in the St. Louis region
A team of U.S. military personnel will be deployed to the St. Louis region to help hospital staff deal with the record numbers of COVID patients. They are expected to be at Christian Hospital in north St. Louis County next week.
The U.S. Navy team is being sent to the region after a request from the St. Louis Metropolitan Pandemic Task Force.
Christian Hospital was selected by the Pandemic Task Force to receive federal assistance. A team of 44 health care professionals, including doctors and registered nurses, will begin arriving on January 26.
"This team will help support our dedicated local medical professionals who work hard each day to care for Missourians. The best way Missourians can help aid our hospitals and health care workers is by considering vaccination to protect themselves and their families," Missouri Governor Parson stated.
Fauci provides best and worse case scenarios for COVID cases
Chief Medical Advisor Anthony Fauci gave a prediction for the next six months in battling the Omicron variant.
"We don't know what the next 6 months will bring", Fauci said.
Fauci provided best and worst-case scenarios for COVID-19 cases.
Fauci stated, best scenario cases go down to baseline level "adequate control". He added that a combination of vaccination and boosted people with prior infection will give a level of protection in community will get the U.S. to a place where people are staying out of hospitals. "You can get Omicron more than once", Fauci said. It is that it is "extremely unlikely" that someone would be reinfected by the same variant
"The worst scenario is something we have to be prepared for", Fauci said. He added if we get down to that "adequate control" but faced with another surprise with a variant that's so different.
White House says demand is high for at-home tests
White House COVID-19 Response Coordinator Jeff Zients gave an update on the delivery of free at-home tests in a press briefing.
Some of the free at-home Covid-19 tests ordered online through the government's website started shipping Thursday, Zients told reporters Friday.
"Tests started shipping yesterday," Zients said. "We're hearing stories of some already arriving today."
Zients stated that the Postal Service is moving incredibly fast and as quickly as the at-home tests are delivered by manufacturers, the White House will get the tests to American households.
"It's an all hands-on deck effort," he said, also adding that the demand for the tests has been "high" and there have been millions of completed orders through the website.
Zients noted that once more data comes in about the number of orders shipped next week, he will then provide a clear update.
Omicron cases down five percent in U.S.
The number of new COVID-19 cases caused by the highly transmissible Omicron variant are declining across part of the U.S., Centers for Disease Control and Prevention (CDC) Director Rochelle Walensky said during Friday's White House COVID-19 Response Team briefing.
"We are starting to see steep declines in areas that were first peaking, so areas of the Northeast... New York, Rhode Island, Connecticut, are really starting to come down," Walensky explained.
"That also means that some areas are higher than they had been before, but overall, nationally, the case numbers are coming down which I consider an optimistic trend."
The current average of daily new cases is down 5% across the U.S., according to the latest CDC figures.
Walensky reported the current 7-day average of daily new cases is about 744,600, compared to 783,900 the week prior.
New hospital admissions across the U.S. have increased 1% from the previous week, to approximately 21,000 new admissions per day.
The 7-day average of daily deaths remained about the same as the week prior, about 1,750 per day.
Walensky noted Omicron accounts for about 99% of reported cases across the U.S.
White House believes Florida can do more in distributing money to schools
During a news briefing, White House press secretary Jen Psaki gave an example of states who can do more in reference to distributing federally issued money to schools. Psaki named Florida as a state who the administration believes can do more.
"Where they have done little to no steps to distribute money across the state and to school districts part of it is you have write a plan for how you're going to keep schools open to get money and some have been delayed, but that's an example of a state that can do more," Psaki stated.
China limits torch relay for the Winter Olympics
China is limiting the torch relay for the Winter Olympics to three days amid COVID-19 worries, organizers say.
The flame will be displayed only in enclosed venues that are deemed "safe and controllable," according to officials.
Officials also say no public transit routes would be disturbed and normal life will continue for the 20 million residents of the capital, where a handful of new cases have been recorded over recent days.
Preteens could soon be able to be vaccinated without their parent's consent
A state senator presented a proposal late Thursday for California to allow children aged 12 and up to be vaccinated without their parents' consent, the youngest age of any state.
"Giving young people the autonomy to receive life-saving vaccines, regardless of their parents' beliefs or work schedules, is essential for their physical and mental health," Senator Scott Wiener said. "It's unconscionable for teens to be blocked from the vaccine because a parent either refuses or cannot take their child to a vaccination site."
Cases drop 66 percent in New York
The number of new coronavirus cases across New York has dramatically declined, as the state's positivity rate falls to under 10% for the first time in weeks.
"We have been waiting for this moment!" New York Gov. Kathy Hochul said during a COVID-19 briefing Friday from Brookhaven National Lab in Upton.
"We are finally trending the direction we want to go down and that is downward, downward, downward."
Hochul provided the latest figures, showing the 7-day average of new cases has dropped by about 66% in the past two weeks. The current 7-day average is 28,000 new cases -- on Jan. 7, it was about 90,000 per day.
The state's positivity rate is now under 10% for the first time since Dec. 20, currently sitting at 9.75%. Following the holidays, the positivity rate peaked to 23% on Jan. 2.
In addition, Hochul announced the deployment of 88 non-medical National Guard members to nine nursing homes across NYC to assist frontline health workers, set to begin Friday.
U.S. requiring travelers coming through land ports and ferries to be fully vaccinated
The U.S. will require travelers crossing into the United States through land ports of entry and ferry terminals to be fully vaccinated for COVID-19 starting Saturday, Jan. 22, according to the Department of Homeland Security.
DHS says these new restrictions will apply to non-U.S. individuals who are traveling for both essential and non-essential reasons. They will not apply to U.S. citizens, lawful permanent residents, or U.S. nationals.
COVID-19 testing is not required for entry via a land port of entry or ferry terminal.
White House launches hotline for ordering at-home tests
The White House on Friday launched a new hotline line that Americans can use to order free at-home COVID tests. This comes in an effort to reach those who cannot easily access the internet.
Starting Friday, Americans who cannot order COVID-19 tests on the website launched by the White House earlier this week can call 1-800-232-0233.The call line, which serves those speaking English, Spanish and over 150 additional languages, is open 8 a.m. until midnight EST, seven days a week.