COVID Misinformation Rampant as 78 Percent in U.S. Believe, Unsure of at Least One Myth
The majority of Americans believe or are unsure of at least one falsehood about the coronavirus pandemic or COVID-19 vaccines, with unvaccinated adults and Republicans the most likely to trust the statements, a new study found.
An ongoing research project by the Kaiser Family Foundation (KFF), a nonprofit organization dedicated to national health issues, is tracking the public's attitude toward COVID-19 with the most recent study focused on Americans' awareness or belief in myths about the disease and correlated vaccine.
More than three-quarters, or 78 percent, of U.S. adults believe or have limited doubt about at least one of eight false coronavirus statements, according to the report.
The study also found that about two-thirds, or 64 percent, of unvaccinated adults believe or are unsure of half the statements, and about half of the Republicans surveyed responded the same way.
The figure is 19 percent for vaccinated adults and three times that of Democrats, at around 14 percent.
The most common misconception was from 60 percent of adults saying they've heard that the government is exaggerating the number of COVID-19 deaths by including those who died of other causes. Thirty-eight percent of respondents said they believed the statement to be true and 22 percent said they are unsure if it's factual.
Four in 10, or about 39 percent, reported hearing that pregnant women should not receive the vaccine, with 17 percent believing it and 22 percent unsure, according to the KFF poll. The figure was slightly less, about 31 percent, for those who said they've heard the vaccine can cause infertility. Eight percent said they believe it and 23 percent said they didn't know if it was true or false.
Other falsehoods that some people believed or were unsure about include that the government is intentionally hiding the number of people who died from the COVID-19 vaccine, with 18 percent saying they believe it to be true and 17 percent not sure, and that Ivermectin is a safe, effective treatment for the coronavirus, with 14 percent in both categories, the poll revealed.
The survey also asked if people have heard and believe, or are unsure about, whether you can get COVID-19 from the vaccine, that the vaccine contains a microchip and that it can change your DNA.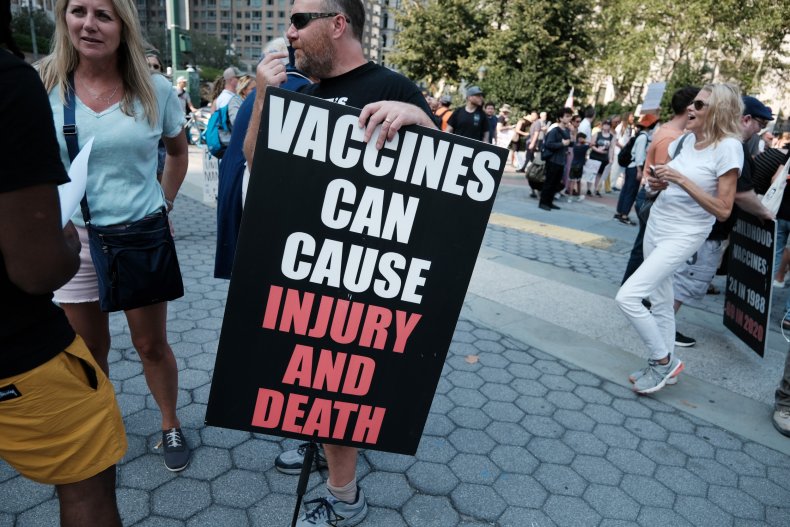 About one-third or 32 percent of adults who responded believe or are unsure about half the false statements.
The KFF project also found that the type of media consumed by respondents played a role in how they viewed COVID-19 misinformation.
According to the poll, a third of people who trust information from CNN, MSNBC, NPR, or other local television or network news do not believe in any of the falsehoods. Between 11 and 16 percent believe or are unsure about half the statements.
However, the figure jumps for those who consume news from predominantly conservative sources.
KFF found that nearly four in 10 of adults who trust Fox News, 36 percent, One America News, 37 percent, and Newsmax, 46 percent, say they believe or aren't sure about at least four of the eight myths.
The organization said it was unable to determine if people were exposed to misinformation from consuming those news sources or if those adults are more likely to choose those as news sources because they're "predisposed to believe certain types of misinformation for other reasons."
Democrats were most likely to trust COVID-19 information from network television, 72 percent, with local TV and CNN coming in at 66 percent and 65 percent, respectively. Almost half of the Republicans, 49 percent, said that Fox News was the most trusted source.
The key findings of the study highlighted the ongoing struggles of communicating accurate science amid the pandemic while false information can be spread quickly, whether intentional or not, to Americans.
Newsweek reached out to the Centers for Disease Control and Prevention for comment.