COVID Outbreak at California Religious School Prompts Request for Over 1,600 to Quarantine
Administrators at a religious school in northern California asked its 1,600-person student body to quarantine after more than 100 COVID-19 cases were reported among students and staff members.
The Bethel School of Supernatural Ministry (BSSM) in Redding, California, advised students, faculty and staff to shelter-in-place on October 2, and moved classes to a virtual learning model. Students and school employees were asked to stay home and quarantine themselves.
"During this shelter-in-place, students have been asked to self-quarantine, regardless of whether or not they are experiencing symptoms. Students have been instructed to only leave home for essentials, not participate in any social gatherings, and not visit any local non-essential businesses or public spaces," according to a statement on the church's website.
BSSM said that 137 students and staff members had tested positive for coronavirus as of October 6—an outbreak which constitutes for 10 percent of its county's total reported infections since the pandemic began earlier this year, The Sacramento Bee reported.
Shasta County, which is home to Redding, is currently averaging an 8.1 percent positivity rate, the second highest in the state despite it having around only 180,000 residents. For every 100,000 residents in the county, 19 people are testing positive for the virus each day.
As of October 13, there have been 1,502 confirmed coronavirus cases and 24 deaths. Out of those total cases, 166 are currently active, according to the county's data dashboard.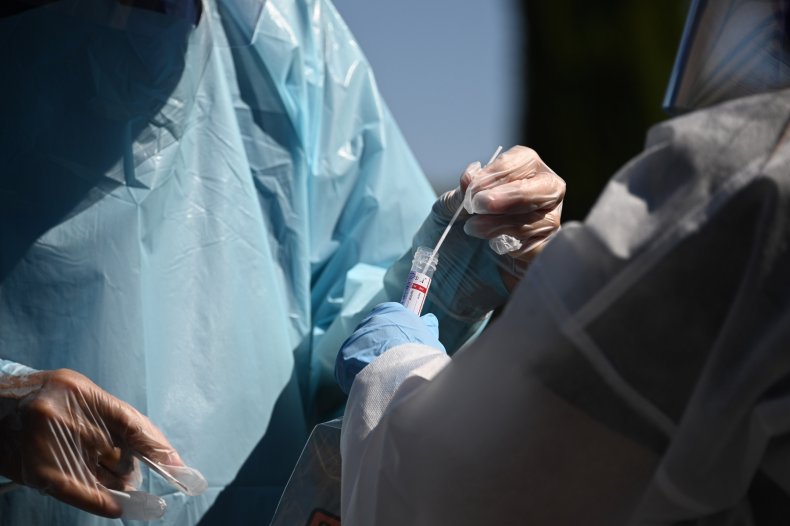 BSSM is part of Bethel Church, a megachurch with 9,100 members. The school is well known in Redding for approaching strangers and offering to touch them to pray away their ailments, the Bee reported. During religious functions, members reportedly speak in tongues and claim gold dust and angel feathers appear out of the air, according to the Bee.
The school "is designed to be a ministry training center where our students embrace their royal identity, learn the values of the Kingdom and walk in the authority and power of the King," according to its website.
Shasta County health officials expressed concern during a meeting last week that BSSM students—all of whom are 18 or older—could further spread the virus to other community members.
The school wrote in a statement last week that it had asked students to arrive early before classes began in September to undergo a 14-day quarantine. Students were also required to present a negative COVID-19 test result prior to attending school, according to the Bee.
"It's hard to say if they arrived with it, or if they acquired it here or some combination of that, and much of that transmission is in shared housing, so it's probably a combination," Shasta County's health officer, Dr. Karen Ramstrom, said during a media briefing last week.
But students live off campus, and Ramstrom said health officials are concerned they might further spread the virus within the county if they do not properly quarantine and choose to visit restaurants or other businesses, according to the Bee.
"So, it's possible spread could occur," Ramstrom told the Shasta County Board of Supervisors.
BSSM students typically go on weekly proselytizing and volunteering sessions in the community called "City Service," the Bee reported. But since the school year had just started, the sessions hadn't yet occurred, Bethel Church spokesman Aaron Tesauro told the Bee.
Shasta County health department spokeswoman Kerri Schuette said that health officials have warned students about the potential danger in approaching community members.
"When you're in your 20s, but you're sick but not feeling terrible, you may still feel inclined to go to work and go hang out with friends or whatever the situation may be," Schuette said, "and it's really important that does not happen when you have COVID, so we continue to reinforce that with them."
Tesauro told the Bee that if students are to ever enter any establishments, including peoples' homes or local businesses, they will "honor the establishments' request and needs to the highest standard."
Newsweek contacted BSSM for further comment, but did not hear back in time for publication.