Texas A&M announced Wednesday that its football team will not participate in the upcoming TaxSlayer Gator Bowl due to a COVID-19 outbreak. Gator Bowl officials said they are currently trying to find a replacement team in the next few days for the opposing team, Wake Forest.
"It is unfortunate, but we just don't have enough scholarship players available to field a team," Texas A&M coach Jimbo Fisher said in a statement.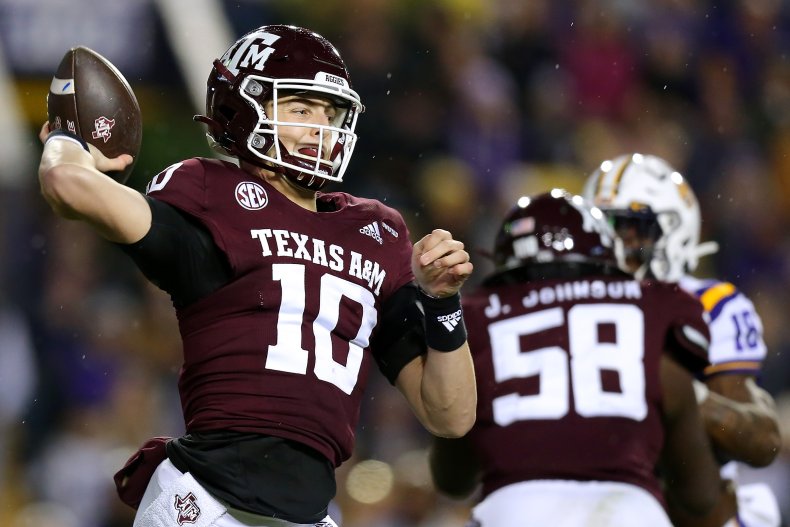 Texas A&M said that its team, the Aggies, was already limited because of injuries on the roster not related to COVID-19, but an outbreak of the virus resulted in a lack of players to fill out a lineup.
Wake Forest's coach Dave Clawson also released a statement on the matter. He said that while his Demon Deacons will miss out on playing the Aggies, he remained hopeful another team could fill the slot.
"While we are disappointed that we do not have the opportunity to play a talented Texas A&M football team next week in Jacksonville, our student-athletes and staff are still extremely excited and want to play in the TaxSlayer Gator Bowl next week, the coach said.
"Our student-athletes, specifically our seniors, deserve this last opportunity to compete as a team for the chance to win a championship," Clawson continued.
The Gator Bowl is currently scheduled for December 31 in Jacksonville, Florida.
The Gator Bowl is not the only postseason college game that could be impacted by COVID. On Wednesday, the College Football Playoff selection committee announced it would not reschedule its December 31 semifinal matchups which have No. 1 Alabama against No. 4 Cincinnati and No. 2 Michigan taking on No. 3 Georgia if either game is unable to be played due to COVID.
The committee said if both teams in a semifinal game are unable to play, the game will be declared a no contest. The winner of the other semifinal would be declared the national champion in such a scenario. However, if three of the four semifinal teams are sidelined because of COVID-19, the team healthiest enough to play will be named the national champion.
The committee also announced the national championship game scheduled for January 10 could be delayed all the way until January 14. If the national title game cannot be rescheduled prior to January 15, the championship will be declared vacant.
"As we prepare for the Playoff, it's wise and necessary to put into place additional precautions to protect those who will play and coach the games," College Football Playoff executive director Bill Hancock said in a statement. "These policies will better protect our students and staffs while providing clarity in the event worst-case scenarios result."
Newsweek contacted the NCAA for comment but did not hear back in time for publication.
A spokesperson from Texas A&M Athletics told Newsweek they had no further comment at this time.