COVID Outbreaks Reported on 92 Cruise Ships Operating in U.S.
COVID has been confirmed on more than 90 percent of cruise ships operating in the U.S., data from the Centers for Disease Control and Prevention (CDC) shows.
Of the 101 cruise ships operating in U.S. waters, or seeking to operate in U.S. waters, 92 have "reported cases of COVID-19."
Six cruise ships have been ascribed an "Orange" status, meaning there have been reported cases of coronavirus below the threshold for CDC investigation, while another 86 have been designated "Yellow," meaning cases have met the threshold.
To meet the threshold for an investigation, a ship must report COVID cases in more than 0.1 percent of passengers or have had a single crew member test positive in the previous seven days.
The report was described as "astounding" on Twitter by Josh Michaud, associate director for the Global Health Kaiser Family Foundation.
The national public health agency in December 2021 issued a warning against taking cruises, even for those who are fully vaccinated, following a significant surge in cases on the ships.
The CDC wrote on its site: "Avoid cruise travel, regardless of vaccination status. Even fully vaccinated travelers may be at risk for getting and spreading COVID-19 variants.
"The virus that causes COVID-19 spreads easily between people in close quarters on board ships, and the chance of getting COVID-19 on cruise ships is very high, even if you are fully vaccinated and have received a COVID-19 vaccine booster dose."
Guests are also advised to wear a mask and to keep their nose and mouth covered when in shared spaces. The agency also urged anyone vacationing on a cruise ship to be fully vaccinated before traveling and to get a COVID booster dose if eligible.
However, such strict measures don't appear to have prevented cases from developing.
Canceled Norwegian Cruise
Reuters reported a Norwegian Cruise Line had canceled trips as the U.S. announced the highest daily tally of any country for new coronavirus infections on Monday, January 3.
The cruise operator said: "Due to ongoing travel restrictions, we've had to modify a few sailings and unfortunately have had to cancel, with the embarkation dates for a few canceled sailings as far out as late April."
Guests booked on these sailings will receive an automatic full refund.
However, Stewart Chiron, a cruise industry expert at The Cruise Guy, said in a January 8 statement that the state of the industry may not as bleak as it appears.
He told Newsweek: "The CDC's color codes are essentially useless. One crew or seven passengers change the color from green to yellow. "There is no investigation but the CDC does monitor each ship and the situation.
"It's unfortunate that over the past, almost three weeks, there's been an increase in crew covid cases which accounts for 90% of the reported cases on several ships recently.
"Also important to note that covid occurs disproportionately lower on cruise ships than ashore. The positivity rate reported last week by Royal Caribbean Group, parent company of Royal Caribbean, Celebrity Cruises and Silversea Cruises was 0.015 percent.
"They carried 1.1 million passengers with only 1,745 reported cases of covid/ covid-like symptoms. Looking at New York at over 50 percent, Miami, 28 percent.
"All reported cases were asymptomatic or mild with only 41 needing hospitalization. Hard to argue with the numbers."
Impact of Omicron Variant
Separately, a Princess Cruise line ship docked in San Francisco on Thursday after tests of a quarter of the passengers showed 12 positive results on board. A spokesperson for the cruise line told The Associated Press the vaccination rate on the ship was "approaching 100 percent."
The Omicron variant has triggered alarm in the industry as it appears to spread more easily among those who are vaccinated than previous variants.
In December, the world's largest cruise liner, Symphony of the Seas, was discovered to have 48 COVID infections when it docked in Miami.
Newsweek has approached the CDC for an update.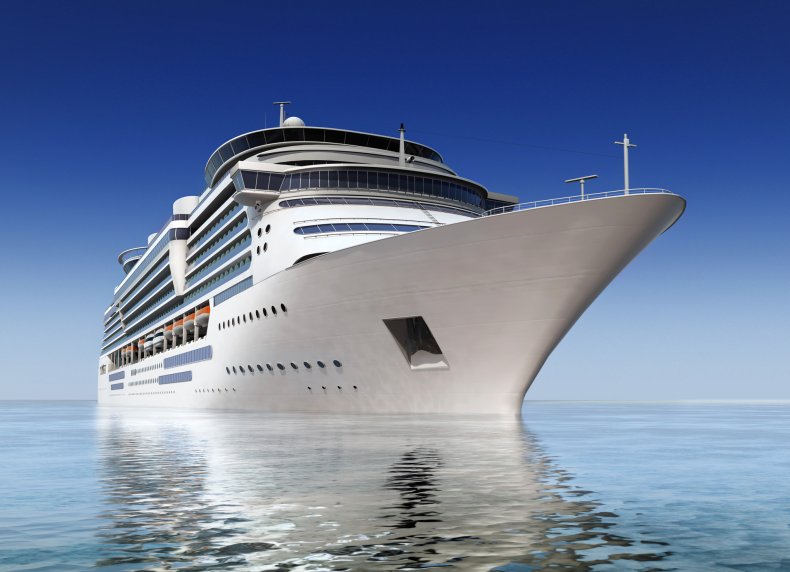 Update 01/10/22 at 3:25 a.m. ET; This article was updated to include comments from Stewart Chiron at The Cruise Guy.