Oregon COVID Patient Dies After Hospital Runs Out of ICU Beds
A COVID-19 patient in Oregon has died while waiting for an ICU bed to open up amid overrun hospitals across the U.S. due to the spread of the highly contagious Delta variant.
In a statement on Thursday shared with Oregon Live, the Douglas County COVID-19 Recovery Team confirmed that a coronavirus patient had died while waiting for a bed at the Mercy Medical Center in the city of Roseburg.
"A COVID positive patient was in our Emergency Department, within our four walls, waiting for an open Intensive Care Unit bed to receive life-saving care," the statement said.
"It had been several hours because other COVID positive patients had filled those beds. Even after expanding ICU care onto other floors, there weren't any beds available for this patient. We didn't have enough. This patient died in the Emergency Department waiting for an Intensive Care Unit bed."
The recovery team then issued a stark warning about the situation in the state, adding: "This pandemic has impacted everyone's life, some more than others, and some in ways you will never know.
"The men and women who are on the front lines at our local hospitals and medical care facilities are dealing with the latter, every day, every hour and every minute. This is very real to our physicians, clinicians, housekeepers, and each member of our Mercy family."
Oregon reported a new record seven-day average for COVID cases last Friday with 1,652 positive tests, on the same day that Governor Kate Brown reimplemented an indoor face mask mandate for everyone in the state, regardless of vaccination status.
Brown confirmed she reintroduced the mandate "in response to a large jump in cases and hospitalizations and the emergence of the Delta variant," and said "masks are also our best bet at keeping our schools and businesses open."
Oregon has seen COVID-19 cases continue to rise in the week since, and is currently recording a seven-day average of 2,025 cases after reporting 2,971 new cases on Thursday, according to data by the Oregon Health Authority.
The state only has 41 ICU beds and 310 non-ICU beds available for patients, while 870 COVID-19 patients are currently hospitalized in Oregon with 128 on ventilators.
The Delta variant, first identified in India, has been surging in the U.S. over the last month and is now responsible for the vast majority of new COVID-19 cases in the country, with booster vaccines expected to be recommended for U.S. citizens in response.
The recovery team's announcement came shortly after Patrick Allen, the Director of the Oregon Health Authority, outlined a similar message about the state during a briefing on Thursday morning, where he said that around 200 patients were waiting for ICU beds in medical facilities.
"Right now, ambulances are transporting more people in respiratory distress, but they have to wait longer to get patients into emergency departments because those beds are full. Patients are spending days in emergency departments because critical care beds are not available," he said.
"Patients are parked in hallways. Staffing is critically short. I need to be direct about what's causing this crisis: a growing wave of unvaccinated patients who have become so sick with the Delta variant they need to be hospitalized."
Just less than 200 million people in the U.S. have had one or more doses of a COVID-19 vaccine, equating to 60 percent of the population, which is just less than Oregon's figures of at least 62 percent partially vaccinated.
Oregon has also seen 56 percent of its population fully vaccinated, which is more than the 51 percent reported across the U.S, but with the nation still sitting behind Germany, the U.K., Israel, Singapore and the UAE, as shown below in the graph provided by Statista.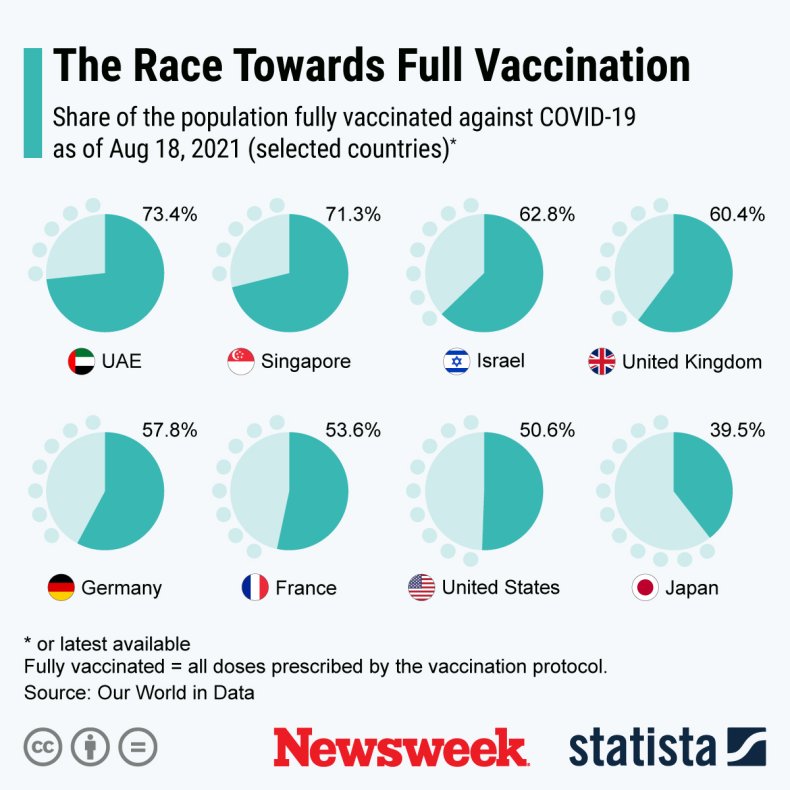 However, in response to rising cases in Oregon, Brown announced last Friday that "all state workers will need to be fully vaccinated by October 18," or six weeks after the vaccines are given full approval by the Food and Drug Administration.
"This action will ensure our state government workplaces are safe for employees and the Oregonians we serve," Brown said. "I strongly encourage our public and private employers to follow suit and require vaccination for their employees."
Newsweek has contacted Douglas County officials for comment.