COVID Patient Spends Six Weeks in Coma After Giving Birth, Recovers
A woman in England has made a remarkable recovery after catching a severe case of COVID-19 while pregnant with her son.
According to the Peterborough Telegraph, 28-year-old Hajrah Aslam caught the virus in January 2021. The Peterborough, England, resident was 35 weeks pregnant at the time.
Her case became so severe that, due to complications, she was required to have a C-section to deliver her son, Huzayfah. Within hours of his birth, doctors deemed Aslam's oxygen levels to be dangerously low—as a result, she was put in a medically induced coma that night.
Aslam was able to see her son for a short period after the C-section, according to Nottinghamshire Live. However, she spent the next six weeks in the coma, followed by months of rehab—during which time she was separated from her son.
As Dr. Kathryn Dreger explained to The New York Times last spring, in order to help patients facing acute respiratory distress from COVID-19, doctors will "insert a 10-inch-long tube connected to a ventilator through the mouth and into the windpipe" to give them oxygen.
However, she noted, "nobody can tolerate being ventilated like this without sedation. COVID-19 patients are put into a medically induced coma before being placed on a ventilator."
Even if a patient is discharged from the hospital after being intubated—which is by no means a guarantee—"recovery can take months or years." Explained Dreger: "The amount of sedation needed for COVID-19 patients can cause profound complications, damaging muscles and nerves, making it hard for those who survive to walk, move or even think as well as they did before they became ill."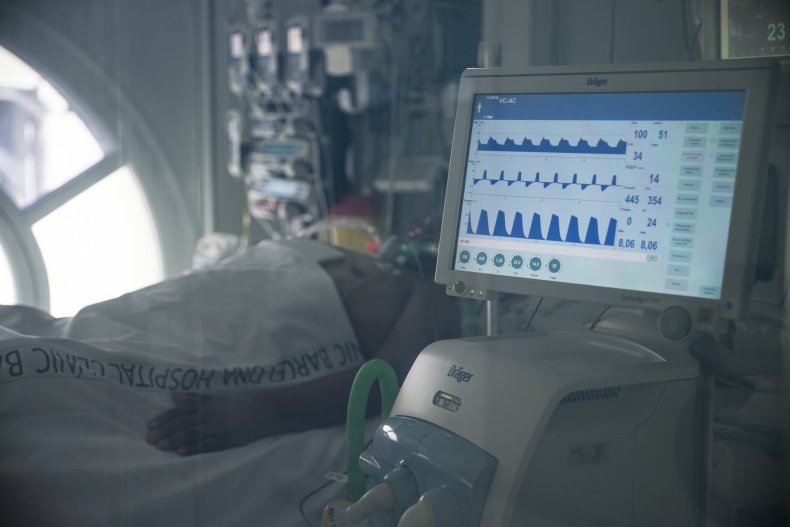 After she was taken off the ventilator and out of the coma, Aslam suffered from many of those ill effects. She was sent to a rehabilitation facility, Askham Rehab, where she stayed for 11 more weeks to regain her strength and abilities.
Because of the coma, Aslam suffered from polyneuropathy, a condition in which the body's major nerves are damaged and their communication to the brain is disrupted. For Aslam, this meant that she was unable to move her feet, according to Nottinghamshire Live.
"It's the hardest thing I've had to overcome in my life," she said. "Everything just came at me at once, emotionally, mentally and physically."
While in rehab, Aslam worked on upper- and lower-limb strength in addition to getting comfortable walking and climbing stairs once again.
Meanwhile, the rehab facility's staff was stunned by her rapid progress. "The key to Hajrah's amazing progression was her determination, motivation and hard work," said Askham's clinical lead Sara Neaves. "Due to all these incredible traits, Hajrah was able to leave us much sooner than anyone had initially expected."
She added: "Considering the condition she was in when she arrived, an 11-week discharge is an incredible feat."
"The challenging part was me knowing that I have a baby and I'm a first-time mum—I planned everything, his clothes, his pram ... mentally that was the challenging part for me," she said.
Now, Aslam has returned home to her family, and she is immensely grateful for the chance to spend each day with her son.
"It's a dream come true.… I missed out on a big chunk of six months of his life, but I've been making up for that now," she said.